Fear Of Change Sees 'Chepo' Stay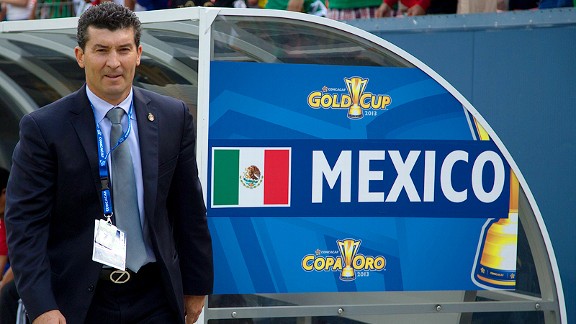 Justin Edmonds/Getty ImagesMany had tipped de la Torre to be sacked as Mexico coach
The news that many dreaded and others anticipated has finally arrived: The Mexican Federation has decided to keep Jose Manuel "Chepo" de la Torre on as coach of the national team.

What is notable is how little enthusiasm the final decision stirred. Even among his supporters, most opted for de la Torre not because they thought that he is a great coach who can turn things around for El Tri, but because many thought the alternative, namely, to subject the players to new coaches who have had little time to prepare and who will be under enormous pressure in a short amount of time, would be both unfair and detrimental to good team play.

Besides, some argue, even if de la Torre isn't a good coach, Mexico will probably qualify for the World Cup, even if it does so in the final playoff qualification spot versus New Zealand.

Thus, a curious combination of fear (of the unknown new coach versus the known commodity of de la Torre) and pride (belief that Mexico is good enough to qualify for the World Cup even if an empty chair led the team) scuttles the hopes of thousands of El Tri fans for positive change and rebuilding of the team from the top.

Fear and pride are great motivators, as most athletes will admit that part of what drives them onward is a competitive nature that loathes losing. Fear of a loss is connected to that. So is the pride in one's own ability and the work and practice put in to avoid losing.

Both powerful emotions have a negative and paralyzing side, however. The fear of loss can become so great that it is impossible for a competitor to visualize and enact the positive outcome of victory. The vision of the dreaded impending loss is too omnipresent, too near, too disastrous for a player to relax, enjoy the game and perform with the freedom and creativity needed to produce a win.

Pride can also become the greatest fuel to fear, because it generates the idea that there is more to lose. Pride is an emotion linked to the past. When people look backward to what has been done, hubris often blinds them to mistakes that have been made and changes needed to avoid pitfalls.

There's a reason why sports enshrine words like "play" and "game" into the soul of the concept. Those who are most successful at it are able to enter a zone of exertion that is somehow the precise blend of talent and toil, but also sheer pleasure in the exertion.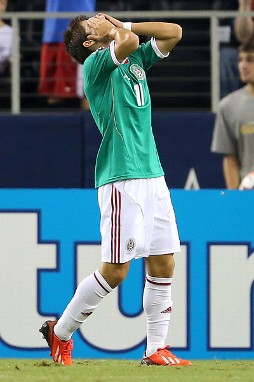 Matthew Emmons/USA TODAY SportsMexico's Gold Cup exit placed significant pressure on 'Chepo'


De la Torre has not appeared happy in months. He is an image of a man at siege - fearful, distressed, defensive, nervous and filled with angst and resentment. It may prove true that he still has leadership qualities, however, as he seems to have been successful in passing down his negative aura to the Mexican team's performance. Almost all the same words to describe his downcast demeanor could also describe El Tri's play on the field.

The FMF has also adopted de la Torre's "qualification at any price" approach. The news conference given by Justino Compean and Hector Gonzalez Inarritu did not mention that de la Torre was subject to any standard other than qualification. The Mexican team does not have to score more, play better, or in fact, even improve in any regard other than to qualify for Brazil 2014. Of course, an improved squad is what people like Compean say they want to see, but they are willing to accept qualification as the lowest standard.

Unfortunately, the lowest standard of acceptance is what is often delivered. De la Torre has in 2013 failed in almost every other standard by which any coach could be judged. Neither the World Cup team, the Confederations Cup or the recent Gold Cup squad has produced consistently attractive play. Indeed, any attacking play at all has been feeble at best for Mexico.

De la Torre has not advanced and developed a young core of players to add depth to the squad. When de la Torre dismissed criticisms of the team's performance with a curt statement that results were what really mattered, it served only to highlight how his results have been lacking. Mexico failed to advance out of the group stage of the Confederations Cup with its top players, and, with a second tier of Liga MX stars eager to show themselves worthy of the first team, failed in the recent Gold Cup tournament to reach even the final match in order to try to defend the championship Mexico had earned two years ago.

Panama and Honduras, both squads which are nipping closely at Mexico's heels in World Cup qualification, arguably had better Gold Cup performances, which will no doubt boost their player morale before the final round of games.

Yet in some ways, the most depressing news isn't that Mexico's administration has possibly placed qualification at risk by sticking with an unproductive coach. It's that again, those with money and power have placed commercial concerns and the revenue at risk if the team does not qualify above the sporting requirements that a team that represents a soccer-crazy nation could actually play well. Rather than change the squad's leadership, go through growing pains and possibly improve, El Tri's federation would rather limp into the World Cup because the alternative of not going at all would be so unthinkable.