Tijuana taking on the look of a champion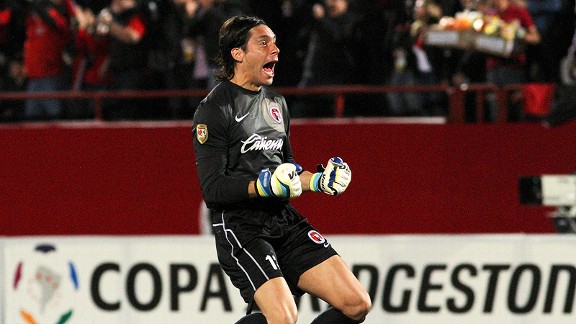 Fausto Vargas/Jam Media/Getty ImagesTijuana goalkeeper Cirilo Saucedo celebrates his team's Copa Libertadores win over Corinthians on Wednesday night.
Stunning is probably the best word to describe Club Tijuana's run in the Copa Libertadores thus far.

While fellow Copa entrant Toluca struggles at home, Tijuana has done just the opposite, raising the flag for Mexico in the most important club competition anywhere outside of Europe.

Last night's victory over defending Copa Libertadores champion Corinthians in Tijuana capped a perfect first go-round in the continent's most prestigious competition for the Xolos, who are three for three after games with Group 5 participants.

It's hard to figure which of the three performances thus far has been more impressive. Tijuana went on the road to Colombia for the opener and knocked off Millonarios. A week later they dominated Bolivian side San Jose to the tune of 4-0 at home. Then on Wednesday night they came up with a win against the continent's defending best at the Estadio Caliente.

All of the wins have their defining characteristic, but what they add up to is a Xolos team atop the group and almost certain to qualify for the quarterfinals of the annual event.

Of course no Mexican team has ever won the event, though there have been close calls. Club Tijuana is still several tough knockout rounds from being crowned, so it's premature to talk of titles.

But with the team playing like this, how can title talk be avoided? Who's to say they can't become the first Mexican team ever to raise the prestigious Copa Libertadores?

Solid on defense, impetuous in attack, and deep and focused enough to take on all comers, Tijuana also has a very particular home field advantage that it can lean on come the home-and-away knockout round. While Tijuana has a long way to go to get anywhere in South America, the extreme travel involved in reaching the Mexican-American border from South America will tend to weigh even more on South American opponents.

Experience in the knockout format -- Club Tijuana successfully navigated the Liga MX's three-round home-and-away gauntlet last year -- is just another feather in Antonio Mohamed's team's cap.

Tijuana's set to cruise into the quarters of the Copa Libertadores playing some of the best soccer in the history of the club. Don't be surprised to see the Xolos go much deeper into the tournament, and maybe even achieve a historic first for Mexican soccer.