Can Gold Cup El Tri do better than Hex El Tri?
DALLAS -- They've staked their claim. Their present condition has given them that right. Their presence in the semifinals of the Gold Cup proves their legitimacy.

They want to play in the CONCACAF Hexagonal Final. And they want to take this Mexican team to the Brazil World Cup. A Mexican team which has only managed 8 points out of a possible 18, which has six more to play for at home (Honduras and Panama) -- where they have yet to score -- and six more to play for away (USA and Costa Rica).



They don't feel superior to the Mexican players who have achieved poor results in the past.

But they have Mexico in third place of the Hexagonal. This team, chosen for the Gold Cup, believes that they can qualify for the World Cup.

This group lives and plays in Mexico. They can, if necessary, prioritize World Cup qualification and train together for two or three days per week to improve their performance.

They say that they want this, they say that they can do it and they say that they understand what it will take.

Respectfully, they leave the decision in the hands of the head coach, and they strike a balance between their aspirations and respect for those who have tried and so far failed to ensure qualification for the World Cup.

This issue is further explained below by seven of the members of the Gold Cup team: Marco Fabián, Joel Huiqui, Carlos "Gullit" Pena, Luis Montes, Jonathan Orozco, Jorge "Chaton" Enríquez and Javier "Chuletita" Orozco.

All together as one: Jonathan

Jonathan Orozco, goalkeeper for Monterrey, emphasizes that, in the end, there is only one national team and only one goal.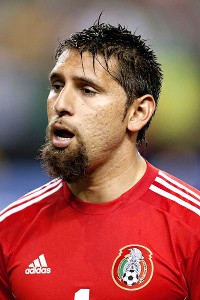 Mike Zarrilli/Getty ImagesJonathan Orozco has been stellar in goal for El Tri.
"We are all Mexico. No matter who is picked, everyone has the responsibility to do things well. Obviously we are trying to win a place on the squad, we are trying to qualify for the Hexagonal, and I think that with good performances and with good results, we can get there," he stated.

But can this current Gold Cup squad qualify for the World Cup? "We are all working in the best way possible. The final decision will be Chepo's. We are trying to follow this path in the Gold Cup, which is to continue winning, until we reach the final. If afterwards the opportunity arises, we'll make the most of it," says Orozco.

"That's the objective: to work as well as we can to win the Gold Cup and, afterward, the Hexagonal."

First, prove ourselves: Huiqui

One of the important questions for the squad was whether it could get to the Hexagonal Final.

Defender Joel Huiqui answers this: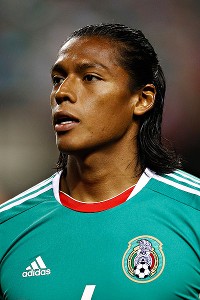 Mike Zarrilli/Getty ImagesJoel Huiqui is focused on the semifinal against Panama.
"The opportunity to be noticed for selection for the qualifiers, is constant. We know that we have to win the Gold Cup to be able to make a difference on the field. You earn your selection for the national team in these games and on your club team," he explains.

"Definitely (it is time to stand up and be counted). We are aware that it is a big opportunity. We can stake our claim to be part of qualifiers, going to a World Cup would be incredible, but right now, we are only concentrating on the game against Panama."

Does this group of players ask to be considered for national team selection in the same way that Europe-based players are? "We've all been given the chance to be part of the national team. We get our chances at different times, in friendly games, official games, qualifying games, and we are all ready to play whenever necessary."

A problem for Chepo: Fabian

The Chivas player, Marco Fabian, says that Chepo de la Torre is going to have some selection headaches because of the high level of play demonstrated by the Mexican players who play in the domestic league and in Europe.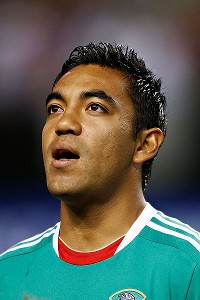 Mike Zarrilli/Getty ImagesMarco Fabian has scored some key goals for Mexico.
"First, we have to try to win this Gold Cup. The team has been working hard, we have some players with a lot of talent. Chepo has his work cut out for him to chose several players, from those that played in the Confederations as well as these, because in both teams there is a lot of talent," emphasizes Fabian.

"Everyone, without taking anything away from any player, those that play in the Mexican league as well as those who play in Europe, wants to play in the Hexagonal, and that is up to each player, to win their place and to stake their claim. The only place this can be done is on the field, and in the end, it is his decision."

Ready: "Gullit"

For his part, "Gullit" Pena, who transformed the team alongside Luis Montes and Miguel Layun, feels they can handle the qualification games.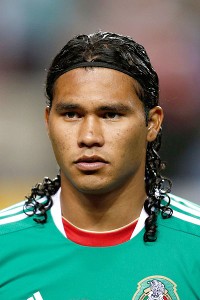 Mike Zarrilli/Getty ImagesJorge Enriquez figures the Gold Cup squad can do well in the Hex.
"Of course we can. That's what we're here for, we are professionals, but that's going to be the coaches decision. Obviously if we are given the chance we are going to do our best to make the most of it. But the coach is in charge and he has the final say to pick us or the 'foreigners' for team."

"We are always happy to play for the national team, but it's not our decision. We play our best soccer with our clubs, always trying to give 100 percent so that these sort of opportunities arise, but the coach is the one who decides."

Anyone can be part of the team: "Chaton"

The Chivas defensive midfielder, "Chaton" Enriquez, agrees with his teammates that there isn't a player in this Gold Cup squad that would not be worthy of taking part in the CONCACAF Hexagonal Final.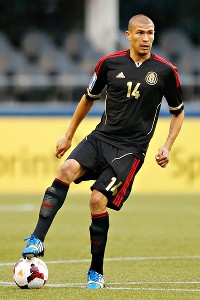 Otto Greule Jr/Getty Images
"This team has a lot of talent and I feel that many, anyone in this group could feature (in the qualifiers). I have no doubts that this is how it will turn out, because they have been working hard and opportunities are earned by hard work, by the dedication which they are showing," he states.

Could this team do better than a different team chosen for the qualifiers? "I don't want to start some sort of controversy. We are always behind the national team, and whatever happens, it should be for its benefit. We are trying, through our work, to show what we can do it," he states.

In turn, "Chuletita" Orozco says that team chosen for the Gold Cup "is progressing every day, improving, and that is very important. The coach will make the call on who plays in the qualifiers, but we have to be 100 percent ready for when he needs us. I think that those who played in the qualifiers have also played well, that's why they play for the teams they play for and they have been winners, but one tries to play well in the Gold Cup and to win a place in the qualifiers."

For his part, Luis Montes, El Tri's catalyst in this Gold Cup, says that, "This is not the time to take our minds off the Gold Cup. That will all happen afterward when the Coach makes his selections and we have to do our job well here. The coach is in control of who can go (to the Hexagonal) and who can't, and because of this we have to concentrate on playing in and winning the Gold Cup. He'll decide in his time who he will call up and who he won't."