A tiny improvement pushes El Tri into Gold Cup semis
MEXICO CITY – In less than 24 hours, Jose Manuel de la Torre went from being all smiles to the much more familiar frowny, sulking figure in front of the media. After another mind-numbingly negative performance from the Mexican national team, a single goal from Raul Jimenez pushed El Tri through to the Gold Cup semifinals as they went past a toothless Trinidad and Tobago team.

On Friday, De la Torre had hyped his team's chances of "bringing joy to [the Mexican] fans" against the Caribbean nation, hastily admitting to reporters that the team was very much looking to pile up a big win against the Soca Warriors.

After the match Saturday, a worried Chepo tried to change his tone after watching his team be consistently unable to generate offense against a side with plenty of defensive failings. "We had opportunities that we could not put away. However, that tiny bit of improvement we showed in the end gave us the win," De la Torre said after the match.

To the more objective viewer, however, "improvement" was not necessarily a word that might come up when describing El Tri's performance. Mexico has displayed very little cohesion and discipline in 360-plus minutes of play in the 2013 Gold Cup. As is the case with the "A" team, opportunities in front of goal have been hard to come by and even harder to convert.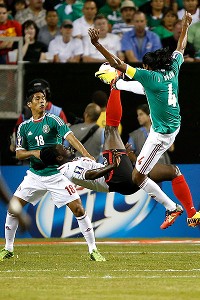 Mike Zarrilli/Getty ImagesJoel Huiqui (#4) and Juan Carlos Valenzuela (#18) defend Trinidad's Kenwyne Jones bicycle kick.
Defensively, Mexico shored up its back line after a dreadful performance against Panama (its next rival), but has shown that it is still vulnerable to quick counterattacks, something that its pair of central defenders (the slow as molasses Juan Carlos Valenzuela and Joel Huiqui) aren't necessarily helping with at this stage in their careers.

In essence, Mexico has a different cast of characters donning the green shirt, with almost equal results to show for it despite the drop in play that comes naturally when facing the likes of Italy and Brazil in the Confederations Cup, compared to Martinique and Canada in the Gold Cup. Thus, the blame must fall on the coaching staff.

De la Torre intended to use the Gold Cup as a laboratory of sorts, making note of what different strategies might work in the all-important Hexagonal matches coming up in September. Instead, a shocking loss to Panama in the first group stage game had everyone pushing the panic button, prompting a bare-bones approach to play in order to achieve the necessary results to move beyond the group.

With confidence still dinged after a string of subpar performances, Mexico will now need to alter its play in order to make the probable final against the United States. More importantly, the black clouds hanging around the team have to go in order to make good on Chepo's promises in the midterm.

Even if Mexico were to lose a second time against Panama and crash out of the CONCACAF championship, De la Torre is virtually assured job security until the next Hex game against Honduras. With that in mind, a little experimentation should be welcome if it means the possibility of a better performance.

It's increasingly painful to watch Mexico employ the same formula over and over to little effect. While many have been praising Miguel Layun's form over the past four games, the Club America defender has been helped enormously by El Tri's strategy and game flow. If the majority of possessions end on the wing, then it's literally a mathematical certainty that Layun will receive the lion's share of opportunities to create chances.

Shoddy play, lip service and contradictory statements from the manager aside, Chepo's stated objective has always been to get to Brazil 2014. What was a near certainty six months ago is now a possibility that becomes more distant as days goes by. With little other than half a berth to the 2017 Confederations Cup at stake, now is the time to try something different -- or suffer the consequences later.