Liga MX's CCL dominance challenged by MLS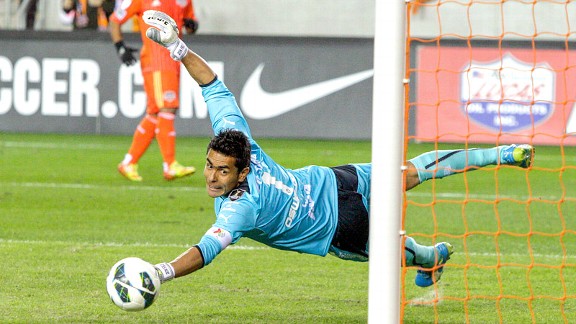 Bob Levey/Getty ImagesSantos goalkeeper Oswaldo Sanchez was unable to stop Brad Davis' late winner in Houston's CONCACAF Champions League first leg quarterfinal victory over the Liga MX side.
Santos Laguna players and staff seemed little concerned about the CONCACAF Champions League quarterfinal loss at Houston on Tuesday night.

As Coach Pedro Caixinha put it: "We expect Houston to have a bad time next week [in Torreon]. A very bad time."

- Davis' late strike gives edge to Dynamo

That would go along with the recent history of the Champions League. Santos has struggled -- or at least not dominated -- in away legs in North America in the past, only to return to Territorio Santos Modelo to crush the opposition. Last year, the Guerreros put up six goals in each of the quarterfinal and semifinal return legs against Seattle and Toronto, respectively.

Could that happen again next week against Houston? Definitely.

But is it likely? Maybe not as much as before. Like it or not, MLS teams are slowly finding the formula to compete with Liga MX clubs. The quality top to bottom is still far superior in Mexico, but certain American teams seem to have found the difference makers that can change a match against a Liga MX club.

Houston has the likes of Oscar Boniek Garcia to change a game; Seattle will bring Mario Martinez and Mauro Rosales to Wednesday night's CCL clash versus Tigres in Monterrey. Those are players nearly the caliber of Liga MX's high-paid game changers.

Tigres coach Ricardo Ferretti has talked a good game about putting his starters out for the Seattle match -- after using exclusively backups in the group stage, a strategy which nearly cost his team its quarterfinal place. But only time will tell if he's really taking the MLS challenge seriously.

For a long time, Mexican teams have sleepwalked thought the CCL against all comers, only kicking it into high gear for the semifinals -- which have often resembled a Liga MX Liguilla for lack of foreign opposition.

But this year feels different. Liga MX teams still enjoy a significant talent and home field advantage. But if Mexican teams refuse to treat this stage of the regional competition with the seriousness with which MLS teams are approaching it, the playing field suddenly evens out.

If clubs like Santos and Tigres are serious about representing CONCACAF in the Club World Cup, it's probably time they dumped the relaxed approach to regional play -- before they end up dumped out of the CONCACAF Champions League.