Mexico scrape through to Gold Cup semi-finals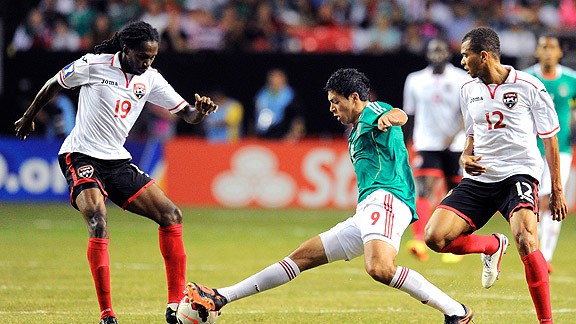 Dale Zanine/USA TODAY SportsMexico did just enough but their on-field problems persist.
After a close 1-0 win over Trinidad and Tobago, Mexico marches on in the Gold Cup, but the performance wasn't one that convinced many that El Tri can win or even reach the final of the tournament that it has traditionally dominated. Though a loss would have obviously been worse for under-siege coach Jose Manuel 'Chepo' de la Torre, the tight victory cast almost as many doubts on his ability to guide the team forward and help the squad improve.

It wasn't supposed to be this difficult for Mexico -- but nothing has come easy for El Tri of late. Every Gold Cup match has been close, and this one was in the balance until the final few minutes of the game.

In the first half, Trinidad and Tobago didn't just sit back and absorb Mexico's pressure. Especially during the first 10 minutes, they surprised El Tri with an aggressive attack. They charged forward at every opportunity, as the Mexican midfield was left behind. T&T had a dangerous shot that went just wide in the 7th minute, then in the 9th, Andre Boucaud fired a hard shot straight at the goal from the top of the box. Jonathan Orozco reacted well, just getting a hand out to block the ball and prevent the goal.

After an initial slow start, Mexico recovered from the early shock at the lively play of the Caribbean nation. The midfielders in particular began to link up better and generated a series of attacks. None were good enough to get past Jan-Michael Williams, however. The W-Connection goalkeeper denied El Tri players time and again, keeping the match scoreless into halftime.

Williams continued to keep T&T in the game after the break. Though he was heroic in his efforts, and saved a large number of standard shots, the truth also was that Mexico wasn't good enough to really challenge him. None of Williams' saves were otherworldly. It soon became clear that a pedestrian shot or attack from Mexico wouldn't be enough to beat Williams. If El Tri couldn't generate something better, the match would remain a stalemate.

Of course, the option that T&T would score instead also existed. The chances for this were much less, especially after T&T went on the defensive and put only a lone forward up front. Still, the danger was still omnipresent as long as the game remained scoreless. The game also grew more chippy, with players from both teams earning yellow cards.

Since they were expected to win fairly easily, time became the enemy of Mexico. While every minute that passed encouraged Trinidad and Tobago, for El Tri, it marked more time shamefully tied, more time in the scoreless draw zone that de la Torre's players have languished in more than any other Mexico team in history.

Finally, Mexico broke through in the 84th minute. In some ways, it seemed inevitable, but ultimately, it was also a bit lucky. Miguel Layun, who had generated a number of chances, sent in yet another cross. This time, Raul Jimenez had a half-step advantage on his defender and yet he didn't connect well with the ball. This actually worked to Mexico's advantage, because the slight touch he put on the ball changed the angle just a bit, leaving Williams, who had been expecting a sharper and more direct shot, leaning the wrong way and unable to stretch far enough to push the ball aside as it rolled into the side netting. With just over five minutes left in the game, Mexico finally had the lead and held on for the victory.

No, Mexico wasn't dominant or creative in attack or sharp defensively, but they were winners. Judging by the subdued reaction of the majority-Mexican crowd after the match, they had expected much more -- a win they could be proud of, a triumph that would put their doubts and fears to rest.

In the end, the fans were mostly relieved that they hadn't showed up to watch a loss. Then again, some of those fans had shown up early enough to see a confident Panama team tear Cuba apart by a score of 6-1. Seeing El Tri barely scrape past T&T by the minimum margin could not have been heartening to those trying to imagine Mexico getting revenge against Panama for the earlier loss in group play.

It's not that Mexico looked completely hopeless. Orozco was a rock in goal and Layun generated opportunities. But the finishing has to be much, much better if Mexico is going to get past Panama. Everything else needs to improve as well, but nothing needs as much of a jump in quality as the final shots. The last time that Mexico failed to reach the final was 2005, but lately, El Tri has been hitting a number of low-water marks.

At this point, another loss to Panama would be less of a shock than Mexico's surprisingly difficult win versus Trinidad and Tobago. Sadly, the biggest surprise of all at this point would be to see an improved El Tri team play well and return victorious to the Gold Cup final. If de la Torre can deliver that sort of triumph, he might win back the faith and belief of the many fans who currently doubt him.