Mexico swaggers after seeing off Reggae Boyz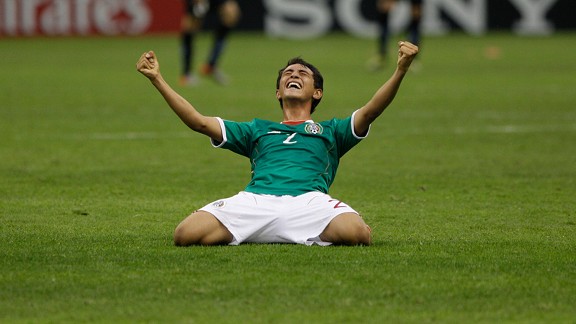 APMexico's Francisco Flores scored from a freekick against Jamaica
Mexico continued its rampage through the 2013 CONCACAF U-20 Championship on Wednesday night with a thorough 4-0 win over Jamaica, making it three from three thus far in the tournament, with ten goals scored and none against.

It's a record to be proud of, but there's more: this Mexican team has established itself not only as the best in the region, but undoubtedly one of the best U-20 teams in the world. That will make for exciting times come summer in Turkey, a tournament for which Mexico is now squarely qualified.

Here are three thoughts from the win in Puebla:

Mexico needn't be overly worried about the type of opponent it faces.

There was some justifiable thought before the Jamaica game that the right kind of physical opponent might be able to cause Mexico some problems. Big, physical defenders like the kind Jamaica boats are theoretically capable of locking down and roughing up Mexico's smaller attackers.

That didn't prove to be the case Wednesday, though much of that could be chalked up to comically woeful marking. On one first half play on which El Tri would have extended its lead to two had it not been for a phantom offside call, four or five Jamaican defenders followed a pair of Mexican runners to the near post while three other attackers ran free at the back post.

The only player who looked to be thrown off his game by the rough tackling Jamaicans was Jesus Corona. But El Tri showed the crossing precision on the wings and the physical presence up top in the person of Marco Bueno to deal with that sort of challenge. They'll want to tuck that experience away for similar outings at the Under-20 World Cup.

These players have an incredibly sharp tactical understanding for their age.

The Mexican attack doesn't just look sharp for kids this age - it is sharp for players any age. More typical in the U-20 game are good teams with a few star players who carry the offensive load, and a goal scorer or two who puts the ball in the net.

El Tri has those things; but it has them in the scheme of a highly polished offensive system that attacks with variants and purpose. In short, more than a collection of talented young players, this is a good attacking team as a whole - something very rare at the U-20 level.

El Tri is perhaps the best U-20 team in the world right now.

Those unique offensive characteristics make El Tri a unique entity in the current world U-20 game. El Tri is playing with the offensive purpose you would expect at this level from a Brazil or Argentina - except that neither of those historic U-20 heavyweights will be in Turkey this year.

Teams of note that have qualified for the World Cup include England, France and Spain from Europe, and Colombia and South Korea elsewhere. Which of those names should scare El Tri? None. The bottom line is that Mexico is perhaps the best, most well-honed U-20 team in the world headed into the World Cup in Turkey, and could well be the odds-on favorite to win the tournament.

Times continue to improve in Mexican youth soccer.

Bonus Thought: Because so many of the players on this U-20 team are a full year or more under the 1993-birth year age limit, the 2016 U-23 team will be stocked with many of the players from this U-20 team. That means the Olympic title defense chances are already looking pretty bright.