A change in Chivas' policy?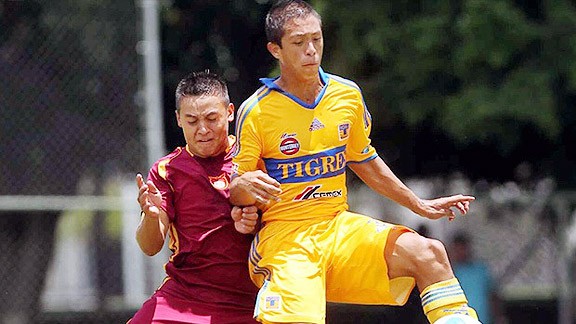 Courtesy of MLSSoccer.comCurrent Chivas player Juan Pablo Ocegueda, right, seen here as a Tigres youth player, made history playing for the United States Under-20 team against Haiti on Monday night.
A historic moment took place under the radar on Monday night in Puebla, when Juan Pablo Ocegueda took the field for the United States at the CONCACAF Under-20 Championship.

There was nothing unusual about Ocegueda suiting up for Tab Ramos' team -- the defender has featured regularly and even been an occasional captain of the side during the build-up to qualifying.

The variation this time around, however, is that Ocegueda is suddenly a member of Chivas. For the time being at least, that's Chivas de Guadalajara, not Chivas USA. Come what may in the near future -- and speculation is that Ocegueda will soon be assigned to the U.S. version of the Chivas franchise -- he will have suited up for the U.S. on Monday and in coming days as a member of the all-Mexican club Chivas de Guadalajara.

- Carlisle: Win in U-20 opener no easy feat

No amount of revisionist re-assignment can change that fact, or the reality that the boundaries of Chivas' Mexican-only policy are becoming continuously more blurry. The Ocegueda case only highlights an issue that has been in the making for years now, ever since Chivas became one of the frontrunners in attracting talent from across the northern border.

Chivas' efforts in identifying Mexican talent in Southern California and elsewhere in the U.S. are exemplary in many ways and have paid off with the development of a number of performers -- most notably Miguel Angel Ponce, a key contributor in El Tri's successful Olympic campaign.

But if it's finally come to allowing Chivas players to suit up for the U.S., that will be a step too far for most Chivas supporters.

Ocegueda's situation is a bit peculiar since he hasn't been a Chivas player until recently, and he's never played an actual match for the Goats. But a December move from Tigres' youth system to Chivas meant the native of Riverside, California would be incorporated into football's most Mexican institution.

That was immediately problematic because Ocegueda has also been a regular for the U.S. U-20s. In fact, the defender has turned down advances from El Tri, declaring his loyalty to the country that first gave him an international chance.

Then along came Chivas, and Dennis Te Klose -- the premier expert in Mexican-American talent identification, recently moved from a scout role with the Mexican Federation to Chivas. Te Klose was the same man who recommended Ocegueda and former U.S. U-20 Uvaldo Luna (who now suits up for Mexico) for El Tri's youth teams, and presumably the Dutchman had a role in bringing Ocegueda from Tigres to Chivas as well.

For all intents and purposes, that should have been the end of the defender's bid to form a part of the U.S. U-20s. But it hasn't worked out that way. In a remarkable turn of events, the club -- not the player -- seems to have compromised on the issue of playing for the U.S.

Admit it or not, this represents a sea change in Chivas' all-Mexican policy. If the U.S. qualifies for the U-20 World Cup, Ocegueda will almost certainly be part of the squad. It's possible he'll be a part of Chivas USA by then, which may limit the immediate damage and implications to Chivas of this whole affair.

But what happens in the future? Ocegueda is a promising Mexican prospect whose stock could well rise this spring and summer throughout the U-20 process. Chivas was betting on just that in bringing him in during the winter window. What does Chivas now do if it pans out that way? Certainly the goal would be to bring Ocegueda through the more prestigious parent institution, but that would mean bringing a U.S. international into the Guadalajara fold.

Have the Goats locked themselves in to the end of the all-Mexican policy? At this point, little is clear. What does seem to be certain, however, is that Chivas management continues to quietly poke holes in the Mexican-only heritage, for better or worse.