Porto solid next step for Herrera, compatriots
Hector Herrera may have spoken prematurely when he announced that he was headed to Porto this summer, since the deal's not done. But then again, he – and the Portuguese club – may be on to something.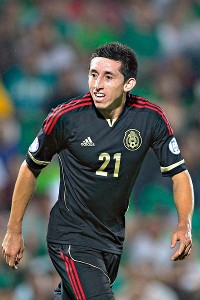 LatinContent/GettyImagesHector Herrera is eager for a move to Porto, which coud be a good step into Europe for him and several other young El Tri players.
Transfers such as this one fall through all the time. Until a player is actually in the uniform of the club trying to achieve the transfer, it's probably not a good idea to consider anything done, as Herrera himself clarified after first announcing he was Porto-bound.

But if Herrera were to go to Portugal, joining Olympic teammates Diego Reyes and possibly Jorge Enriquez, it would potentially be a very positive development for both the club and the young Mexican players.

Mexican fans may be somewhat less familiar with the Portuguese league -- a competition just as top-heavy as Spain but with less depth and quality beyond the biggest clubs -- than they are with the English Premier League or La Liga. But constant European play and an excellent level of international competition within the squad make Porto a great place for the young Mexicans to get their feet wet in European soccer.

Given the mixed recent history of Mexican internationals in Europe, a measured approach to the top levels of the European game is probably advisable for the young Olympic stars. While veterans such as Hector Moreno and Maza Rodriguez have succeeded to varying degrees across the Atlantic, young Mexicans haven't always had the easiest time in Europe of late.

In fact, too many of the young Mexican prospects who have headed overseas in the last couple years have come back right away. Edson Rivera and Taufic Guarch, for example, left for European immediately after the 2011 U-20 World Cup, and are both already back in Mexico trying to recover from a lost period in their young careers. Even Gio Dos Santos and Carlos Vela took years to establish themselves at the highest levels of the European game.

In the meantime, Javier Hernandez is the best example of a young Mexican to leave for Europe of late who was able to make an immediate impact. The difference is clear – Hernandez established himself at home first, and has fared much better in Europe at Manchester United.

But where do the likes of Herrera, Reyes and Enriquez -- El Tri's next generation of superstars -- fit? Probably somewhere in between Hernandez and Guarch or Rivera. All had some playing time with their Liga MX clubs before the 2012 Olympic gold medal run, and have since established themselves as regular contributors.

With only one or two seasons in Mexico under their belts, though, are they ready for the big time in Europe? The answer is likely to be as nuanced as the as the reasons other young Mexicans have -- or have not -- succeeded abroad.

If this group is to triumph, though, Porto should make for a perfect in-between option in terms of moving out of Mexico toward the European big-time. It's also worthwhile to note that should the three move at once, they'd be going not just as individuals, but rather as just that -- a group.

One knock against younger Mexicans in recent years has been the inability to adapt to life on their own in a new culture. More than one of Mexico's dynamic Olympic squad at one place greatly increases the chances that such adaptation will take place, allowing the players to do well right off the bat, and stick in Europe.

Mexico's young stars undoubtedly have European quality. But like all budding young prospects, they need the right situation. For these young Mexicans, Porto could well be just that.