Apertura 2013: A 'second down' for Bustos at Morelia
Carlos Bustos had one of the best coaching starts in Mexico's recent past. He took over a Morelia team which was unable to string together a series of good results and took them to the quarterfinals. He was unbeaten in his first ten games.

Unfortunately the first defeat of his tenure arrived in the away playoff game against Cruz Azul with a score of 4-2. That finished them off.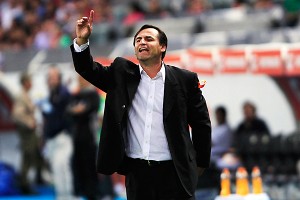 Hector Guerrero/AFP/Getty ImagesCarlos Bustos returns to Morelia, expecting to contend in Apertura.

Bustos was familiar with the squad he was taking over, this was a positive influence for such a recovery. He set them up with four defenders, in contrast to the well-known tactics of Ruben Omar Romano, and the team's balance improved. In attack they continued to be dangerous with Jefferson Montero on the right, Aldo Leao Ramirez in the middle, and Joao Rojas on the left. Héctor Mancilla was close to being the league's top scorer.

For the Apertura 2013 they had lost one of their three best players, the Ecuadorian Rojas. The offer from Cruz Azul was irresistible. They were also about to lose Montero, America wanted him; that would have been too much. The loss of Joao is a serious setback, given that in five tournaments he contributed 18 goals and 14 assists. Not many are as dangerous as him.



Monarcas has focused on the Ecuadorian market and it has worked for them, and for this reason they stuck with the same formula with Juan José Govea, a 22 year old who arrives from El Nacional. Joao left him a lot to live up to, but it is also true that he has good players to link up with.

If it turns out not to be Govea, the Colombian Santiago Trellez is another option for Bustos; he arrives after two quiet tournaments with San Luis. He previously played at Flamengo, Vélez and Independiente de Medellín. I firmly believe that we have yet to see the best of Tréllez in Mexican soccer.

In the draft they signed Edgar Andrade from Jaguares, a player of contradictions. At his best we saw him as U-17 World Champion in Peru 2005, and during call ups to the national team with Chepo de la Torre, but during his low points we saw him sitting on the bench at Chiapas or with serious injuries. I don't see him as a starter from the beginning with Monarcas.

The defense keeps the same structure. Federico Vilar, who will no longer take up one of the foreigner spots, in goal; Rodrigo Salinas and Carlos Adrian Morales at left and right back; Enrique Perez changed into a dependable central defender, and Joel Huiqui.

The "first down" was very satisfactory for Carlos Bustos. In American football terms, he achieved first and ten, but nothing more. A second chance is coming which will bring new challenges, such as replacing Rojas. Can he achieve something beyond playoff qualification?