Apertura 2013: For Atlas, it's more of the same
"If Atlas doesn't change, it is in danger of losing its way," commented Eugenio Ruiz Orozco, team President. He could not have been more blunt... or more accurate. Atlas once again is going through critical times because of its awful management and lack of financial resources.



New additions for the Apertura 2013? Please, if it isn't necessary to pay back pay from the last tournament! There is no money, because the transfers of Antonio Briseno and Alfonso Gonzalez to Tigres did not go through; they had already been paid in advance for broadcasting and publicity rights. So what now?

After a good Clausura 2013, Tomas Boy decided to step aside. Atlas offered the team to at least five different coaches: Chucho Ramírez, Jose Guadalupe Cruz, Jose Luis Real, among others. The Argentine Omar Asad was the one finally selected.

Asad is 42 years old and had a successful career as a player with Velez Sarsfield, and as coach his main successes were achieved with Godoy Cruz, a team which he saved from relegation and qualified for the Copa Libertadores for the first time. He is new to Mexican soccer, he was once nearly appointed by Tecos but Pedro Caixinha didn't know him either and he was eliminated at semifinal stage. But it isn't rocket science either.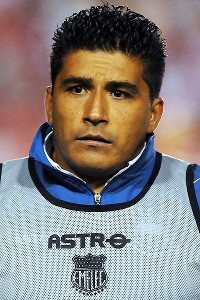 Edu Andrade/LatinContent/Getty ImagesArgentine Omar Asad makes his Liga MX debut coaching Morelia.
The defense is dependable. Goalkeeper Miguel Pinto and defenders Facundo Erpen and Leandro Cufré have played together for a good while and delivered solid results. Midfielder Rodrigo Millar was an excellent acquisition from the previous tournament. The Chilean played 17 games, 16 of them as a starter and scored three goals. His capacity as a play-maker and his energy were outstanding.

The principal absence will be Isaac Brizuela. "El Conejo" (The Rabbit) was on loan without option to purchase, and had to return to Toluca. Boy was able to get a lot out of the player who started 18 games in the tournament and scored two goals. By far the best tournament of his career.

Omar Bravo was able to change complaints and threats into applause and goal celebrations. He had his best season since he left for Deportivo La Coruña. At 33 years of age he contributed 7 goals. He has six months of his loan left, because after that he will have to return to Guadalajara.

In sporting terms, Atlas is coming off a good season, that can't be disputed. They racked up 32 points and finished in 3rd place, only to be eliminated by Santos Laguna in the quarterfinals. They had not achieved more than 30 points in a regular tournament since the Apertura 2004. The fact is that Asad has a decent squad of players. The problem is the little management support available. It is not a joke, if this continues Atlas runs the serious risk of a collapse.