Apertura 2013: Pumas tradition demands results
Pumas have recovered some of their lost prominence. After hitting bottom in the Apertura 2012, they returned to the playoffs in the Clausura but were eliminated at the first opportunity by America. Pumas' fans and tradition demand more.



The reality is that America overcame Pumas to a large extent with a better squad, and that is where Pumas are still coming up short in comparison to the powerhouses of the Liga MX such as Monterrey, Tigres, Cruz Azul or America itself. However, they have a couple of interesting new additions for this tournament.

Their main weak point is still the lack of an effective attacking spearhead, such as Emanuel Villa was for Tigres, and what Robin Ramirez was not for the Pumas. Three goals in 19 games is very little for the Paraguayan, who was sold as a prospect from Salvador Cabanas. In the next tournament, there won't be room for excuses.

The Argentine Ariel Nahuelpán has come to Mexico nine days before the start of the tournament, and he has been chosen to compete with or link up with Robin. He's 25 years old, and didn't come cheap, coming from Barcelona de Guayaquil. His passport shows three seasons with Coritiba of Brazil and a couple more with Racing de Santander before going to Ecuador, where he had some success.

Eduardo Herrera is no longer on the team; he was traded to Santos in exchange for Candido Ramirez, a decent attacking midfielder who plays on the left and adds depth. He was surprisingly excluded from the 2012 Olympic team, from Santos in the League in 2013 and from the U-20 World Cup in Turkey. He is clearly still a developing player, but with interesting potential.

Antonio Torres Servin is at the helm again. His performance in the previous tournament ensured his continuity and his right to demand a better squad. Before the break he said: "We need attackers, players who can give us more options." Now he has them.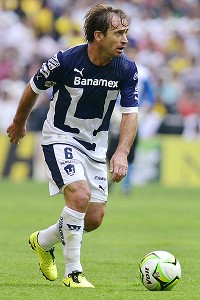 Omar Torres/AFP/Getty ImagesMarin Romagnoli is a defensive standout in Pumas' midfield.
It will also be in Torres Servin's hands that Carlos Orrantia blossoms, that Javier Cortes maintains his level and that Luis Garcia recovers, and he will also be charged with finding a replacement for David Cabrera, who is once again out for the season because of a ruptured anterior cruciate ligament.

The veterans Dario Veron and Martin Romagnoli are dependable in central defense and defensive midfield, respectively. They are crucial supports for the team's structure.

The Pumas recovered their sense of direction, and are a key team in Mexican soccer because of their tradition, importance, fan base and many other things. Qualifying for the playoffs in the Apertura 2013 will not be enough, as their tradition demands more.