Apertura 2013: Chivas are in recovery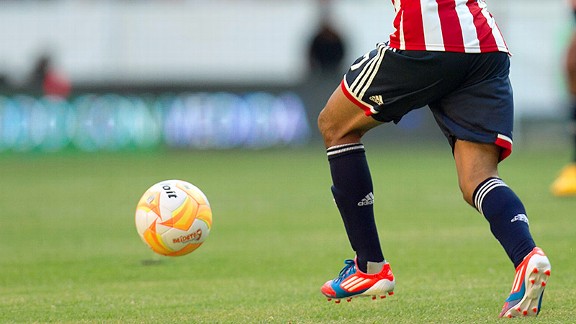 Getty ImagesGuadalajara have important acquisitions to counter Clausura's second worst finish.

Chivas have hardly ever sunk as low as they did in the 2013 Clausura. Suffering from the number of injured players, a lack of discipline, a wasted preseason and bad acquisitions, Chivas were second-to-last in the league table, while its all-time rival, America, matched their eleven Liga championships. An absolute disaster.



Despite losing the last six matches of the season (scoring 4 and conceding 14 goals), Benjamin Galindo remains at the helm. After the final loss, he immediately asked for the return of players who were on loan to other teams: Omar Esparza, Antonio Gallardo and Edgar Solis (out for the entire season due to an anterior cruciate ligament tear).

After the right winger Sergio "Cherokee" Perez's pitiful campaign, Chivas recruited Nestor Vidrio. The price was not low, since they had to use Luis "Vaquero" Morales as a bargaining chip with Pachuca. Vidrio is a reliable player and can replace Hector Reynoso, who had one of his worst seasons, at center back.


Eliuk De La Torre/Getty ImagesAldo de Nigris was acquired from Monterrey.
Aldo de Nigris is Guadalajara's notable acquisition. There are no official figures, but they paid around 3.5 million dollars, which Monterrey happily accepted in exchange for a player that is almost 30. De Nigris, who scored 53 goals in 141 matches for Rayados, will start the season on the injured players list.

There is no doubt that Chivas' group of attackers looks better with De Nigris, Rafael Marquez Lugo, Miguel Sabah and Carlos Fierro. Marquez Lugo was the best of the 2013 Clausura, scoring 7 goals; Sabah has unfinished business, and Fierro has a promising future (on July 24, he will be 19).

Before considering a transfer to Europe, Marco Fabian must become aware of the large debt he still has with Chivas. He can't manage to play a full tournament. He has great talent, but without any discipline he won't go far. It is up to him to recover with just a year to go before Brazil 2014.

In the midst of the 2013 Clausura, there was also some promising news for Chivas. On May 26, they became U-20 champions under the coaching of Marco Fabian, Sr. These young players will become better insofar as they have the right guidance from more experienced players.

It is difficult to predict, but there is no doubt that Chivas has planned well for Apertura 2013. Jorge Vergara has not figured (a very positive situation), and there was continuity in the sporting direction with Dennis Te Klose and in coaching with Galindo. Chivas put the pieces back together and made two valuable acquisitions. The recovery is necessary and could exceed expectations.