Apertura 2013: A prodigal son returns to Toluca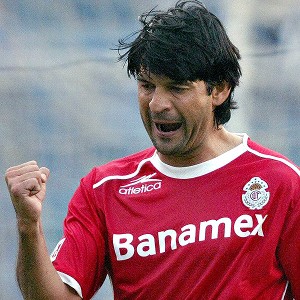 Juan Barreto/AFP/Getty ImagesParaguayan Jose 'Saturnino' Cardozo returns to Toluca, this time as coach.

Jose "Saturnino" Cardozo and Toluca were the perfect partners for 11 years. From 1994 to 2005, the Paraguayan prodigy scored 249 goals, won four Ligas and four goal-scoring titles. Remarkable numbers that marked a generation. His return to the club was just a matter of time, and it became reality in this 2013 Apertura. No one questioned his signing. Now, it will be necessary to start running a team that only won a liguilla in the past six tournaments.



Speaking of perfect partnerships, Paulo da Silva worked perfectly with the Diablos Rojos during his six years at the club. Now he is back, but at 33. His professionalism is undisputed; however, we shouldn't expect the same da Silva who arrived in 2003. He will replace Diego Novaretti, who moved to Lazio. Aaron Galindo has come here to compete with Edgar Duenas for a center back starting position.

Cardozo has interesting combinations in the midfield. He brought Richard Ortiz, a 22-year-old Paraguayan whom he knows from Olimpia. They paid more than $2 million to sign him and he will have to prove his worth. Antonio Naelson "Sinha" announced that he will play for one more year before he retires. His quality is undisputed, but he has had trouble keeping up with the faster pace recently.

After a great year on loan with Atlas, Isaac Brizuela has returned as right midfielder. "El Conejo" took a big step forward in his development. At Toluca he was called up to play in the starting lineup. Wilson Tiago Mathias is always reliable in midfield and continues to play alongside Antonio Rios.

The team's biggest loss was Lucas Silva, who was transferred to Monterrey. He is a good player, one of the most valuable of the 2012 Apertura when they were runner-up.

In those five tournaments during the past three years, five coaches suffered the ignominy of not reaching the final stages -- Chepo de la Torre, Sergio Lugo, Wilson Graniolatti, Hector Eugui and Enrique Meza (in the 2013 Clausura). Cardozo is worshiped at Toluca, but he also knows that this will continue only for as long as there are positive results.