Dangerous Martinique a challenge for Mexico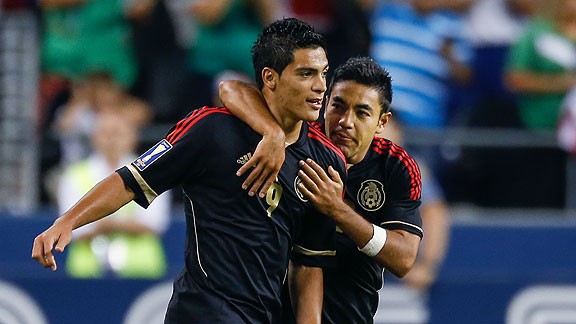 Otto Greule Jr/Getty ImagesThe budding partnership of Raul Jimenez, left, and Marco Fabian has given Mexico a lift in the Gold Cup.
Perhaps not many would predict the tiny island of Martinique to offer more of a challenge to Mexico than Canada in Gold Cup competition, but that may well be the case.

After two group games, Mexico and Martinique are level with a game won each. Both teams defeated Canada and lost to Panama by a single goal. Mexico, however, has Martinique beat on goal differential, so the Tricolores squad needs only a draw to advance.

- Marshall: Dwindling expectations for El Tri?

While Mexico brought a team of younger players to see who might be useful to the top squad in the future, Martinique is a squad playing with the motivation of a team that isn't FIFA-registered for the World Cup. This regional tournament means everything to these players. They have performed accordingly, taking Panama to the wire in their last game before finally falling on a penalty-kick goal.

The two yellow cards issued to Martinique defender Jacky Berdix in that match mean he will not be eligible to play against Mexico. Smaller countries are often affected by forced lineup changes because equivalent options are limited, so El Tri may be able to take advantage of a slightly unsettled defense.

Though the squad wasn't impressive against Canada, there is some chemistry building in the Mexico team. Raul Jimenez seems surer of how to work alongside Marco Fabian, and their partnership should continue to develop.

Across the board, Mexico has to improve drastically in order to defeat not only Martinique but also to survive the upcoming elimination matches, should the squad advance. It's not hard to see that, in the other Gold Cup matches, other teams are more astute tactically, quicker on the ball and better with their combination play than El Tri.

Especially in the midfield, which was once such an area of strength for Mexico. Now all the players appear to be half a step slow and unable to spot each other's runs in time. One exceptional ball distributor could make all the difference in this regard, because the ability of others to run off the ball still seems to exist, but the passes don't arrive when they need to be there.

Strategy could also compensate for the lack of an in-game passing maestro, but coach Jose Manuel "Chepo" de la Torre doesn't seem to have provided one. That could explain partly why the squad seems so tentative at the start of games, like the players really aren't sure of what they are supposed to do. Instead, they seem to have been given a long list of what not to do, and this results in careful, defensive play instead of any creative daring or incisive moves. Most of all, it doesn't lend itself to attacking play that culminates in a good finish.

Still, there was improvement on the wings versus Canada, though it was somewhat difficult to distinguish if it was due to the opponent's poor performance or an actual bump in Mexico's level of play. Miguel Layun, the favorite punching bag for El Tri fans, did decent work on the right wing.

Now is the time for those who want to prove to De la Torre that they are better than mere filler for the top squad to do so against a better challenge.

Martinique's squad knows each other well. It features more players on European teams than this edition of El Tri, who are all from Liga MX. The indefatigable captain of Martinique, Kevin Parsemain, however, is from the local league. Another inspiration for the squad is the goal scorer in the Canada game, Fabrice Reuperne, who at 37 years of age can still contribute quality minutes as a sub.

On set plays and from outside, Martinique can threaten. They will be playing for their Gold Cup lives versus Mexico, as only a win can guarantee advancement for the island squad. El Tri cannot afford to be careless.