Dwindling expectations for El Tri?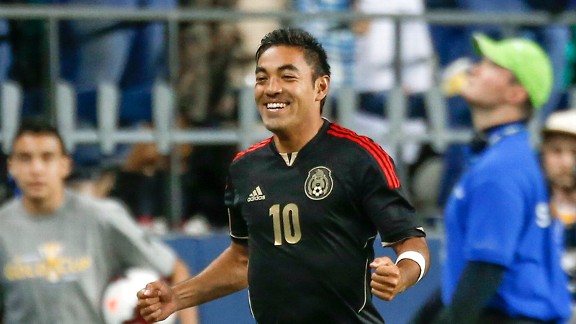 Otto Greule Jr/Getty ImagesMarco Fabian's goal on Thursday night versus Canada was a rare celebratory moment for beleaguered Mexico.
This edition of the Gold Cup was never going to be a showdown to determine the king of CONCACAF. With teams like the United States and Mexico missing important players, it couldn't be.

But for Mexico, it was supposed to be the culmination of a summer in which El Tri carried on its unbridled march to Brazil 2014, confirmed its elevated status in the world game at the Confederations Cup and impressed on its neighbors that the North American nation has an even brighter future by going deep in the U-20 World Cup.

A Gold Cup triumph with a reserve squad was to be the icing on the cake; a means of really throwing down the gauntlet to other CONCACAF powers, confirming that they have a long way to go to match Mexico, not only in terms of World Cup qualifying, but also in terms of depth and youth talent.

None of the original heady goals for the summer have been accomplished, and the Gold Cup is now viewed by Mexico as a tentative step in the recovery process to salvage confidence and pride in Chepo De la Torre's program ahead of September's crucial qualifiers against Honduras and the United States.

In that regard, Thursday's 2-0 victory over Canada was a baby step in the right direction for a team that even lost two of its three warm-up games. The three points keep El Tri's chances of winning the tournament alive.

- Canales: De la Torre's reign lives on
- Mexico 2-0 Canada: Player ratings

But the reaction from the Mexico camp was interesting to say the least, and showed that the expectations of these highly paid players, who impress on a weekly basis in Liga MX, are reduced.

Forward Rafael Marquez Lugo -- who could be seen giving the team talk before the second half -- praised the team's performance as radically improved compared with their effort in a loss 2-1 on Sunday against Panama.

"Intense, very solid in defense and with options in attack," said Lugo, describing the team's showing against a very young Canada side.

Chepo, too, chimed in, saying the win was important for getting El Tri in a position to qualify for the next round and for confidence, which must have been low coming into the game.

But in what has become a recurring theme, the positive reactions coming from El Tri's squad were in stark contrast with those of the pundits and media in Mexico.

"Without improvement, El Tri defeated Canada," read the headline on MedioTiempo.com, while ESPN's Futbol Picante pundits were far from impressed after the game, pointing out Canada's deficiencies and the lack of creativity in Mexico's game.

Relatively speaking, Thursday's win was a decent one, but that's compared to the poor performance against Panama last Sunday and the World Cup qualifiers where they failed to put to the sword their CONCACAF opponents who were intent on piling players behind the ball and reducing space -- as Canada did

The truth lies somewhere between the optimism and pessimism, but the debate highlights a growing gulf between the squad and media in terms of the perception of El Tri. This discord has been played out recently in hostile press conferences; the latest saw Chepo state he'd be ill in a hospital if he listened to everything the press say.

But, to be honest, El Tri lacked fluency, real cohesion and, dare we say it, a touch of quality against Canada. If Mexico plays to the same level on Sunday, Martinique will have a good chance at getting points.