De la Torre's reign lives on as Mexico beat Canada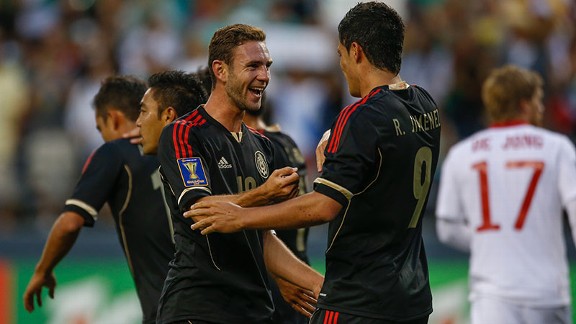 GettyImagesMiguel Layun celebrates Raul Jimenez's opening goal for Mexico
All the pressure, all the doubts, all the criticisms of Mexico were cast aside -- at least for one night -- when the El Tri claimed a 2-0 win over Canada in the CONCACAF Gold Cup.

Appropriately, Mexico's players wore black to what could have been coach Jose Manuel "Chepo" de la Torre's funeral, but the positive result has likely earned a stay of execution for his tenure -- at least until World Cup qualifying returns in September.

It wasn't by any means a clinical, crushing performance by Mexico. However, relieved fans were treated to a competent display of team movement and attacking skill to go along with a more confident defensive effort than was shown against Panama.

From the start, El Tri's players were generally effective versus an admittedly plodding Canada squad that had few creative tactics. With Marcus Haber alone up top, Mexico's players dominated the midfield, generating chance after chance.

Yet, as the first half drew to a close, Mexico's greater time in possession had not paid off. Crucially, the refusal to succumb to nervous play as time wore on was indicative of the greater mental strength of the squad. Pressure on Canada's goal continued, and Marco Fabian fired a hard shot on goal. Canadian goalkeeper Milan Borjan did well to push the ball to one side for a corner. On that set play, however, El Tri finally broke through. Luis Montes was able to send the corner on in front of goal, where Raul Jimenez pounced on the opportunity, heading the ball into the net.

The crowd, made up mostly of Mexican fans, erupted with joy that was partly the release of the anxiety that the team had generated with previous poor results and the inability to finish off many chances.

Only 10 minutes passed in the second half before Mexico added to their lead. Once again, Fabian was the protagonist, drawing a foul as he darted into the box after a pass. The referee pointed to the spot. Fabian took the penalty he had earned well, firing low and hard to the goalkeeper's right.

With the two goals giving El Tri a comfortable cushion, and Canada posing little in the way of any threat, the players relaxed, rotating the ball well and earning more cheers from the crowd.

So in the end, it was an easy win for El Tri, something to boost morale and something to build on, as passage to the next round is likely. Martinique's loss to Panama in the earlier group game means Mexico will advance with a win or a draw in the final group match. The future games will show if the lessons learned of focus under pressure and creating team chances will stick.

If so, the Gold Cup can return to being what it was meant to be for Mexico this summer: a proving ground for the young talent of the squad instead of something amounting to a trial by combat to judge whether de la Torre should hang on as coach. It shouldn't have ever come to that, but he has offered so little proof of his worth this year, that it has.

Perhaps in a signal of his desperation, de la Torre, even before the game, indicated that he was willing to revamp El Tri as needed, answering positively when asked if he would consider bringing in newly naturalized players such as Christian "Chaco" Gimenez.

Despite the victory, none of Mexico's players will make de la Torre or anyone else forget the skills of a player like Gimenez, who is a creator with excellent ball control. Canada simply didn't have enough quality to really provide a worthy test for Mexico's players. El Tri passed, but just with a satisfactory grade, not with flying colors.

The win over Canada was enough to briefly quiet the shouts of "Fuera Chepo", but the sentiment still simmers. Another loss or draw will bring it to a boil again.