Mexico 2-0 Canada: El Tri player ratings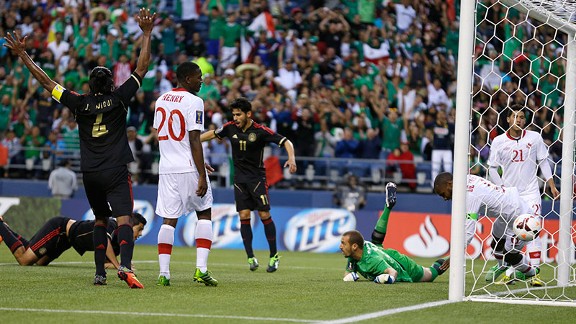 GettyImagesRaul Jimenez's header opened the scoring for Mexico.

A 2-0 win for Mexico will definitely buy Jose Manuel de la Torre some time following a desperately disappointing loss against Panama, but the Mexican team was far from sharp against a poor Canadian side. Either way, goal scorers Raul Jimenez and Marco Fabian showed positive signs, while newcomers Miguel Layun and Luis Montes had sparks that likely will not go unnoticed by the El Tri staff.

Player ratings

Jonathan Orozco -- 7.5: Not much to do for the Monterrey goalkeeper. He had one big stop in the first half and later watched as his team trekked toward victory.

Miguel Layun -- 6.0: Much like his performances with Club America, Layun tried too hard and did too little. He presented a couple of interesting plays on the wing, otherwise unnoticed.

Joel Huiqui -- 6.5: Followed a very shaky first half with a strong performance up the middle in the second half. Hard to live up to the billing of being named team captain, but the Morelia defender could be a lot worse.

Juan Carlos Valenzuela -- 6.0: Probably won't repeat as a starter; showed a lack of quickness and decision-making that could have cost Mexico an early goal when the match was up for grabs.

Adrian Aldrete -- 6.0: Grandiose start on the wing, followed by a very quiet second half. Didn't have much to do defensively, either.

Marco Fabian -- 7.0: Provoked a very wishy-washy penalty call that he put away, after generating the corner kick that led to Mexico's first goal. Needs to display more consistency.

Jorge Enriquez -- 6.0: Unfortunate injury for the Guadalajara player who is slowly showing the chops displayed in 2011 at the under-20 World Cup and at the 2012 Olympics.

Luis Montes -- 6.0: Not close to showing the level that has him here in the first place. The Leon player was overshadowed by Fabian in the middle of the pitch, relegated to being second fiddle offensively speaking.

Efrain Velarde -- 5.5: Lost too many balls in midfield; looked lost and indecisive on many occasions. Carlos Pena beckons as a potential replacement against Martinique.

Rafael Marquez Lugo -- 5.0: Likely lost his starting spot in the lineup to Javier Orozco, who nearly scored in a sub role for the largely ineffective Marquez Lugo, who has yet to display his Liga MX form.

Raul Jimenez -- 7.0: Scored his first national team goal, getting a growing monkey off his back after almost a dozen caps, most of which had come as a sub. Needs better distribution to become more dangerous up front.

Subs:

Miguel Ponce -- 6.0: The Sacramento, Calif., native was active but ineffective on the wing, like Chivas teammates Fabian and Enriquez, struggling to find his famous 2012 form that propelled Mexico's Olympic gold medal.

Alejandro Castro -- 6.5: Filled in nicely for the injured Enriquez, defending well on a pair of Canadian counter attacks that tested the young Cruz Azul man.

Javier Orozco -- 6.5: Nearly grabbed a third goal off a nice header but was negated by the post. Should be in line to start the third game against Martinique thanks to a strong cameo.