Mexico 1-2 Panama: El Tri player ratings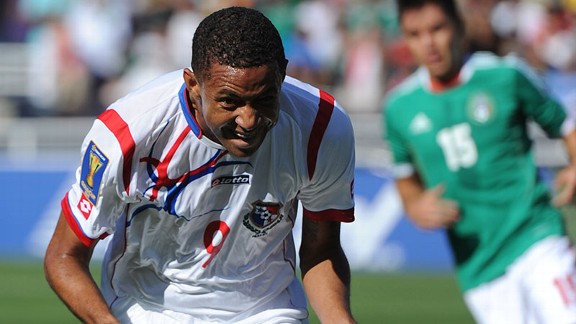 GettyImagesGabriel Torres celebrates after opening the scoring for Panama from the penalty spot
A different Mexico team, with fresh players and an alternative tactical layout, confronted Panama on Sunday in the Rose Bowl in Pasadena, Calif., but the outcome was more of the same as Los Caneleros defeated El Tri 2-1 to win against the CONCACAF giants for the first time in their history.

If the pressure was on coach Jose Manuel "Chepo" de la Torre beforehand, the loss may be the straw that broke the camel's back.

Mexico once again failed to find fluidity, looked shaky at the back, without a clear game plan and lacked on-field leadership. Panama was the opposite, mixing solidity in midfield and defense with pace, strength and flair going forward. The Central Americans played with purpose, whereas Mexico seemed short of ideas.

The bottom line is that results have been poor for Chepo, and Mexico coaches have been fired for less.

Even a change in tactics to a 4-3-3 didn't help, perhaps because Raul Jimenez was shifted out to an unfamiliar right-wing position and not one of the three central midfielders who started are known for their offensive abilities.

In summary, it was another failure in a year in which Mexico has sunk to ever-increasing lows.

Player ratings (10=best)

Jonathan Orozco, GK -- 6: A quiet evening for the Monterrey stopper, who could do little about the two goals Mexico conceded. Orozco looked comfortable on the rare occasions he was thrust into action and distributed the ball well, at which he is perhaps the best keeper in Mexico.

Israel Jimenez, RB -- 4: A Jekyll and Hyde of a game for Jimenez. Both Panama's goals came from moves down its left flank and los Caneleros should've added another when the Tigres player made a monumental error in the 39th minute to let Anibal Godoy in. On the positive side, he played an exquisite through ball that Marco Fabian latched on to get Mexico's only goal.

Joel Huiqui, CB -- 4: While the Morelia player is a solid Liga MX center back, Huiqui looked out of his depth on Sunday. He was caught out of position all too often and lacked pace to deal with Panama's quick forwards. Walterman hit the post for Panama in the 40th minute after he turned Huiqui all too easily. The 30-year-old also should have done better for Panama's second.

Jair Pereira, CM -- 5: He wasn't the worst culprit for Mexico's shortcomings in the first half and he was vocal in trying to organize the defense, but there are still plenty of question marks.

Adrian Aldrete, LB -- 6: Attacked down the left wing more than Jimenez and was certainly more solid defensively.

Jorge Enriquez, CM -- 5: After a bright start, Enriquez proceeded to give away possession too much and his touch was exposed at times, such as in the 19th minute when he gifted the ball to Panama in a dangerous area without much pressure on.

Alejandro Castro, CM -- 6: He was solid in the first half, getting stuck in and generally shielding the defense well. Castro remained deep when Mexico had possession to allow the fullbacks to push forward.

Efrain Velarde, CM -- 5: Playing on the left of a midfield three, Velarde failed to distribute the ball to his usual high standards and didn't make the desired impression on the night.

Raul Jimenez, RW -- 5: The American forward looked a little lost playing in a position he is not accustomed to, on the right side of a three-man forward line. Jimenez was at fault for a rash and needless tackle in the Panama box, which led to the penalty and the opening goal.

Marco Fabian, LW -- 7: This was by no means Fabian's best performance, but the Chivas playmaker was the brightest player in green. He scored El Tri's goal in first half injury time, judging his run perfectly and finishing with style. He showed personality and determination in the second half, when he took the game to Panama and struck the post with one effort.

Rafa Marquez Lugo, -- 6: Intelligent first-half display and linked well occasionally with Fabian. Marquez Lugo looked isolated at times, but almost scored in the 12th when he met an Aldrete shot with his head and forced a good save.

Substitutes

Carlos Pena (for Alejandro Castro, 45) -- 6: Pena's introduction at halftime heralded a definite improvement from Mexico, despite Panama's early second goal. The Leon midfielder offered more going forward and put Fabien through on goal in the 53rd.

Juan Carlos Valenzuela (for Pereira, 45) -- 5: Not called into action with that much frequency as El Tri pushed forward searching for an equalizer, but went close with a header late on.

Isaac Brizuela (for Velarde, 74) -- 5: Thrown out to inject some pace down the wing, Brizuela's introduction signaled a move to the 4-4-2 formation, although the Toluca player couldn't get on the ball enough to make a difference.