Feast or famine for Mexico, Chepo at Gold Cup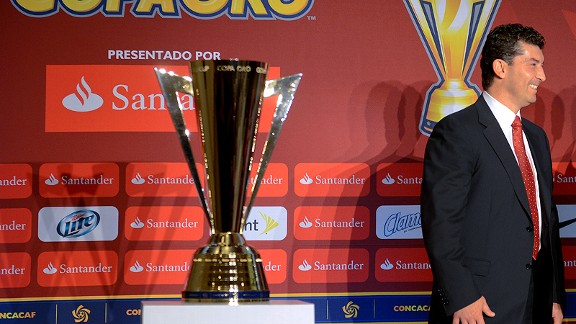 Alfredo Estrella/Getty ImagesWinning another Gold Cup would help quiet Chepo de la Torre's critics for the moment.
Mexico's national team got a rude send-off to the Gold Cup when they lost their final preparation match versus Queretaro, 3-2. Yes, the White Chickens, as they are nicknamed, took on the famed El Tri and defeated them, while fans in the stands cheered and chanted, "Fuera Chepo!"

Technically, Jose Manuel "Chepo" de la Torre, is not the official coach of the El Tri Gold Cup squad. That should be the first clue that the team isn't up to the top standard. Assistant coach Salvador Reyes has taken the helm, but de la Torre has been on hand as well. Part of the reason is that he wants to observe players more closely to see who can make the jump to the top squad. The other reason is that de la Torre needs to be associated again with a winner. Mexico has traditionally dominated the Gold Cup, winning the title more often than all other teams combined.

- Marco Fabian's Gold Cup mission

If there was ever a year where Mexico has forsaken tradition, though, it would seem to be 2013. A formerly nimble and lively team has been stuck in a scoring malaise that only gives coy hints of going away before becoming more ingrained than ever. Mexico has managed a single win in a competitive match where the outcome mattered this year, defeating Jamaica by a lone goal.

In some ways, though, El Tri's struggles provide the young "B" squad of the Gold Cup a rare opportunity. With few on the first-choice squad looking terribly sterling, players can position themselves well as the potential solution to El Tri's woes. Basically, the team needs heroes, and if the Gold Cup team can become the cavalry for Mexico's cause, they will be lauded and celebrated.

There's also no reason to think that a grateful de la Torre wouldn't remember the players who saved him in his time of trouble and turn to them again for a spot on the World Cup qualifying tea or even the World Cup roster.

In sum, there is everything to play for in this Gold Cup.

Mexico should dominate group Group A, competing against Panama, Canada and Martinique. El Tri kick off against Panama in the opening clash between the two squads. Mexico catches a break in not having to play against experienced Panamanian striker Blas Perez. The forward will be in town, but he will play for F.C. Dallas against the Los Angeles Galaxy instead of El Tri, fulfilling club obligations.

Though Panama has improved considerably, probably more so than any other CONCACAF nation over the recent period of years, the squad, especially without its top player, should pose little threat to Mexico. On the other hand, that's likely what Mexican players thought about Queretaro, and that turned out not to be the case.

Mexico has already faced Panama in World Cup qualifying and managed only a frustrating tie. Of course, that was on the road, where traditionally, the home team is very difficult to beat.

El Tri players should have happy memories of the Rose Bowl, the site of the kickoff against Panama. It was on that field that Mexico managed a comeback 4-2 win versus the USA to win their last Gold Cup title in 2011. Thousands of local Southern California soccer fans will be on hand again to help the stadium feel like a home game for El Tri.

Admittedly, home stadium advantage in Azteca isn't what it used to be, given that Mexico is winless in its own country this year. Therein lies the flip side of passionate and knowledgeable fans. They can't be fooled when coaches or others try to spin positives from dismal results. They hold the leaders involved responsible for the outcomes that are generated.

That's why the cries of "Fuera Chepo" have been ringing out from Mexico City to Queretaro. Fans know Mexico can play better than has been seen of late. With a fresh start and hungry players in the Gold Cup, the slate can be wiped clean via a good showing and another trophy. Nothing less is expected. Anything less could result in many more chants from those who wish for the ouster of de la Torre.