Snapping the Goodison jinx
It's just a patch of grass in a decaying inner-city district of Liverpool brick and litter. The Goodison Park architecture itself is not that dissimilar from Fulham's own Stevenage Road ground. The dimensions of the pitch are the same, and both teams of 11 adhere to the standard FA rules of the game.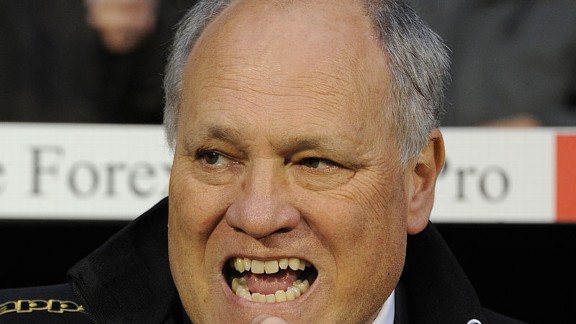 GettyImagesCan Martin Jol get his limited squad to fire at Everton?
Yet Fulham always contrive to lose at Everton. Nineteen trips here since the last win by any Fulham side, while in their Premiership years -- regardless of the manager, the Whites have lost all eleven attempts.

Your rose-tinted spectacles would have to be of Elton John vintage circa 1976 to suggest Fulham on current form stand any chance of upsetting the odds or breaking the hex Saturday. David Moyes has the blueprint and players who know exactly how to deal with any side Fulham put out.

For this unwelcome trip, Martin Jol has limited options for a side who are treading water till the season ends. His midfield motor Steve Sidwell is banned, of course, for the next four matches, leaving him a whole summer to reflect on where his career now leads.

Steve also has a stern rebuke from the gaffer ringing in his ears for letting the side down last week. "Words have been spoken, and that remains private," says the Dutchman.

Do we take heart from the Arsenal performance? That certainly did not look like a side with one eye on the beaches of the Mediterranean. Having turned in the best performance of his loan spell, Urby Emanuelson will not figure. Damien Duff is fit again and it makes sense to stick with those likely to still feature next August. That means a further run out for Alex Kakaniclic and Kieran Richardson, and Stanislav Manolev should Sascha Riether remain sidelined.

Does Fulham have any option in midfield other than to reinstate the Greek legend to 'dictate' the game to Everton? Well yes, but it's not in Martin's DNA to implement it. I anticipate Giorgos Karagounis in alongside Eyong Enoh (who must be signed) with Alex and Damien on the flanks. Personally I would try problem boy Bryan Ruiz as the pivotal midfielder and play an additional striker to take all the weight off Dimitar Berbatov's shoulders.

Whatever, Everton's clever mix of brain and brawn, their ability to switch tactics in the course of games (a trick beyond Jol's mental capacity), and the towering presence of Marouane Fellaini alone will suffice to see Everton over the line.

We live in hope. I blogged in early spring of my wish every season for one standout win that goes against the current. That usually means trying to squeeze out a win at Arsenal, Villa, Spurs or Everton. I think I've had that wish granted already this season.

For those brave enough to venture north, I salute your commitment. Three points for Fulham? Stranger things have happened, and there may well be life on Mars. COYW!

I shall not be boarding the train for this one, but am heading down to the Cottage tonight to see Kit's U-21 side in action for the last time this season. The future at least looks brighter than the present.

The message board has been in overdrive this week after the Arsenal game as we all fret over the shape of the side post-summer. Keep those suggested signings coming! It's the only thing to sustain us after the bitter fruits of this difficult campaign.

Twitter@fulhamphil