Rumble by the River Thames
Red-blooded rivalry sees Fulham and QPR face off Monday night with sole ownership of the Premier League stage. The game (on ESPN Deportes and ESPN3/WatchESPN) is full of delicious connotations -- enough to satisfy supporters of both clubs plus the attendant press corps. There are sidebar issues aplenty as former Tottenham managers cross swords at the Cottage, both seeking something from the game.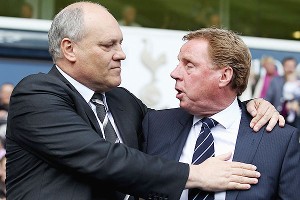 Clive Rose/Getty ImagesMartin Jol, left, and Harry Redknapp will renew acquaintances Monday at the Cottage. The managers have vastly different goals for the match.
With his Fulham side unbeaten in four, Martin Jol knows all lingering thoughts of a late relegation struggle can be tossed aside come 10 o'clock Monday night with three points. The Whites are gaining momentum with their usual spring flourish in form. Turning over their neighbours from the Bush will provide the ideal platform to push on for a top-half finish, Rangers being the first of all three sides currently at the bottom Fulham are still to meet.

Fulham's fixture list with nine games to play (five at home) suggests the Whites will comfortably pick up the necessary points here and there to ensure survival. But QPR know they really are drinking in the last-chance saloon, seven points adrift and running out of games. Results over the weekend for teams in the bottom half could not have fallen better from a Fulham perspective.

This 'win-or-bust' scenario from Harry's men suggests a game of high stakes where Fulham will be pushed all the way to get a result. There's no question in my mind that will be the case, and I could have wished for better news on the refereeing front, seeing the game being given to Lee Probert in a late switch. Here's a ref to my mind who enjoys being centre stage a tad too much . . . .Neither side plays it dirty, so let's hope the officials are not the ones making the headlines.

I'm hard pushed to see Fulham pulling another 6-0 out of the hat; we just don't have the attacking options now for performances like that. With Bryan Ruiz likely to miss the game with a recurrence of hamstring trouble, Redknapp will no doubt warn his defenders his side can concentrate their efforts on nullifying Dimitar Berbatov, who, should he find the back of the net, will be the first Fulham man since Steed Malbranque in 2003 to score in four consecutive games. Here's hoping!

Will we miss the Costa Rican that much should he be ruled out? Having returned from the Colorado whiteout not with the usual carton of duty-free ciggies for Dimi, but yet another sicknote, Bryan's absence gives Jol the option to play a conventional 4-4-2. As it is imperative Fulham do not hand the initiative to the Rangers boys in the lame manner they did at Loftus Road in December, a more offensive pairing up front as the home team should work to Fulham's advantage.

Expect that to be the one change from the line-up at Spurs. I hope too for a constructive and bold interchange from the bench once Fulham's Greek maestro Giorgos Karagounis has shot his bolt from midfield.

As for the opponents, like the management teams get from 'Arry, all is not always on the level. It's a first return to his old club for the love-him-or hate-him Bobby Zamora. Rangers say he's fit and their survival hopes are riding very much on him and Loic Remy firing the goals to give them any sliver of hope. But after QPR lost at Villa I heard the club saying Bobby's hip (requiring surgery in May) causes him so much discomfort Zamo has to be kept mobile during the interval to stop him seizing up. Frankly, I shall be surprised if he lasts the 90. But I will be giving him a quiet patter of applause for his time -- and goals -- with FFC. Anything less would be disrespectful. Not that I'd object if Philippe Senderos roughed him up a little.

While QPR are now a more virile outfit than under the lamentable Mark Hughes, and with players in key positions who are indeed EPL quality, if nerves are to get the better of either side, it surely will be Rangers. Redknapp knows the game is almost up. Martin's team talk is a simple one. The gaffer himself last week managed to finally address that black day last December at the Loft. He described it as Fulham's worst display of the past two seasons. I agree wholeheartedly. Pride in our club demands redemption Easter Monday from 8pm. Be there or in front of your TV screen for a night to remember. Can you imagine a more fitting backdrop for our skipper to lead out the side having just announced his further two year commitment to the best team in West London?

COYW! Twitter @fulhamphil