Relegation runners and riders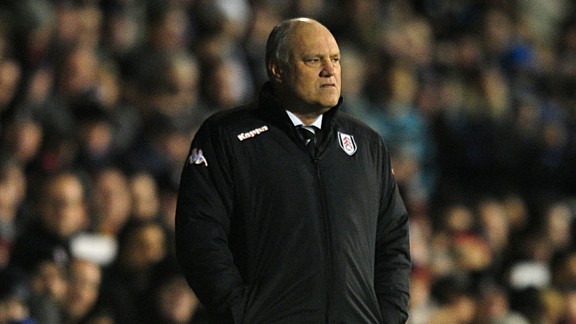 PA PhotosCan Martin Jol keep Fulham in the top half of the table?
A weekend of FA Cup quarter-finals, and a truncated fixture list, leaves Fulham fans twiddling their thumbs while the first team put their feet up or accompany their wives to the gardening centre. Remarkably, the Whites remain sitting pretty in 10th place as none of the teams in action below us showed the capacity to leapfrog FFC into the top half of the division.

The reprieve, however, is temporary. A draw for Norwich and a third straight home win for Newcastle at the death sees both sides join the clutch of sides with 33 points. That makes five of us, with Fulham top of this mini-league for now thanks to our goal difference - but things may not look so rosy after next Sunday's away game at Tottenham.

It's all too easy to get tunnel vision watching your own club. Casting a neutral and dispassionate eye over other strugglers gave me considerable food for thought. With the two Manchester clubs streets ahead of the rest, Spurs punching way above their weight thanks to wonderman on the wing, Chelsea a dysfunctional soap opera and Arsenal in terminal decline, the oft-repeated boast of the EPL being the best league in the world seems a highly risible proposition right now - just reference the Champions League results for confirmation. Some of the play lower down the league I've been watching has been plain awful. It puts a different cast on our own displays, and I think we are about right with our current station, so the Whites to finish 12th is my guess.

Anyway, with no Fulham action to reflect upon, and the need to find some topic to blog, I reluctantly will play the guessing game as to who goes down and where we will finish up. To this end I have taken a closer look at the teams around us.

First off, I can't see as making up the seven point gap to Swansea. They say the table does not lie, Swansea and West Brom have both played imaginatively this season, shown greater consistency, claimed some big scalps, and by any criteria are playing better than us. Unfortunately, after our dismal winter run, we Fulham fans are still focused more on what's happening in the bottom half of the league. Following their loss at QPR Sunderland head up the bottom six with 30 points in 15th, and it's from this batch of bottom feeders I reckon the final three for the drop will come. Here's my assessment for what it's worth.

Rangers remain rock bottom, but they won't be for long. Harry really came up trumps with that away win at Southampton. Like the night game comeback from two down against Liverpool a year ago, that win at St Mary's has given the Hoops real momentum. The hard work was cemented with another win Saturday after yet another shoddy display from the Black Cats. Martin O'Neill admits to being worried after just the one point gained off us from their last five games. Their big money gamble in the January market Danny Graham has not come off, they are over –reliant on Stephane Sessegnon to spark something (shades of Fulham here), and I don't fancy their central defenders.

Sunderland and Rangers may be passing each other in the opposite direction sometime soon, but the GD stats tell me the Black Cats have just enough resilience to stay above water.

If Rangers are clearly on the up, that leaves Reading now as nailed on to finish last. They had some topsy turvy results pre-Christmas but over the long haul they are being found out. I think Brian McDermott is an honourable and likeable guy. I hear his interviews now however and sense he's resigned to the inevitable. Despite the new investors they did spend, but not big enough. He's got as much as he can from what is in truth a very average bunch. The Pog needed to notch 15 goals for the season for Royals to have had a fighting chance. Aint gonna happen.

My tip for other two relegation spots is too close to call. Wigan, Villa and Southampton have all won just six times. I think only one side here will survive. It's a wonderful dream that will now surely see Wigan go all the way to Wembley, but you can be sure Roberto Martinez will trade all of it to slip the noose. Trouble is, I think they may well come up short. That seems odd to write after the way they brushed Everton aside at Goodison. They try to play really attractive football – but I don't think they know how to win ugly. The Cup games will be a distraction, and the DW is neither a fortress, or intimidating. Sorry, Roberto, but this time your number is up. The pressure will get to them.

So to 18th. I think it has to be Villa, despite that away win at Reading, and Christian Benteke's goals. GD could be decisive, they remain an awful side defensively, and I see no leaders in their ranks. They have an over-reliance on youth and have played the market poorly for some time. I'm not sure some of the senior players are prepared to pull out all the stops for the manager either. Fulham of course can add massively to their woes should we get anything from our trip there (don't hold your breath). But if Villa turn QPR over on Saturday at home you can stand this thesis on its head!

That leaves Southampton and QPR to fight another day. The Saints have been spirited. They currently have a four point cushion and a superior GD. I think they are better coming forward than defending. They possibly changed managers at the right time and if it means taking their fate into their own hands I think they have the resolve – plus a raucous home support, to haul the side over the line. And they have that never say die old warhorse Ricky Lambert.

Much as I hesitate to type it, the entire Fulhamish mystique that dogs supporting Fulham tells me Rangers will win our derby game April 1st and with that lift themselves away from the foot of the table. Harry will indeed deserve to be cast in bronze if he pulls off the great escape. Make no mistake, QPR are going to be a hard team to beat in the next nine games.

I thought Saturday's team selection telling. It spoke volumes for Redknapp's acumen, man management and what the previous incumbent got so spectacularly wrong. No start for flaky performers like Adel Taarabt, Esteban Granero or Shaun Wright-Phillips, second raters such as Anton Ferdinand, Nedum Onuoha, Armand Traore and Samba Diakite. In are two direct wide men quick to support the front two. And the rock that is Chris Samba to hold the defensive line. With that formation much is riding on BZ staying fit – and 'Arry knows it, but they've got the players, and the self-belief now, to ensure survival. QPR have been far more effective with their January deals than Fulham, and no mistake! I say Rangers survive in 17th.

Of course, the above could all go spectacularly Pete Tong (you can work it out), should someone (Norwich perhaps) go into spectacular free-fall. I don't really care who it is, as long as it's not my club. So even this early in the week…COYW!