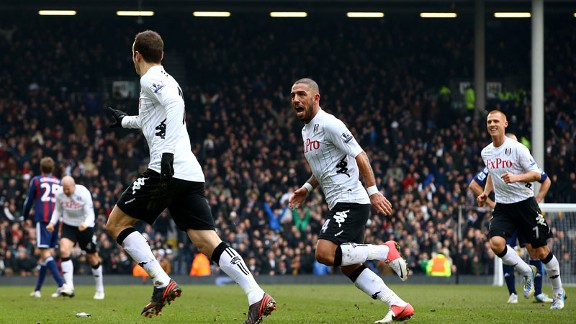 GettyImagesBerbatov's goalscoring ability has outshone his petulance this season
Nobody predicted a classic, the betting sites all suggested a low-scoring encounter, and with grim inevitability Fulham again ended up last on Match of the Day. Oh yes, it was also numbingly cold down at the Cottage. No matter. Fulham came out tops in an encounter with far more significance than perhaps the rest of the weekend media gave to Saturday's lunchtime kick-off. A 1-0 win for the Whites agianst Stoke was just what the doctor ordered.

- Whittaker: Pulis sticks with recipe for disaster
- Jol delighted with Dimitar
- Report: Fulham 1-0 Stoke

To the casual observer Fulham v Stoke looked like a run-of-the-mill mid-table clash with little left for either side to play for this season. But our first home game in three weeks had given us long-suffering fans plenty of time to work up a complex over just how we were going to drag in enough points to avoid being sucked down into the relegation zone. On paper we faced strong opposition in our final six games at the Cottage from Chelsea, Arsenal and Liverpool. The other three sides to visit were Stoke, Reading and QPR.

Three wins and a couple of draws would be enough surely? It therefore became paramount we kicked off the run-in with three points off Stoke. Best take nothing for granted. Our form since November on had been pretty awful. Leading up to the game one newspaper in London (the Metro) suggested the last really convincing performance put in by the Whites had come in the 3-3 draw with Arsenal back on November 10th.

The players at Fulham certainly saw the significance in this one. Did you take in their reaction at the final whistle? And Martin knew it as well. "A massive relief to get the three points," he said. For the first time in months I am delighted to record nothing negative on my blog. This was an outstanding team performance against an awkward and physical outfit. Not one man in white let the side down.

Our keeper brilliantly saved a penalty, our top scorer volleyed the winner, a moment of scintillating skill, while the defence recorded a second straight shut-out for the first time in almost a year. From the off I was heartened to see the tempo and work-rate dials set high. We know the side lacks a master strategist in midfield and a ruthlessness to close off all the clever approach play. But against Stoke's musclemen we had Karagounis playing with the verve of a man half his age. Riise carrying the ball deep into the opponents half and committing defenders (in a manner not seen this season) and everyone prepared to scrap for the ball. Twenty efforts on goal and 9-4 the corner count tells you this, offensively, was a Fulham transformed from recent months. If Sidwell could only shoot like Paul Scholes…

Possession wise Fulham were well on top and fully deserved their half-time lead. The 2nd half was more even. Manager Pulis understandably felt the penalty miss was a turning point, but his more honest supporters, increasingly hacked off with the one dimensional long ball game Stoke are infamous for, were moaning long and hard at the overall sterility – and yet another fruitless away trip. We thought Fulham were a tad toothless in the striking department, but Peter Crouch looks about washed up as a genuine Premiership player (just one solitary goal all season). Certainly on that showing I'd rate Bobby Zamora way above him for holding up the ball.

Stoke can consider themselves lucky not to have conceded more. Fulham are moving in the right direction again, though an inability to score a second will always leave you vulnerable – and we have to live with the fact that Senderos is always going to make that one bad call in a game.

In fact, Stoke were fortunate to finish with eleven men. A rugged encounter, though not a dirty one, might have seen another ref flash reds for two in the face assaults by Stoke players – N'Zonzi taking a swipe at Ruiz and Huth swinging a forearm smash into the jaw of Senderos.

The Sky pundits had some trouble with the MoM award. Strange one that. They gave it to Mark because he pulled off two saves of note. Outstanding candidate for the award in a white shirt was Ashkan Dejagah, his best game by some margin. He's been frustrating me immensely for months, but I kept reminding myself how long it took before we saw the best emerge from Clint Dempsey's game. Here the Iranian's decision-making was much improved, he was quicker to the ball, combined excellently with Sascha down the right wing, and showed a knack for turning defenders and coming in off either foot. He can only get better.

Bravo Martin for getting the preparation right for this tough test. I'm sure all Fulham fans are sleeping easier tonight. Losses for the bottom three now give us a healthy margin of safety. From here on in let's start enjoying ourselves again and keep that miserable ESPN blogger in his cage!