One Fulham over the cuckoo's nest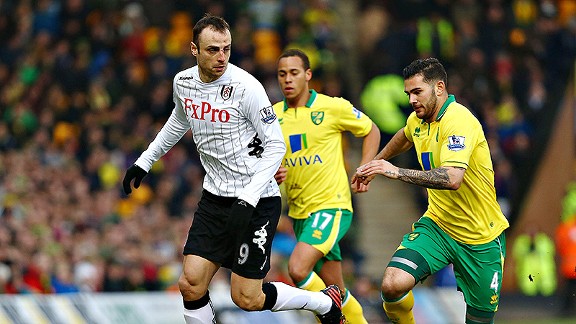 Jan Kruger/Getty ImagesThe offensive ineptitude of Dimitar Berbatov and company is starting to test the sanity of Fulham fans everywhere.
It remains a labour of Sisyphus to resist sounding off like an old sourpuss on the blog this season. Believe me, it is dispiriting to fire up a fresh page and have nothing to peddle but the same old gripes. In light of the 0-0 draw at Norwich that plumbed new depths of tedium, the frustrations with Martin Jol's 'work-in-progress' at Fulham are really getting to me. Should any youngsters be unfortunate enough to have received their first exposure to the beautiful game(!) with this bore draw at Carrow Road, they will spend the weekend wondering what rugby has to offer up instead.

- Stalemate at Carrow Road
- Davitt: Norwich in attritional mode, edge closer to safety

Attention-grabbing blogs should be topical and controversial. OK, here was Fulham's latest installment of Groundhog Day. But as for controversial -- there's little to add to this latest anodyne away performance that is not already glaringly apparent to the long-suffering Black and White Army. We can all see it, except it seems our stubborn ol' Dutch uncle. Where perhaps opinion divides, is the question of how much longer we keep faith with the man at the helm.

I put this question forward: In any other walk of life, whatever your profession, would you still be allowed back through the door every Monday if after 20 months' support from the firm this is the best you can come up with? Fulham are on course for their lowest league finish in five years. Although we have 25 well-paid professional athletes registered on our elite squad, sadly we do not have a team. The eleven men wearing the FFC crest each week consistently underachieve because they are not playing as a team. Is it necessary to name the prime candidates for this state of affairs? No.

I recently picked up a classic old paperback in a book sale for 30 pence. It was Ken Kesey's "One Flew Over the Cuckoo's Nest". It was published in 1962 and then turned into a monumental film starring Jack Nicholson. Apologies if I'm showing my age here. I do accept there is a generation reared only on Harry Potter CGI, Tarantino gore and Jennifer Aniston rom-com trash with scant knowledge of Kesey's subject matter. Bear with me.

Kesey was a died-in-the-wool West Coast hippie of the psychedelic sixties. He volunteered to be a guinea pig for US government sponsored drug trials into hallucinogenics in 1960. Following that with employment in a mental hospital meant this guy began writing with a big agenda. In a sentence, his seminal book plays with the fine line between sanity and madness. That therapy, treatment of psychiatrics and asylums were more about the moral code of a society, where those in control demand conformity. It's pretty heavy stuff.

What's that got to do with supporting a sport's team? Well, I don't think I'm going mad quite yet, but watching the current Fulham team can be deeply maddening. Sorry doc, is that an oxymoron?

I don't know if the traveling faithful see it in quite such lyrical terms. We took solid numbers up to Norwich. Travelling away with Fulham is not a cheap day out, but for such little reward? You would indeed question the blind loyalty, indeed the sanity of those who make such sacrifices. Returning on the train I look around at the glum faces, the resignation and acceptance. No wonder our away support is largely viewed with derision by the rest of the league. You would indeed have to be mad to keep putting up with it.

Need we trawl over the same old frailties in the team from the mob who managed just one effort on goal Saturday? Let's not for a second cite the absence of key players for our wretched performance. Norwich were down to the bare bones, captain Grant Holt watching from the stands. They were on a run of no wins from eight. They had managed just one goal from their last six. Non-league Luton Town had dumped them out of the Cup. A flu bug ran through the camp last week. And did Fulham ever for a minute look capable of carrying the game to our threadbare opponents?

Bryan Ruiz endured yet another anonymous match. He is not worth ten cents to the side, let alone 10 million pounds. Why did he start? As for introducing Ashkan Dejagah for him as a 91st minute substitute, what was the point of that? Let's not be harsh on the 21-year-old Emmanuel Frimpong on his debut. If he was EPL quality he would not have been put out on loan. But subbing him probably saved him from a red card. I do not see him as a game-changer for the rest of our season. Damien Duff had no impact on the game whatsoever. With no recognised wing man on the right, Fulham played predictably with no width. Stanislav Manolev, drafted in at the last minute due to Chris Baird and Sascha Riether being unwell, played sensibly and within his limits. On the other flank John Arne Riise only confirmed his irrelevance to the collective on the pitch.

One glimmer of hope? Urby Emanuelson looks to have the credentials to make an impact. I look forward to seeing him played on the left flank and alongside Giorgos Karagounis. For the Stoke game, pray we can see solid professional Simon Davies back on the right. Duff and Dejagah can sit out the season. With Kerim Frei injury-prone and Alexander Kakaniclic too ephemeral for the big time, fresh wingers are an absolute must in the summer.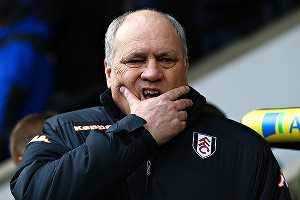 Jan Kruger/Getty ImagesMartin Jol's side only managed one shot on goal at Carrow Road on Saturday.
I would stick with Hugo Rodallega up top from here on in, but for heaven's sake throw some bodies into the box to support him. I watched two crosses come in from the left with one runner to the front post and one to the back against five Norwich defenders. Bobby Zamora would have made a difference. He is a much maligned figure in some quarters, but we've never heard his side of the story. Lest we forget, it was Zamora's goals that drove us on to Hamburg, many scored in away ties where he was playing up front on his own. He played that final unfit with a sore Achilles heel, knowing he could only give us a half before the injection wore off. In aggravating that injury on the road to the final, Zamora also ruled himself out of Fabio Capello's squad for South Africa. And that was the end of his brief England career, sacrificed for the Fulham cause. Remember that before firing off your brickbats at Bobby Zee.

Steve Sidwell showed up in patches, albeit within the confines of his restricted ability to drive the midfield motor and lack of support in key areas. Our centre backs were both solid, but hardly tested.

I got back from Norwich and decided for once I needed to watch Match of the Day to remind myself how football is played, and can actually be entertaining. What a breath of fresh air Swansea are! And a loud magnifico for Southampton. For as long as I have reported on football, you hear managers constantly go on about the need for pace and power. Fulham at present have neither. Remarkable!

Can you tell I've left the juiciest topic to last? Dimitar Berbatov is a Rolls-Royce of a footballer. Sleek livery, leather upholstery, superbly-tuned engine. On the starting grid and cruising elegantly past the grandstands, he is the subject of a thousand flashing cameras and admiring glances. But in the Formula One world that is the Premiership, he is still trundling round the circuit on lap 25 while the winners are popping champagne corks on the rostrum. Over to you Martin...

Twitter@fulhamphil