The fickle finger at Fulham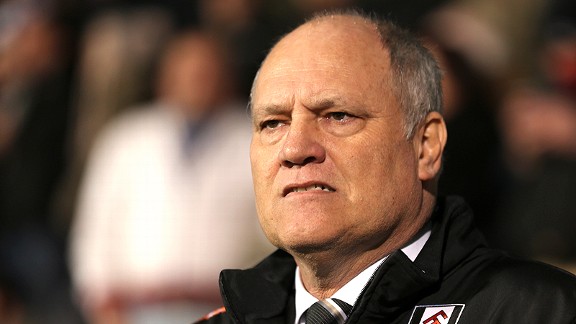 Ian Walton/Getty ImagesThe defeat to previously winless QPR has turned up the heat on Fulham manager Martin Jol.
I have been tossing and turning at night ever since the debacle at Loftus Road, trying to decide if Martin Jol is a lucky manager or not. In my mind, the jury is still out. But as 2013 beckons, our manager may soon find himself at the crossroads. The inability to rise up the side for a local derby when our neighbours have sat rock bottom since August, I find quite baffling. Some defeats you just shrug off, but the surrender to QPR in such spineless fashion may well come to be viewed as a watershed in Jol's reign by the river.

Sadly, I am not Cassandra, and six points from our next two home games will have everyone raising a glass on New Year's Eve to toast the Whites with a 'Crisis, what crisis?' smirk. It may well come to pass and of course, I sincerely hope it does. But what from the fixture list in autumn looked like a run of games where Fulham would surely gather points, now in deep midwinter threatens to be three big fat banana skins -- Southampton, Swansea and West Brom. With just the one solitary win from nine, we are of course below all three teams in the current form guide, and if you viewed the match-ups with the cold eye of a neutral, you might well predict Fulham to struggle in all three.

You will already have noted I give scant regard to Saturday's trip to Anfield. Yes, we famously nicked a win up there at the back end of last season, but I don't see a repeat here. Liverpool were in disarray last term with Kenny Dalglish the dead man walking. Brendan Rodgers is made of sterner stuff, he's turning things around gradually, and unluckily for us, they are coming off an even worse result than the Whites -- turned over 1-3 at home by Villa. We don't have anyone remotely like Christian Benteke, and I can't imagine Rodgers standing for two consecutive home defeats to strugglers like Villa and us.

With the Whites losing Steven Sidwell to suspension, missing Bryan Ruiz, Mahamadou Diarra, and with -- let us be frank -- precious little pressure coming from below, Jol's ageing band of warriors virtually picks itself. Our options are severely limited, meaning we can only hope the players themselves have been stung over the past few days to compensate for Saturday's miserable capitulation. We are certainly not equipped to go up there intending to be cavalier, as Jol might have suggested six weeks ago. Team shape is flawed, confidence eroded, attacking options limited. As the whole league now realises, over-reliance on Dimitar Berbatov makes us a very one-dimensional outfit when our wingers go missing or get left on the bench. Even more damaging, and unforeseen by most fans, is this creeping fragility at the back. I fear the very best we could hope for would be a Hodgson-esque effort at 'parking the bus' Saturday evening and escaping back to London with a point.

Things should be different however for the Saints on Boxing Day. I have a feeling the boys might rise to the occasion. We shall see. Struggle to overcome Nigel Adkins' battlers, who are not the same side away as they are at home, would certainly heap the pressure onto our manager. Let's evaluate Jol's chances. Fulham 'legend in the making' and the man who takes us on towards the dizzy heights of becoming an established top seven side, or another to come up short and land us with a relegation battle? How much is Jol a victim of the board's inability to fund real megastar money transfers, or retain the quality players we have?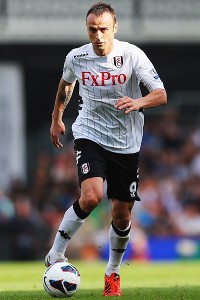 Clive Rose/Getty ImagesDimitar Berbatov's goal-scoring drought has not helped things at Craven Cottage.
To try and penetrate the riddle, I have been drawing comparisons with Lawrie Sanchez. My discomforting conclusion is that Jol, former manager at a host of massive European clubs, sits uncomfortably close to Sanchez in the audit of recent Fulham sides. And it wasn't Ajax or Hamburg where Sanchez was plying his trade before landing the Fulham job. It was Wycombe Wanderers.

I interviewed the ex-Wimbledon legend at Adams Park a decade ago. He was clearly ambitious but frankly admitted his only real shot at managing at the top would be by climbing the leagues in the manner of a Neil Warnock or a Tony Pulis. But he got lucky with a modest bunch of willing journeymen from Northern Ireland and one remarkable streak from David Healy in front of goal. When the Coleman-Kean experiment unraveled, Sanchez interviewed well, and landed the job. He told the board at the time Fulham needed a whole new team from back to front.

So in 2007 where did it all go so badly wrong inside nine months? This is where you could actually mount a case for saying Sanchez was treated cruelly by lady luck. Fulham were seconds away from taking a point from Arsenal on day one. Then in their first home game, striker Brian McBride badly dislocated his knee in the 16th minute and got sidelined for six months. Jimmy Bullard (the Bryan Ruiz of that era) was also still six months away from fitness. In that same 'Boro game where McBride was stretchered off, Healy had a legitimate goal not given after the ball had crossed the line. Fulham were beaten 2-1.

The Whites under Sanchez started down the slippery slope. But the guy had added Chris Baird, Aaron Hughes and Danny Murphy to the side. Clint Dempsey and Simon Davies were mainstays. Just like Jol, not all the summer signings worked out, but we had half a team. Healy and Diomansy Kamara never found goals easy to come by in the Premier League, Hameur Bouzza was a blow out from Watford at four million pounds (read Pajtim Kasami as of now). Alexey Smertin was a flop too, and even worse was Stephen Davis from Villa, who never produced and had a nightmare few months. The full backs weren't great: Baird was asked to play right back and at the heart of defence, Carlos Bocanegra and Dejan Stefanovic were slow on the turn and found wanting (a bit like now?).

The losing streak didn't help Antii Niemi's confidence, along with injuries, so we had a problem in goal too. Is all this sounding a bit too close to where the team is right now???

I leave you to judge. The results over the next six weeks will speak for themselves. It's fair to say I'm not brimming with confidence, but that's just the perennial Fulham morbidity stamped into my DNA from 50 years of following a side that never fails to come up short when blue skies beckon. In preparing this piece, I checked out my reliable sources at the local Chronicle to read Jol is likely to pair Baird and Giorgos Karagounis in midfield for the Liverpool trip. At a combined age of 65, I'm sure Luis Suarez is having sleepless nights over that.

To arrive at this level Jol, after 18 months in charge -- feels like a pretty damning indictment to me, however 'unlucky' you were in the last window. Like Sanchez before you, unlucky managers are the ones mostly not working right now.

Twitter@fulhamphil