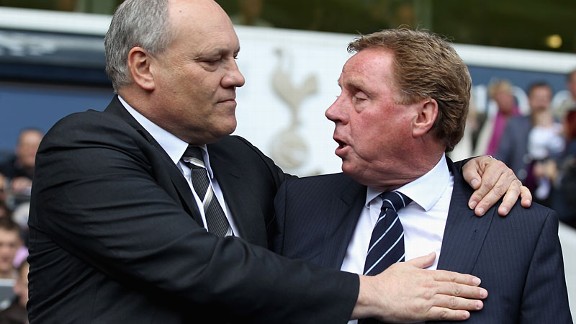 GettyImagesFulham's Martin Jol and QPR's Harry Redknapp will meet at Loftus Road
I am not going to intellectualise the contest at Loftus Road on Saturday. Prepare for a visceral dust up much bigger than your average local derby. Pride is far more important than the points at stake or the style adopted on the pitch. This match is about guts, passion and belief. By rights QPR should be keeping company with the Blackpools and Barnsleys of this world. However, by slipping the noose last May the 'Superhoops' succeeded only in making themselves an even bigger laughing stock. The lamentable Welsh manager promised owner Fernandes he would have the side mid-table after signing anyone his agent told him to. Well that promise might come true next season, but Rangers by then will be back in the Championship.

- Smith: Derry key to stopping the Bulgarian

Cursed by the fixture computer not to have run into Rangers over 16 rounds of the league while the patient was turning ever more blue on the life support machine, it is inevitable that Fulham on Saturday will deliver up that desperately needed first win for our neighbours benefit. 133 years of Fulham history mandates defeat at the Loft.

It need not be. We have destiny in our own hands. Jol I hope will prepare his troops as if this were our Cup final. There will be a vibrant atmosphere no doubt around 2.55 pm. The Rangers Boys will be in full cry after three straight draws since 'Arry rolled up, so there remain vestiges of hope in W12. Common sense however tells you that should Fulham repeat their win here of last February, Rangers must surely begin to accept the inevitable. It is vital the Whites play on the bottom team's nerves. Hill and Nelsen are a couple of gritty old hands at the back, but the Whites must get in behind the full-backs where QPR are weak. Half the side know they are heading for the exit door, team morale all season has been shoddy and it's obvious there are factions within the ranks. Winless through 16 games they may be, but the Hoops are not being taken apart, as Wolves were last season. Jol has emphasised we cannot write them off yet.

Fulham have to silence the crowd, impose themselves early in the game, and wait for their opponents to start making basic errors. The three points recently acquired by the R's, two of them away from home, show a degree of organisation and application at the back at least. But Diakite in midfield collects more cards than a blackjack dealer - a dozen cautions and two dismissals to date. He's a poor man's Tiote in midfield. Granero clearly does not fancy a relegation scrap, will move on in January, and Rangers don't know how to get the best out of him. While Taraabt is too much in love with his own image, promising much but rarely delivers.

However, it is up front where Fulham hold all the cards. Djibril Cisse is about the flakiest individual currently playing in the Premier League since El Hadji Diouf dropped down to the dizzy heights of Doncaster. He is petulant, undisciplined, lazy and spectacularly immature for an adult. Anyone who changes his hairstyle so frequently and throws himself around the pitch so theatrically is a drama queen and attention seeker of the first order. I am sure he has spent Friday at training, not so much concentrating on the runs and positions Redknapp wants him to adopt, more on dreaming up some spectacular variant of goal celebration should he pop one past Schwartzer. He is, in short, a joke.

Contrast the flamboyant Frenchman with our own Dimitar Berbatov, a hit man of pedigree, class and attitude, quietly turning it on week after week. A footballer with the t-shirt and the medals to match. A man who is clearly playing for the team, and not the television cameras. By rights Fulham should win comfortably. The tight pitch and stadium feel does not intimidate us in the way we freeze at places like the Etihad, Villa Park and Old Trafford. Monday's win over Newcastle, plus the return of Brede, the good form of Sidwell and a welcome return to a pacier style of pass and move could tip the balance. Fulham's win on Monday has unsettled the Hoops fans for sure.

But you can never discount the Harry factor. I hope the pressure gets to the Rangers boys and we make it count. Ironically, you've got two keepers on the park both capable of tossing it away - should Robert Green play ahead of Cesar. That will keep supporters of both camps on edge every time the ball gets slung into the box. A day for brave hearts, so come on Fulham, let's show character and class. Fulham to win a tight nervy game by the odd goal... maybe.

COYW!