Fulham are on the rocks and Rene Meulensteen has been thrown overboard. This is the kind of knee-jerk stewardship we expect of a Cardiff City or Queens Park Rangers owner, but madness has taken hold down in SW6 as it's a complete change of the management team for the third time in 76 days.

I am quite lost for words. Never in my wildest dreams did I see the abrupt dismissal of Meulensteen coming hard on the heels of two of the toughest fixtures on the calendar.

Fulham may only have gained one point this week, and shipped a further damaging five goals in doing so, but the performances were full of positives to build on. "Off with their heads" seems a singularly heartless verdict for failure against two giants of the Premier League -– especially when half of Rene's re-shaped side are barely on first-name terms with each other.

Given that Martin Jol was allowed two-and-a-half years to run the club into the ground with "death by a thousand cuts," sacking Meulensteen just two weeks after giving him the resources to bring six new faces into the first-team squad seems bizarre in the extreme.

Not to bore you with trivia, my working week ends with a trip to the health club and a sauna. From there on Friday evening I headed straight into the trendy part of town where some colleagues held a wrap party for their latest film. I wasn't home that late but had a one line message from the editorial desk at ESPN towers asking for my reaction to the day at Fulham.

With a blank fixture this weekend I was puzzled and almost went to bed. Luckily, a final sweep of blog postings alerted me to the earth shattering news.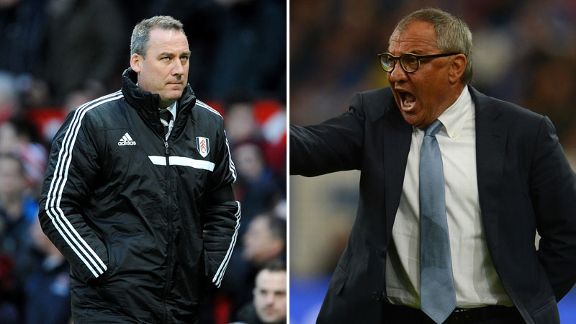 GettyImagesFulham have replaced Rene Meulensteen with Felix Magath, who becomes the club's third manager of the season.
We have the weekend to unpick the back story. For now, it's a question of "Hallo und willkommen mein Herr" to Felix Magath. The doughty German –- the first man from his nation to manage in the Premier League, has a reputation for being thick-skinned and something of a martinet. Good luck Felix, you are going to need it in spades for the final 12 games of the season.

Rene has apparently been pouring his heart out to the media while I've been drinking cocktails, the summation appears to show a character shell-shocked, upset, bemused, hurt and slighted. I sense most Fulham fans will feel for him.

The other side of the coin however shows with no win since New Year's Day and the club's slide to the bottom of the table, while the disgraceful efforts in the FA Cup may have cast a long dark shadow. Outside my window the gales London that have endured all day still howl like a demented pack of wolves. I wrote of a Tempest by the Thames after the Liverpool result –- how prophetic!

Fulham in their wisdom have decided the resilience of Magath is required to stave off the spectre of relegation. It will be little short of a miracle if he pulls it off. There's no bedding in period for him. No selecting Damien Duff for three games before realising he's one of the problems, not a solution. And the ex-Hamburg captain has to coax all Rene's signings into playing it his way from the start. Personally, with the shape we're in, I would have nailed my colours to Rene's mast. Internal disruption to a club in dire straits this deep into the season is fraught with peril.

The big question I leave you with is this: Who played executioner? Did our absentee owner Shahid Khan come to this decision all by himself? Has he any idea who Felix Magath is? He may have put his name to the press release, but who wrote it out for him?

twitter@fulhamphil