Fulham pray for a miracle at Old Trafford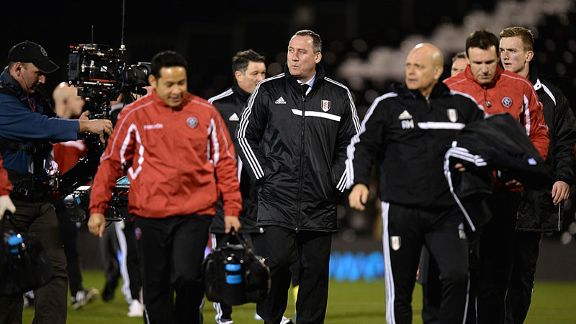 PA PhotosRene Meulensteen has been unable to turn Fulham's fortunes around this far.
Here we are ahead of a trip to Old Trafford, where Fulham have not taken a point since a famous victory in October 2003. The West London side take on Manchester United with expectations rock bottom.

The Whites are on a terrible run of form and prop up the division. David Moyes may be feeling the heat at Old Trafford currently and Wayne Rooney has publicly written off any chance the Reds have of retaining the title, but there's still way too much in their locker.

It's only a question of how many United want to score. Will they be happy with two, like Arsenal a month ago? Pressed for a prediction this week on BBC Radio Manchester, I said 4-0 to Moyes' boys. However, I sense Rene Meulensteen may go ultra conservative for this one and look to shore up some confidence by at least not wanting morale further eroded with another cricket score.

Might he be tempted to play John Heitinga among three centre-backs, put Scott Parker deeper and effectively have a five-man screen across midfield with no recognised striker? They have certainly been way too open in their play all season. It is imperative Meulensteen cuts out the buccaneering style and restores defensive discipline. Lose this game perhaps, but the Whites simply must come away showing some semblance of credibility for the relegation fight ahead.

Rightly critical of their pitiful display on Tuesday night in the Cup replay, the most honest of all pundits, Steve Claridge, felt Fulham were just playing "off the cuff" football, hoping for something to happen, but devoid of any plan or commitment.

Fulham's season has gone from bad to worse, and it is a familiar feeling. For your reading pleasure, I reproduce notes from this blog a year ago following the team's last visit to Old Trafford. My views at the time, though not universally popular with Fulham folk, proved bang on the money. If only the board had been paying attention then:


"An entirely predictable result at Old Trafford saw Fulham exit the FA Cup in spineless fashion. Just as predictable with the team selected was another pitiful performance from a side devoid of self-belief that has completely lost its way.

"The bald truth is that currently there is no Plan B. [The] 25-man first team squad is the weakest it has been since 2008.

"The body language on Saturday said it all. It is not their fault. To a man they look haunted and out of their depth. They have been asked to adopt a style and form of football they simply cannot meet. It is not what they have been brought up on at Fulham and the current players are not good enough."

The copy from that game also noted United's goalkeeper on the day did not have a save to make. Will we be filing something similar postmatch?

Enjoy Sunday if you can. It is still only 22 men and one ball after all ... so do you believe in miracles?