Only a solid January transfer window can save hapless Fulham
Once again, Fulham are walloped at home by the bottom team in the division.

As usual, our porous defence is found wanting as the goals-against column begins to take on frightening proportions. A massive opportunity has been passed up to climb above other strugglers into mid-table. Despite referee Mike Dean giving just about every big decision Sunderland's way, Fulham were architects of their own downfall and got what they deserved.

Should we be worried? The really puzzling aspect of this latest surrender was how boss Rene Meulensteen could get selection and the shape of the team so wrong.

Supplementing the backroom staff with Alan Curbishley and Ray Wilkins was presented to the media by the manager as "more sets of experienced eyes" to aid the team's progress. Well, blow me down! Some 25,000 pairs of eyes at the Cottage could have told you the blindingly obvious Rene -- your team selection Saturday was set up to fail!

Plenty of us supporters already have a deep sense of unease seeing Wilkins alongside our new boss in the dugout. Meulensteen has had these two old lags dumped on him from above, but he needs to trust his own voice and instincts if we are to get out of this mess (I will explore the reasons behind these hirings later in the month).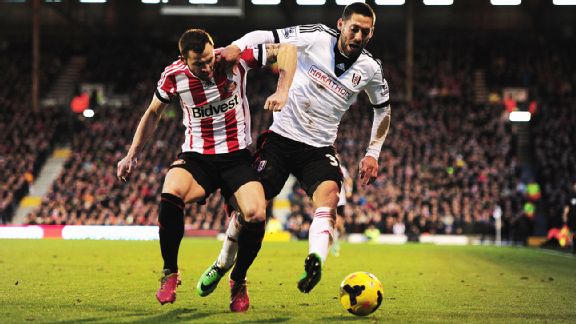 Jamie McDonald/Getty ImagesClint Dempsey's Premier League return to Fulham failed to spark the Cottagers in their 4-1 defeat to Sunderland.
It all started off so promisingly for Meulensteen. But in the past two weeks I have tweeted prior to kick-off that Fulham were about to enter key games with the wrong personnel -- Bryan Ruiz at Hull and Damien Duff given an inexplicable start Saturday. I do this as insurance for critics who like to seize on material and moan how it's all too easy to take the sanctimonious high ground after the event.

I've not seen a comment yet on a single forum backing Meulensteen's team selection and tactics from this latest disaster. Of all the defensive combinations available to the boss -- even if he wasn't going to risk Brede Hangeland too soon, Philippe Senderos and Fernando Amorebieta is not the way to go.

We are about to wave off Bryan Ruiz, initially on loan. This blog has been pleading for his departure for the best part of two years. As for the spent-force liability, we still continue to parade at left-back, words fail me. How much more of this can we take gaffer?

I embraced Meulensteen's arrival enthusiastically. I still have faith in him to cut it at Fulham. But when I stated recently the Whites should comfortably avoid the relegation positions, this was predicated on the club seeking urgent reinforcements in the transfer market. That must still happen. We can ride out this latest loss, and absorb another one at Arsenal next week, before seeing where we stand come February.

The survival strategy demands urgent strengthening of the back four. Surely nobody can argue with that? Certain loan players must be shipped back. Dimitar Berbatov is no man for a relegation dog fight. Do the right thing, Fulham. Cast out the dead wood once and for all. We must abandon forever the narrow inverted winger strategy.

You are not to blame, Rene; far from it. But you have at your disposal currently a very poor team. Martin Jol handed you that can of worms. Fulham's season now rests entirely on what moves you make in the next 20 days to save our season.

Adam Johnson epitomised the gulf between the two sides. Go out and secure a fast, direct winger, a target man (is Gus Poyet interested in offloading Steven Fletcher?), a commanding central defender and, of course, a left-back.

That is the bare minimum needed in this window. Much as he tries, I've never been convinced by Steve Sidwell. He plays like Adel Taarabt, a wind-up toy with not much going on between the ears. If we can add that elusive successor to Danny Murphy, that puts the cherry on the cake.

Fail to work the market between now and Jan. 31, and with that bunch you have to pick from, Rene, I'm afraid Fulham are heading into the Championship.

If the chairman won't back you with funds, come out and tell us by the end of the window. That way we can all start getting used to life outside the Premiership early enough to move on with life.

In Rene we trust...