Chairman Shad Khan has made the first major decision of his reign as Fulham owner. Just before noon ET, the call went over to London to dispense with manager Martin Jol, with immediate effect. To a massive sigh of relief from a totally disillusioned set of supporters this side of the water, Khan's statement showed sound common sense.

"Our poor form and results this season are undeniable, and Fulham supporters deserve better," Khan said.

At long last, a quote of reason and sanity amid the madness that has reigned in recent weeks. On a grey winter's morning in London that began for me -- as for most other Fulham followers, I imagine -- with the despair of opening up the back pages to find no news of Jol's sacking, the eternal flame at Fulham Football Club flickers back into life.

- Fulham part company with Martin Jol

On Saturday evening, after witnessing the debacle at Upton Park, where Hammers fans were genuinely sympathetic and understanding of Fulham's plight, it was impossible to open up this blog with any fresh words to describe the despair. I journeyed into London to meet friends for a night in the theatre. Only on the post-midnight, last train home did the numbness of Fulham's latest surrender in the league hit home.

All I could contemplate blogging this Sunday morning was a sense that Fulham's famous old club had transcended incompetence into the arena of pure farce. Now, thank heavens, we can turn the page and strike up a different tune. In truth, this sacking could have come a month ago, but back then, Rene Meulensteen was not on hand then to pick up the gauntlet.

Fulham's recently appointed head coach is now all of a sudden the top dog. Will we see him joined by Mike Phelan before long, as Khan seeks to bolster the Manchester United connection? Do you think Phelan's quote this week that it was he who was "effectively managing United teams over the past five years," was merely coincidental, or just well-timed? Inside football, had word spread that Jol would be toast with a loss at West Ham? Conspiracy theorists sign up here. Remember, nothing in football happens in a vacuum.

As the Whites turned in another performance on Saturday where half the side looked fit for nothing more than the Championship (again not one single effort on goal), we will find out as early as Wednesday if the players had indeed just given up playing for Jol, and if they can raise their levels for the new regime.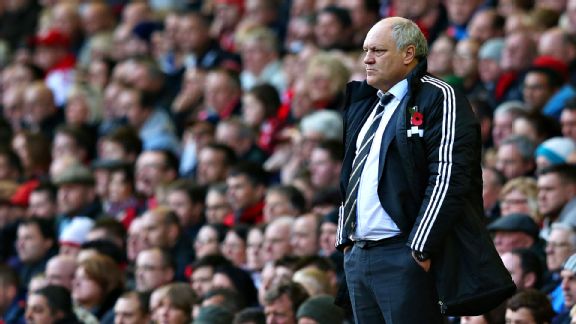 Alex Livesey/Getty ImagesMartin Jol's reign as Fulham manager is over.
Whatever the two home games this week with Spurs and Villa bring, a number of questions will be answered. And the fans will certainly be cutting Rene plenty of slack -- simply delighted to have seen the back of Jol. To quote Khan again, "With more than half the season still ahead, an immediate change was necessary."

The club have made a decisive step, though five straight losses in the league since the win at Crystal Palace made it easy for them. Fulham sit in the bottom three, the goal difference is looking unhealthy already, but the club are still just two wins away from climbing into mid-table.

Meulensteen has key players returning in the coming week: Sascha Riether and Brede Hangeland to bolster the back four, for a start. This grants the head coach licence to dispense with the distinctly average Kieran Richardson (I almost found myself pining for John Arne Riise on Saturday), while I pray Rene has learned the lesson that Steve Sidwell and Scott Parker cannot operate together in midfield, that Damien Duff's top-flight career is over and that Bryan Ruiz must never pull on the white shirt again (labelled shocking in commentary by Tony Gale).

Fulham FC are far from out of the woods yet, of course, thanks in the main to Jol's poor record in the transfer market, his lack of man management skills and failure to impose proper levels of fitness on the squad. These are all areas where Meulensteen must deliver.

For months, Fulham have been an embarrassment and no longer worthy of the Premier League. Now the supporters can give thanks that a seemingly destructive presence has been cut from the club. There have been far worse predicaments in Fulham's history. But now it is time to unfurl the Black & White banner and believe again.