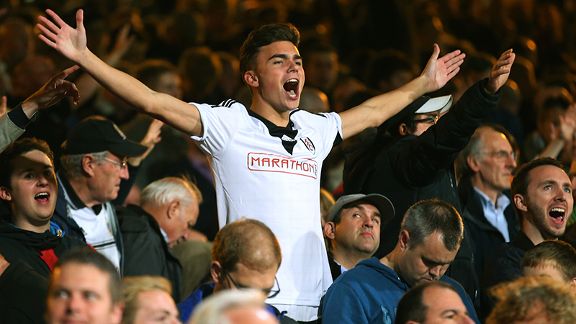 GettyImagesFulham supporters have had little to sing about of late.
There's no let-up in the misery for Fulham fans after a fifth straight loss in all competitions. Despite whatever slant on the game Martin Jol cares to give the press post-match, this latest defeat was entirely merited, as Swansea for the third season running rolled down the M4 to take all three points.

Michael Laudrup's team stepped it up after half-time as the Swans sensed Fulham were there for the taking, and there is no complaining from this quarter as to the final score. On paper an own goal and wonder strike from distance by late sub Jonjo Shelvey does not tell the full story.

The 67% of possession enjoyed by the away side and their shots ratio of 21 to Fulham's nine emphatically does. Which is why, when boss Jol tells the media Fulham "could have been three up at half-time and that we have again been unlucky," then it is time to call in the men in white coats.

A considerably large number of people who follow this club have had enough of being taken for mugs. If the board cannot see the damage being done to this famous old club's image by continuing to tolerate the policy of failure and non-accountability, relegation may be the very least of our worries.

The knock on effects long-term in goodwill, sponsorship, club marketing and social events, along with erosion of the fan base will exact a heavier toll on those shirking tough decisions now than the mere loss of our Premiership status.

At present those voting with their feet by staying away are barely into the hundreds. But this weekend I see names on the message boards familiar to me. Supporters -- and their families -- who have travelled the road of dreams and dashed hopes, of euphoria and Europe thanks to the al Fayeds.

People who, like me, had black and white in their veins. Fans who would always come back for more down by the river because one day, some day it might be our turn to taste a bit of glory.

Now even those diehards have seen enough. Season ticket holders, having already stumped up with their cash, are finding it just too depressing to watch any more of this awful football and have stopped attending. Make no mistake, people in the ground are not crucifying the team. The board may wish to take us for fools, but none of us can take any more of this wrecking ball Martin Jol and what he has done with this club.

Jol has come out and confirmed, "We went after six transfer targets in the summer and we got them all." There you have it from the architect himself. And his house is falling down around his ears. The Dutchman has assembled a squad over the past 15 months that he somehow on the training ground has a vision of being good enough for the top eight. The sad reality is he's produced a relegation side.

My preview ran with the cautionary note that this Swansea game, despite the Swans own patchy form, may have come too soon for the Rene Meulensteen effect to kick in. So it proved.

Four changes from the last abysmal loss, but another defeat. No wingers deployed, so no width. The Whites persist with a system that does not work, a forward in Bryan Ruiz who is as effective as a ballerina in a bull-ring, and a forward who does not know the meaning of playing for the team.

Can we scrape up some plus points at least to lighten the gloom? The right man now has the captain's arm band. Maarten Stekelenburg continues to perform heroics, Derek Boateng with a run of games should improve the midfield. But where's the creativity, and where in hell are the goals coming from?

Personally, I would stick with Darren Bent, even though he should have hit the mark Saturday. His strike rate is just too impressive. Get someone up closer to support him in a 4-5-1 formation bursting through from midfield -- probably Adel Taarabt or Pajtim Kasami. We need at least one winger on the park. I don't care if it is Mesca, Ashkan Dejagah or Alex Kacaniklic. Plump for one and drill him and his full-back to get on the same wavelength.

We need to get back to basics and start trying to grind out nil nils to start. Let's hope for more solidity once Sascha Riether and Brede Hangeland return.

But going into a critical period of games, here's Meulensteen's biggest challenge for the run up to the year's end. Could he persuade Jol to drop Ruiz? I pray Berbatov is offloaded in January and we then sign at least three new players. Only then can we think about saving our season. The current squad is shot.

Right now we need new full-backs, the long-delayed creative playmaker and surely another forward (unless we are prepared to throw the 17-year-old Moussa Dembele into the fray).

Fulham not that long ago was held up as a model club, being run prudently and punching above their weight. That mantle has now moved on to others. Consider how much is being bled from the coffers in wages for Damien Duff and John-Arne Riise. What madness to still have these two on the roster. No wonder Steve Sidwell is holding out for a two year deal.

Somewhere within the corridors of power at Fulham FC there's a nasty smell. Something alluded to by former employee and Academy Director Alan Smith this weekend…Meanwhile Jol remains in place. Unbelievable.