Fulham outclassed at St. Mary's Stadium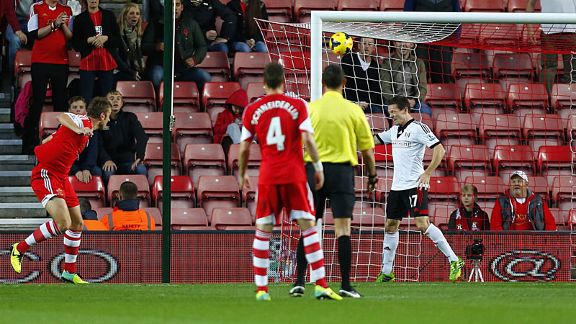 PA PhotosSouthampton's Rickie Lambert (left) scores the opening goal of the game
I am finding it hard to think of a more lamentable defeat for the team I have supported for over 50 years. In years to come the bald facts will show a 2-0 Fulham loss at Southampton. Just another away defeat from the team that rarely fails to disappoint, in a city where the Whites historically find it hard to claim points.

It's a short enough journey back to the capital so I returned home quite numbed by what I had seen. Sometimes from away games one gets caught up in the atmosphere, travelling fans don't always get the best view, and don't have the benefit of instant replays. Sleeping on the result overnight brought no respite. Visions from Fulham's nightmare showing clattered around my subconscious like a fragmenting meteorite.

By Sunday morning the euphoria from that win at Palace seemed like a distant mirage. Southampton not only had the Whites crashing back to earth, with a familiar tale of folding on the road, but showed the current gulf between Martin Jol's clapped out old outfit and the top teams to be wider than the asteroid belt itself.

- Rann: Halloween came early for Fulham
- Fulham's Amorebieta punches Lovren in backside
- Pochettino: Sky is the limit for Saints

Of course, you may quickly riposte, while Fulham's business model since 2010 has been to starve the team of funds, Saturday's high-flying opponents showed the Whites just what you get when welding £60 million in transfer funds to one of Spain's brightest young managers. Bravo to Southampton -- now third in the league, there on merit, and playing at the top of their game.

But brilliant as the Saints played, there can be no excuses for the abysmal showing put up by the side in white shirts. It's another performance that all too quickly puts the spotlight back on the man who picks and prepares the team. The aftermath is near universal condemnation of Fulham's latest feeble effort from supporters and press alike.

The match statistics tell their own story -- that Fulham failed to test Artur Boruc once throughout the whole game, and not till the 83rd minute did an off-balance Steve Sidwell hook his volley three feet wide, the one solitary moment of alarm for Southampton's goalie. The Cottagers have become the first side in Premier League history not to have a single effort on goal in the first 45 minutes of a match. This blogger foolishly suggested in his preview Fulham might be heading for a third win in a row. The Whites could not even manage three passes in a row, so comprehensively were Fulham outplayed.

This has led to much debate on all the forums that Saturday was Fulham's worst performance of the modern era. Crikey, going back over the desperately dark days of Alan Dicks, Don Mackay and Ian Branfoot, that's some accolade for Fulham's defiantly proud Dutch manager. Was it really that bad?

Actually it was, and thanks to Sky, everybody got to see it. Southampton's superior fitness, aggression, speed, and link-up play overwhelmed Fulham. Jol for once was quite right in suggesting the Whites could have been 6-0 down by the break.

Heaven knows the fans have long been used to Fulham elevens not turning up for away games -- long before Martin himself came on the scene. But with this defeat I question if the Whites have entered a new realm, one that owner Shad Khan must take heed of. I am witnessing previously unseen levels of vitriol on postings everywhere. Enough is enough. Supporters are at breaking point. The guy opposite me on the train home said he had been a season ticket holder for 10 years but over the last 12 months decided he could not take any more of Jol's brand of football. Away support is melting away too, despite club incentives to get fans to travel.

There is no point in reiterating further the failures of Jol's misguided attempts to engineer a unit that functions. Mauricio Pochettino has worked wonders in just nine months at St. Mary's. On paper Fulham's array of experienced internationals should have been able to give the Saints some sort of contest. In fact we witnessed a torrid spectacle of masters and pupils, where the closest Fulham got to their opponents came as the two sides walked up the tunnel.

The Fulham team at present is a collection of square pegs in round holes. Luke Shaw was sensational at left-back. Fulham's man is a converted forward with his best days well behind him. The Whites have zero craft or quality in midfield, no pacy wingers, no aerial threat up front, no team ethic, no desire -- and crucially no leader on the pitch. Witness yet again shambolic marking from corners to exemplify the poor preparation.

Fulham kicked off the second half. Within 40 seconds Shaw was bearing down on goal and Maarten Stekelenburg got exposed. 33 percent of the possession, what a truly shocking statistic!

When the man with the captain's armband displays all the very worst aspects of not playing for the team you know you have a serious problem in the body politic. When things reach such a critical point, heads must roll.

That is not an over-reaction. The Whites currently sit 14th after other results went in their favour this weekend. But the Whites can only look to points from a handful of fellow strugglers as the season progresses if this kind of form continues. It may not be enough. Even Crystal Palace redeemed themselves with a very respectable showing against leaders Arsenal.

Are we all looking forward to next Saturday and United? Please let me know your thoughts on this latest set-back. If it's beyond Jol to get anything from this current team -- then who can?