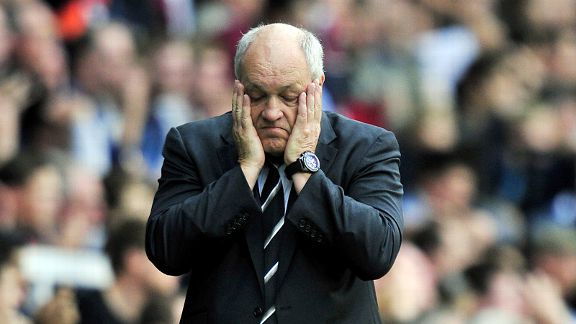 GLYN KIRK/AFP/Getty ImagesMartin Jol's Fulham face off against London rivals Crystal Palace on Monday.
Sir Roy of Croyden suddenly finds the whole nation behind him after England dispelled all doubts this past week by qualifying for the World Cup in fine style. The campaign was mapped out with typical thoroughness by the cerebral and self-deprecating Hodgson, a combination we have not seen in England managers for some time. The only sour note -- we are unlikely to ever see him back at Fulham again in a managerial capacity.

- Report: Jol rules out Zaha loan

As England's qualifying campaign took time to build momentum, I had indulged in some wishful thinking earlier this year on the blog as the wheels began to come off Martin Jol's clapped-out old rickshaw. How plausible might it have been, had England missed their shot at Brazil, to have Ray and Roy back in harness at the Cottage this autumn?

It can't happen now. Monday night sees Fulham back in first team action with a short trip across town to Crystal Palace. The scenario appears little changed from the build-up to our last game before the break. Just as with the Stoke game, the pressure on Jol to get a performance from the side remains immense.

Shad Khan has been in the tabloids talking solid sense and keeping his cards close to his chest. As all the soothsayers are pointing out, this early in the season a place in the bottom six counts for little. Fulham are still bedding down, with big name players working up to full match fitness. A spirited little run will have the Whites quickly leaping up the table.

The trouble is; the hounds are at the gate. Nobody who witnessed the Stoke win could be under any delusions about the misfiring state of the current side. Fulham stole the points with the one moment of good fortune that came their way, allied to Darren Bent's poise and presence in the box.

In the meantime, the forums have worked themselves up into a lather regarding the value of Dimitar Berbatov on his form to date this season, and how best to fashion a functioning unit and clarity of purpose from the muddled philosophy that has prevailed now for some time. I have nothing new to add on this topic. My view going forward has been informed by the football displayed over the past 12 months. But any changes at the top carry risk, and it's hard to see an obvious candidate out there to be our 'new Roy'.

However, the veteran coach confounded his sternest critics -- even Gary Lineker, by turning out a bold trio of strikers against Montenegro, and pulling off a master stroke when showing faith in Andros Townsend. To prove it was no fluke, England again came out full of attacking intent Tuesday night and again got their rewards.

The lesson here is patently obvious. As the commentators repeated all night (in case the TV audience were all new to football), nothing frightens teams more than pace. Which is why Fulham so far this season frighten no one.

We'll take a closer look at the match odds and where the key battles will come Monday night over the weekend, but as this blog began with a salute to the old guard, it would be remiss of us not to walk down memory lane a while and acknowledge Danny Murphy's retirement. What a shrewd piece of business by the much-maligned Lawrie Sanchez to lure Murphy to Fulham in 2007.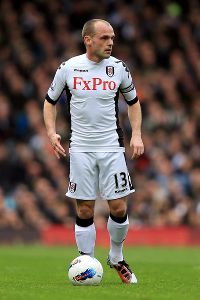 Clive Rose/Getty ImagesDanny Murphy made his retirement official earlier this week.
We will all have our favourite memory of Murphy. His place in the Fulham hall of fame naturally is guaranteed thanks to 'that header' at Fratton Park in May 2008. Remember too, he was on the score sheet at Man City during that run-in, another game where we simply had to win. Twenty years after scoring on his debut for Crewe, this week Murphy finally said he'd had enough at 36. Liverpool fans saw the best years of the midfielder's career, while Murphy also saw service at Charlton and Tottenham before Sanchez picked him up for a song.

Murphy won nine caps for England along the way, amassing over 600 appearances in total at club level. Although he, I imagine, now regrets his time at Blackburn, his career highlights included winning the FA Cup, League Cup and UEFA Cup treble with Liverpool in the 2000-01 season, besides helping Fulham to the 2010 Europa League final.

"There have been some press reports about whether I'm still playing or available but I decided a little while ago I would retire, I just didn't make it official," Murphy announced this week.

"So now I'm officially retiring because I'm sick of having conversations about it and almost stringing people along. I decided three or four weeks ago I was done. I've had a wonderful career and can look back on it with fondness."

He was the first player for me probably since Kevin Lock that I always had total confidence in every time he walked up for a penalty kick. Funny how Clint Dempsey never learnt the trick off the old man. Enjoy retirement, Danny, and thanks for all you contributed to Fulham in your time. A glittering media career awaits.

Twitter: @fulhamphil