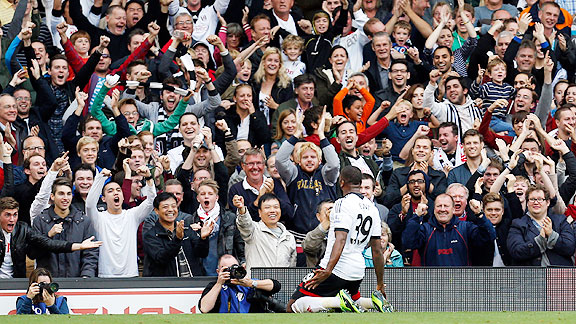 AllsportMatch-winner Darren Bent set to be rewarded with a place on the bench.
I foresaw a week of taking stock whereby we might shift focus to England's efforts to seal qualification for next summer's World Cup. Bearing in mind how much of the news flow surrounding Fulham FC in recent weeks has been so negative, a fortnight's respite while the embers of a win from the club's last fixture still flickered would suit me just fine. That was until Martin Jol started running off at the mouth again.

I have it on good authority that Fulham's beleaguered boss would have been fired over the weekend had Fulham not beaten Stoke. Just before 4.45pm last Saturday I was out of my seat as Darren Bent fired Fulham's winner, and by doing so threw Jol a lifeline. The match winner's reward? Jol tells him he should prepare for more time on the subs bench as it is too difficult at present to devise a system that pairs the club's top scorer with Dimitar Berbatov.

I am almost lost for words. At a stroke Jol again reveals his appalling man management, while reinforcing the notion certain members of the side remain untouchable. Our American cousins have stirred up a hornet's nest by suggesting the side would be better without Berbatov (no league goal to date, with barely an effort on target). How many more sub-par performances can Dimi be allowed while Fulham wallow in the relegation mire? Are Fulham really going to carry on the league campaign with £65k a week Darren Bent starting on the bench? This is a team that can't score remember.

You might have expected the manager to keep his head down having dodged a bullet last Saturday. Since the start of this campaign, Jol's third in charge -- a period that has seen the team's decline accelerate alarmingly, clumsy comments continue to fall from Martin's lips like boulders rolling down a cliff face. Supporters have been slated for daring to moan and told to lower their expectations.

Since August, Hugo Rodallega, Mesca and Pajtim Kasami have all been warned to up their game or face being sent out on loan.

Is this seen as motivation? How can Hugo expect to impress when he's never started? Why pour pressure on young talents like Kasami and Mesca to cut it every time they're given game time? Fulham make three or four selection changes for every game, not always because of injury. Alex Kacaniklic is in one minute, not even in the squad the next. Do you think Roy Hodgson would be running the team like this?

Very unfortunate news to see Rene Meulensteen reject a coaching role as Jol's assistant this week. The board made an offer, but can't get anywhere near the money on the table from Qatar. That's life. But what is more depressing, and profound, is Jol's reported reaction to the snub.

"We really wanted him to come on board, we'll look around and see who else is out there," tells you that, in year three of his tenure, despite the Dutch retinue around him, Martin can't cut it when it comes to coaching. And now we have it confirmed the board realise it too.

We supporters of course knew that only too well. We see the team failing week in and week out, even with the basics. In the run up to Stoke we were told the team would be worked extra hard on defending corners. Well, we all saw the result of that!

There's a great article out there today with Ray Lewington discussing his working relationship with Roy Hodgson. In essence, a very humble man says Lew. Something you will never hear said of Fulham's current manager. How much longer does he have? Keep talking Martin. Every quote brings us closer to seeing the bluffer sign his own death warrant.