Head to Fulham and smell the fear
We only need the ghost of Michael Jackson in his "Thriller" costume to complete what could be a macabre spectacle at Craven Cottage Saturday. A visit from Stoke City over time rarely makes for a compelling encounter and I am intrigued to see how many disgruntled fans vote with their feet and stay away.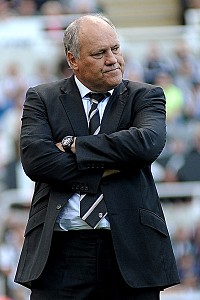 Serena Taylor/Getty ImagesFulham's Martin Jol continues to be one of the most-endangered managers in the Premier League.
Gaps around the famous old ground I fear are inevitable as the Whites' dreadful run of form continues. Six games into the season and Martin Jol in his pre-match press conference is forced to defend his position while insisting the team can beat relegation. All this after winning the opening game away, too.

Of course, there's been no win since. Far more worrying is how the team remains stubbornly lopsided and shorn of ideas -- no better than it was at the latter end of last season. Despite an influx of new players, Fulham defended like a pub side last week against Cardiff.

They remain painfully slow with their build-up play and distinctly powder-puff around the penalty area. Fulham's best player, Scott Parker, is sidelined for this one, and in all honesty Jol continues to gamble with a poor hand.

Admittedly, he's not had the best of luck with injuries. Aaron Hughes (thigh), Parker (calf) and Ashkan Dejagah will sit this one out, while Maarten Stekelenburg is still two weeks off returning, though his shoulder injury is improving and the need for surgery less likely.

But every side have injuries. Stoke manager Mark Hughes won't call on Matthew Etherington and Jonathan Walters is only 50-50. Here we have two managers both in desperate need of points and with fans only too eager to jump on their backs. Fulham has been the twilight zone this week, because following the fallout from the Cardiff debacle, it seemed Jol's sacking was imminent.

By Tuesday, the manager himself was reported as having informed friends he expected the push. We've heard former Anzhi manager Rene Meulensteen and Fulham owner Shad Khan had made contact, and the tenor from the press boys was pretty much that Jol was on his way.

That may still be the case. Yet another home loss would surely make his position untenable. But with no obvious candidate out there to replace the Dutchman, the board can afford to take their time. This early in the season, Fulham are just two decent results from being in the top half. They are not rock bottom, and the side looks to lack leadership and organisation rather than being thin on quality. A two-week break will also give everyone a chance to draw breath -- and for the new owner to jet into London and review the situation personally.

For now, we disregard the guesswork and uncertainty. It is vital the team find some self-belief against a typically dour Stoke outfit, also badly in need of points after three straight defeats. I hear the Stoke natives were restless after last week's home loss to Norwich. I fear also a quiet Cottage this week, and let's pray it's not hostile, too. That would surely be devastating for everyone's morale.

Jol, who urged calm among supporters Friday, says the camp have been concentrating on defending this week. For Stoke's game, they will certainly need to be robust. This could be a masochist's dream day out in light of the sides' current form and I wouldn't be surprised to see a draw.

As to where Fulham go next? The board say they are reluctant to sack Jol and are desperate for him to turn it around. Results, the fans, and most important of all, Khan may view things differently.

Below are the stats that matter. A day for brave hearts at the Cottage on and off the pitch. Let's get behind the team and end this dreadful barren run at home. Isn't putting one over on "Sparky" (the former Fulham manager) incentive enough? COYW!

In Fulham's last 16 league and cup matches against Stoke, only once have more than three goals been scored. Fulham are winless in the last seven league matches at Craven Cottage -- their worst run without a home win in the top flight since 1966. Just one clean sheet in the last 18 home matches in the Premier League -- against Stoke in February.

Stoke's only shot on target last weekend against Norwich came in the 79th minute. The Potters are one of six teams that have scored the joint-fewest goals in the Premier League this season (alongside Norwich, West Ham, Fulham, Crystal Palace and Sunderland).

With all the negativity hovering over the club recently, let's not forget Stoke are rubbish too!

Twitter: @fulhamphil