Latest loss puts Jol on brink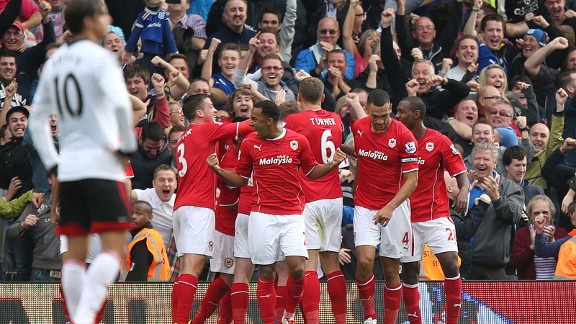 PA PhotosCardiff celebrate their second goal against Fulham.
It was not just the numbing defeat to promoted Cardiff, with Fulham being deprived of points for the second home game in succession by conceding in stoppage time. Rather, it was the sight of the Whites being so clearly outplayed for long stretches that will have the tumbrils sounding for beleaguered boss Martin Jol. No team on earth could have prevented Jordon Mutch's bolt from the blue that sealed the Bluebirds' first away win in the top flight for 52 years, but it was nothing less than Malky Mackay's side deserved.

The 21-year-old midfielder's first goal for Cardiff may never be bettered in his whole career, and it was a dagger to the heart of the Fulham manager, whose body language spoke volumes. If Jol had been warned this was a must win game after seeing his team slide into the bottom three, Fulham failed the test in wretched fashion.

- Morris: 'Mutch' more to come from Cardiff
- Jol under-fire at Fulham
- Jol understands fans' anger

Steven Caulker was given the freedom of the penalty area to power home a 12th minute corner, with not one man in white even close to the central defender. The Fulham goal survived many hairy moments in the run up to the interval, yet somehow went in level, thanks to a sublime moment of individual skill from Bryan Ruiz. Picked out by Sascha Riether in space the Costa Rican took one touch before placing a sumptuous curler into the top corner from 25 yards. The keeper never moved.

After the mid-week win over Everton, fans arrived at the Cottage in optimistic mood. The starting eleven on paper looked strong enough. The first-choice full-backs both returned and Darren Bent started in tandem with Dimitar Berbatov -- the birth of a fruitful combination Fulham fans are all praying for to get the club scoring more freely again? It was not to materialise here.

My first forebodings came after just five minutes. I was cursing to the heavens to see Fulham's brightest summer signing signalling to come off -- a damaged hamstring saw Scott Parker replaced by Gorgios Karagounis. How that affected the result we'll never know. However, what we did witness was a number of unacceptably poor performances from other senior players.

Let's hold back on the vitriol. It's redundant to lay into individuals -- they are our heroes one week and villains the next. It is up to the manager to get the best from them and maximise their talent. Much as we'd like to think it, Steve Sidwell is not Steven Gerrard. He tries his best and works hard. But by no stretch can he dominate a game and turn the team dynamo from midfield in the manner of a Franz Beckenbauer or a Patrick Vieira. Against Cardiff's effervescent midfield Steve was left floundering chasing shadows, lost and ineffective.

Brede Hangeland has played 200 games for Fulham since 2008. None possibly has been as bad as Saturday's. He'll bounce back. But, much as I like the big Norwegian, he is not a captain. If Brede has now become too timid to put his head in at corners (at both ends of the pitch), which seems to be the case, the manager must recognise this and adapt accordingly. Brede was solid last Tuesday. Defensively on Saturday, in the first-half especially, he looked like a man with a flannel trying to hold back the tide.

I was sceptical when Kieran Richardson came down from Sunderland. I felt it was a panic buy. But anything is better in my book than the underwhelming John Arne Riise. However, is it too much to ask that the young man be schooled in the art of crossing? This position remains a weakness going forward. Restoring Philippe Senderos to play alongside Brede and sticking Fernando Amorebieta at left-back may be the way to go. This team must find ways to keep clean sheets before they can start to address other problems.

Of which there are many. Are peripheral figures like Pajtim Kasami, Alex Kakaniclic and Bryan Ruiz good enough to consistently cut it in the big time? As to Fulham's front two, the fans got the pairing they craved, yet neither managed one clear sight of goal between them. Dimi ends up petulant, booked and lethargic, while Bent, still looking rusty, gets isolated out on the wing and is given little to work with. The one big chance created at the death sees no Fulham man gamble on a low cross scudding through the goalmouth. A moment tailor made for Darren, the arch poacher. Except he's just been substituted for a midfielder. Please explain that to me Martin?

Shall we point out the 11 Fulham corners, of which half failed to clear the first defender and none of the rest were met by a man in white?

Well, let's get down to it. You all expected me to lead this piece off screaming for Jol to be sacked? No need. All other Fulham forums are doing it for me. It is now just a question of when the board decides to act. Jol sat slumped with head in hands for a long time at the final whistle. His head down demeanour as he sloped off tells me the writing is on the wall. And he knows it.

Last February I blogged on the state of the team and expressed real fears for the run in. I was forthright in my view that Fulham had dramatically declined under Jol, that relegation was a possibility, and that major problems loomed. That blog found its way onto Friends of Fulham, where it generated three days of posts and raised a storm of controversy. I've been looking back at the comments. Here's a choice few:

"We are on the way up not on the way down as this pessimistic tosh implies".

"if he gets paid for this espn got robbed. about as much insight as a blind man describing the mona lisa".

"i am aware your column is ongoing... i think it is flawed and uninspired".

"We have nothing to worry about. Trust in the squad, the future looks bright"

"If Jol and the team were this pessimistic, we might as well all give up. Yes, we could go down, but we could also play our way into a top ten finish".

Yes guys, I know who you are.

But I'm really not looking to score points and get all smug here. In defence of accusations last winter, I replied none of my ramblings were scaremongering when saying this team of Jol's is in very poor shape. Even after the summer transfers I wrote again that it remained so. Fulham still do not play with a recognised centre forward, have no direct pacy winger or creative midfielder. How do the club expect to prosper?

My judgement comes from a 25 year career watching and reporting on football at every level across all major European leagues and all international tournaments.

I have no personal agenda with the manager. But he has failed. Fulham Football Club is what we all care about. For the sake of the whole entity the board now should show Martin the door within the next two weeks and appoint someone with a fresh vision.