GettyImagesThere were celebrations after the Burton win, but little to be happy about.
How about that dinky little musical reference from the golden age of Motown to kick off with amigos. Yes, I know, it won't mean a thing to anyone under 35. In truth, I am trawling my Thesaurus for fresh ways to describe yet another misfiring performance from Fulham's highly-paid bunch of professionals. Tuesday night at Burton Albion, the side from League 2 –- the lowest tier in English football remember -- were but three minutes away from dumping us out of the League Cup. And we would have deserved it.

We were frankly shambolic in the final twenty, run ragged by the home side's energetic play and the impetus their substitutes brought to the fray. Whipped crosses from the left-flank had us all at sea as the Brewers crafted two fine goals to come from behind, putting Fulham on the rack, and underlining just how little the Whites had created from the first 70 minutes of much possession, but minimal end product.

At this rate we might consider turning Craven Cottage into a dog track. At present all we seem capable of turning out are runners -– and not all of them willing either. There are no discernible tactics being pursued and Martin Jol, even this early in season looks, to be a manager running on empty.

Too early to push the panic button? We have lost all our last five home matches, took all three points at Sunderland with our one effort on target, never got close to Arsenal on Saturday and went into this tie fielding a very strong team, yet should have lost. Facing a team three leagues below us, with their two best players missing, I could not believe the shape deployed to take on the minnows.

Darren Bent -- the lone striker up front -– was barely supplied with a bullet to fire all night from our five man midfield. Strung across the park, only Adel Taarabt showed any spark to create and make something happen. The rest were lung-busting hod carriers or distressingly inadequate.

No faulting the effort put in by Scott Parker and Giorgos Karagounis, I grant you, but we want virtuosos to orchestrate and dictate in those positions –- not shuffle back and forth in straight lines stabbing 10 yard passes across the centre circle. Is our tactical blueprint taken from the rigid dummies of table football? Ashkan Dejagah's touch was hopeless all night, and as for Bryan Ruiz... utterly ineffectual, and then 'missed' his penalty.

Despite drowning in a torrent of text and diagrams each week, the proliferation of chalkboard graphics, statistical breakdowns, charts and endless video analysis, football's a simple sport played with a ball. There are 20 outfield players on the pitch, the dimensions of which are known to all. To score a goal you need to guide the ball between the posts. While team 'x' attempts to do this, team 'y' do all they can to impede their progress. This means space is at a premium. Finding space translates as creating the time to get your effort between the posts. The superior team shows through speed of thought and body they create more chances, ergo leading to them winning more games.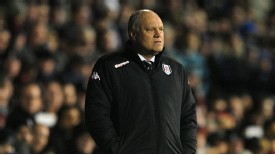 PA PhotosMartin Jol has shown little tactical nous so far this season.
That's all you need to know. Oh yes, and that Fulham have the slowest team in the Premiership. Adel's goal underlines the point. A feint and a step over wide on the left foxes the defender, instantly the Moroccan has daylight and the time to stroke a cross-shot across the keeper. It was the one inspiring moment of the whole match from Fulham until Hugo Rodallega popped up in the 117th minute to save our bacon. And more pertinently perhaps, spare the manager's blushes.

This is all becoming farcical, even this early in the season. Martin Jol looks like a man trapped by a rising tide. Comparisons with the dreadful fare served up in 2007 by Laurie Sanchez are being made, and the gaffer is sounding increasingly like a broken record in his press quotes. Worse than three below par performances to kick start the campaign, are signs Fulham may have got things wrong in the summer transfer market for the 2nd year in a row.

We have been reactive in the market, rather than agenda setting. Darren Bent's deal was rushed through on the very day he was set to sign for Crystal Palace, then Fulham moved in to deny QPR's move for Parker. Where's the forward thinking, or the army of international contacts now Martin?

September's almost upon us and we are still stuck with a major liability at left-back, no clue yet as to who might end up pulling the midfield strings, or how on earth we can keep both Dimitar Berbatov (too proud to run) and Darren Bent (hardly played in a year) happy and scoring the goals we need to stay in the Prem.

Bravo Burton for really having a go and showing us up. At least we've got a few who can take a penalty. Sorry Bryan, mate, I'm sure you're a good lad, but shake your ideas up or ship out.

Will things get worse before they get better? Only our least favourite opponents Everton to look forward to in the next round – and have we made the long trip to Newcastle that bit harder after last night's lamentable show? There was more than a whiff of relegation about us in the spring. It was there last night again in deepest Derbyshire. Bravo the boys who travelled up and kept the singing going.

twitter@fulhamphil