Gunners rain on Fulham parade
The heavens opened Saturday lunchtime over West London, and while Fulham weren't quite swamped by Arsenal's superior technique in a five-man midfield, the Whites certainly came off second-best. Arsene Wenger's troops deserved their 3-1 victory, no question, but there were hints that on another day with a larger slice of luck Fulham might just have come away with a 2-2 draw. Olivier Giroud's opener was purely down to luck.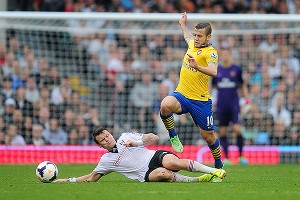 Jamie McDonald/Getty ImagesFulham's John Arne Riise, on ground, struggled against Arsenal Saturday.
Home fans at least saw a shaft of light for the weeks to come with Darren Bent coming off the bench to convert the simplest of tap-ins on his debut, albeit a consolation goal on the day as Arsenal cruised home.

The game needs no close analysis to see the reasons why. Despite that loss to Aston Villa and all the so-called unrest around the Emirates, Wenger served up a timely reminder of the gulf in class between Fulham and the top four. While Fulham's newly assembled recruits require time to get match-fit and knit into a cohesive unit, Arsenal showed a fluidity and speed of thought where every man in yellow knew the script and how the boss wants it interpreted.

Sadly, Fulham helped the Arsenal cause with errors in both team selection and tactics deployed. Why should that be a surprise? We have been this way before, and from the minute I saw the line-up I feared the worst. What a shocking piece of man-management to recall the guy you informed in the last two windows to start looking for another club -- and what message does that send out to Matthew Briggs after he plays in a back four the weekend before that does not concede?

I really don't think there's too much detail to add, because not only has this blog been banging on about the shortcomings at Fulham for an eternity, I am determined not to go from super optimist to hand-wringing Jeremiah before we've even got to the end of August. I'm taking a deep breath and hopeful the side will improve once Fulham have finished their transfer business and everyone is fit.

Shahid Khan flew over for the game, and from the cool way he dead-batted pre-match questions from a hyped-up Ray Stubbs, I sense Fulham's new owner may not be slow in showing their failing manager the door if results fail to match expectations.

All the usual networks and forums I monitor after matches were running hot. I've not seen such determined Martin Jol bashing before. It is enormously frustrating to keep coming on here lamenting the same old woes. The only question worth putting, is how come the manager can't see it when 25,000 people at the game so obviously can?

Fulham have a game coming up Tuesday, a quick chance to change the mood. It may only be Burton Albion away in the League Cup, but at least a decent win will give supporters something else to contemplate. Knowing Fulham's abysmal record in this competition, and their ability to lose to anyone away from home -- even from three leagues beneath them -- means nothing is a foregone conclusion here.

After that reparations for the trip to Newcastle, and the last few days of the transfer window. The clamour for a new left-back after Saturday of course has now reached a crescendo. Anybody spot Anthony Cresswell's premeditated effort that came back off the Leeds post Saturday? Dempsey-esque, dare I suggest, and a piece of improvisation way beyond the old lag playing left-back Saturday in white.

And how Fulham still badly need a winger who is happy to hug the touchline and can go outside his man and get in crosses. With Dimitar Berbatov again sinking into the midfield traffic Saturday, here was another totally ineffective outing from the big man, who states "when you have exceptional talent, maybe you don't need to put in so much effort." Oh brother, against a slick outfit like Arsenal you most certainly do!

I no longer wish to rage against the machine with this blog because I feel Fulham might be about to pass the point of no return on the playing side. But until Jol accepts the three 30-and-over men in the side Saturday badly need replacing -- John Arne Riise, Steve Sidwell and Damien Duff -- then Fulham cannot make serious progress. I wonder how many new faces we'll see up at Burton?

It's only a hunch at this stage, but after sitting out the last two games, if Bryan Ruiz does not feature Tuesday night, it must mean the club are close to offloading Jol's big-money buy this week. That would be a step forward in my book, as long as the money gets quickly spent on a quality left-back. Please can we not return to the broken toy that is Riise ever again?

I leave you with some positive thoughts. Bent will get goals once Jol finally realises he needs to go 4-4-2 and keep Dimi higher up the pitch. And Scott Parker will surely grow into the midfield general Fulham are missing. How many matches before he starts bellowing at Berbatov for not chasing through-balls? Nobody else in the ranks would dare -- Scotty won't hold back!

Twitter: @fulhamphil