Epiphany at Stadium of Light?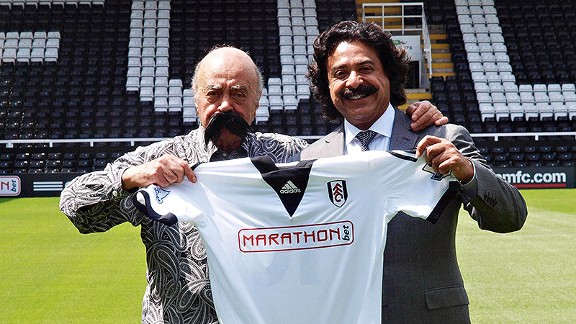 AP Photo/Max NashMohammed Al-Fayed, left, had a bit of fun with new Fulham owner Shahid Khan as Al-Fayed handed Khan the reins to the club.
The curtain is about to rise on another Premier League season. What fate awaits Fulham? They are now under new ownership. Will the Khan Dynasty see the club rise to new heights or produce a plunge in fortunes undoing all the fine work of Mohammed Al-Fayed's sterling stewardship of London's oldest football club? Nobody knows. I have no more clues or insight than you, dear reader.

Business analysts, financial advisers and bankers galore construct empires crunching numbers in trying to beat the stock market and keep their figures in the black. In truth, their research guarantees nothing except the certainty all markets will one day run through their cycle to the next inevitable crash. The Premier League is no different to the stock market. It is designed to create winners and losers. That is how it functions.

This humble scribe says what he sees, to quote Catchphrase. I think the majority of sober-minded Fulham fans in this final week of the close season are feeling uneasy with the current state of the team. Trepidation in some may be mere frustration for others, impatience at lack of news, or a calm acceptance that things will come good and the sun will shine tomorrow.

-Fulham season preview

Assuming my conclusions from the Parma friendly broadly chimed with those at the Cottage last Saturday -- and I spoke with plenty on the Hammy End throughout the match -- I was surprised at some of the broadsides my blog attracted when re-published on other forums. There are of course those who spit their dummy on site of my byline, even were I to praise the turf at Craven Cottage, the finest playing surface in the capital. All writers have their small tribe of haters -- through naivete, prejudice or envy, there's no pleasing them -- and I don't even try.

The only surprising element from criticisms to my last post was how so many ended up agreeing with virtually all of the shortcomings we highlighted!

Let's be honest for once -- if you are a season-ticket holder, were you really happy with what you saw last season? Sixty goals conceded, nine home defeats, embarrassed by relegated Reading at home, tamely surrendering to winless QPR away? Repetitive implementation of a tactical system that fails?

We will not go over old ground. Before a ball has been kicked or any of us have the measure of our billionaire chairman, we shall endeavour to strike an upbeat note for the season opener.

The four signings made early in the summer all suggest real improvements to what went before. Little Fulham are parading a world-class shot stopper in goal in Dutch national keeper Maarten Stekelenburg. The man from Haarlem is 30; his predecessor Mark Schwarzer, also a top international, is 40.


Player of the season Sascha Riether at right-back would be coveted by most other Premier League clubs. He's been a model of reliability to date. Fernando Amorebieta has 250-plus appearances to his name over eight seasons in La Liga. He's already said he needs to adapt to the pace of the Premiership. If he can do that, and curb his indiscipline, he and Brede Hangeland should provide a formidable defensive shield. As to Derek Boateng, he bravely blocked a certain goal on Saturday, looks to have elements of both Dickson Etuhu and Papa Bouba Diop about him, is a Ghanaian international and undoubtedly gives Fulham more muscle in midfield.

There is no question Fulham will be adding to the roster before Sept. 2 and maybe even before Saturday's opener at Sunderland. I sense the club have targeted specific players, and like the rest of us are not blind to where we need to strengthen. The board have shown they can't be pushed around by agents and make it abundantly clear Fulham don't pay the highest wages. It's a pragmatic approach as long as it can be pulled off. Should Martin Jol snaffle another to match the calibre of Dimitar Berbatov, we'll all be singing his praises. Who's to say he won't?

In conclusion, I've spent time this week running the rule over other sides. Sunderland, for instance, are a completely unknown quantity with Paolo Di Canio having gone crazy in the market. I think WBA, Swansea and Norwich have spent well, Southampton look stronger, Stoke weaker. I feel the market will still produce some major shock waves, what with question marks hovering over the destinies of Gareth Bale, Wayne Rooney and Luis Suarez. A few megadeals will trigger a ripple down through other clubs.

Like all other preview pundits, survival looks a tough call for Hull and Crystal Palace to me. That leaves just the battle to avoid 18th place and be next season's Wigan. Backed by Khan's fortune, I can't see that being Fulham.

Survival then comes first. Some more entertaining football along the way would be welcome. As to the whole uncertainty surrounding the last few weeks -- here's a thought (I would not be so arrogant as to offer Mr. Khan advice):

A culture of obsessive secrecy involving club operations grew under Al-Fayed, and is practised to this day with some zeal behind the scenes. We do not expect open-handed transparency between board and fans. Tony Fernandes tried that and made himself a laughing stock. Considering how Mohammed looked to threaten the British Establishment, his own business background and loathing of investigative journalists, that culture surrounding Fulham FC operations is understandable.

Shahid Khan has already shown himself to be far more a man of the people and accessible to the media. A simple short press release in the last 30 days to state Fulham had a progressive policy in place to invest in new players and were actively engaged in scouring the market would not have gone amiss. The dashed hopes and hints, continually reading of players such as Wilfried Bony heading to other clubs instead of Fulham, has not helped the general mood.

Anyway, we turn over a new page, look forward to giving it our best shot up at Sunderland, and for the first time this season open our lungs and shout: COYW!!!

Check back here for our matchday preview before Saturday's opener plus details of my appearance on the Salut!Sunderland podcast Thursday 18.30 UK time.

Twitter: @fulhamphil