Fulham fans have patiently endured a low-key summer, unsurprisingly perhaps with the disruption dictated by ownership of the club moving into new hands. Preparation for the new season saw the club take on three sides of some stature in European football -- top sides from the Bundesliga, La Liga and Serie A.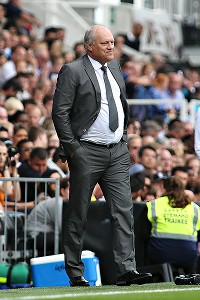 Jordan Mansfield/Getty ImagesThe body language of Fulham manager Martin Jol during Saturday's loss to Parma does not convey optimism for the coming season.
Fulham failed to beat any of them, and Saturday's 2-1 loss to Parma at a sun-kissed Cottage gave a stark reminder that last season's deficiencies have not been addressed. Fulham are yet to pay a fee for anyone under new owner Shahid Khan, but that fat wallet of his needs to come out soon or Fulham are in trouble.

If you wanted a litmus test as to where Fulham are currently falling short, the friendly with Parma laid out precisely how bare is the cupboard. This was a re-run of Martin Jol's team that worryingly nose-dived last season after a bright opening and came dangerously close to the drop zone following an awful run-in from March. Even before then, we had witnessed plenty of games where the gaffer's preferred 4-4-1-1 too often ended up with the Whites looking as if they were playing a 4-6-0, with the opposing keeper hardly being tested.

The opening phase of Saturday's friendly provided a re-run of last season's broken system. Fulham started brightly enough, easy-on-the-eye passing with fluidity on the deck, looking organised at the back. Steve Sidwell pulls out a plum with a stunning early shot from range to put Fulham ahead.


Midway through the half, Parma begin to take control as all Fulham's home possession fails to really open up the away side. And so it goes with this current style, with no incision or inspiration, and no Plan B -- Fulham's game just falls away.

While we must cut Jol some slack from the way the club have failed to provide him with lavish funds for new blood, the Dutchman's inflexibility, reluctance to abandon a failing system, and unimaginative football must surely call into question his suitability for the job going forward, while his record in the market is chequered.

The 4-4-1-1 must be abandoned. Fulham are slow enough as it is in moving the ball forward. They need less touches on the ball, not more. By no means am I suggesting we go long ball, but look to Everton's energetic style as a prime example of how to mix it up and get the ball into dangerous areas. Fulham simply do not carry enough goal threat -- pure and simple. Trotting out trite remarks to the press amplifying what we can all see only makes Jol look foolish.

The over-reliance on Dimitar Berbatov for goals was risky enough last season. Once he went off Saturday, Hugo Rodallega's second-half contribution was frighteningly inept in every department, underlining how urgent is the need to secure a quality striker within the next week.

Next to the current vacuum in midfield. Fulham have never recovered from the loss in rapid succession in the past 12 months of game-changing midfielders -- Danny Murphy, Clint Dempsey, Mousa Dembele and Mahamadou Diarra. Bryan Ruiz needs to come out of the team with immediate effect. Major reinforcements to midfield are desperately needed NOW. Fulham also need a strong leader on the pitch to captain and galvanise the side. They are mentally not tough enough. Fulham have some enterprising wingers at the club. The board need to focus on who they will put faith in and who can be off-loaded.

I would like to see Fulham try 4-5-1 with Ashkan Dejagah and Alex Kacaniklic perhaps coming off the bench to spark something. I am mystified as to why Damien Duff has been given another contract, or why John Arne Riise and Pajtim Kasami should even feature when both are about to be shipped out.

Sidwell is not of the standard to last 38 matches as your main man in midfield even though I cannot fault his attitude and he will chip in with the odd goal. Of course, as we have all known for an age, and Jol has finally conceded, Fulham need to find a decent left-back -- and quickly. More inept transfer dealing.

Considering professionals have all been playing the game in an organised capacity since schooldays, it's the least to expect they can stroke passes around the pitch over 20-30 metres. Ruiz can do that all day long. But to what effect? In the days of Johnny Haynes, in what was a fairly modest side, you heard this purr of appreciation and ripple of applause swell from the stands routinely as precision passes arrowed up to their targets. At least 10 times in each half. Saturday? Hard to recall a single moment of inspiration drawing gasps from the throat apart from Sidwell's rocket and one luscious dummy from Dimi.

The rest was mundane, laboured, uninspiring. Parma should have had more. Over to you Mr. Chairman. Time to call in the cavalry. No more loan deals (Giorgos Karagounis is a clown) or short-termism. Serious investment in the side is long overdue. Opinions expressed at the ground and on all message boards since suggest supporters all recognise the glaring deficiencies -- even Ruiz acolytes are melting away. Please tell us what do the board intend to do to stop the rot?

Follow Phil on Twitter @fulhamphil