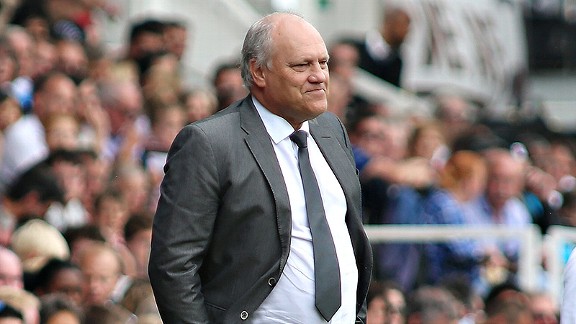 AllsportIt's a make or break season for Martin Jol's tenure at Fulham.
What's changed since last season?
Little on the playing front suggests Fulham will be any better than last season. However, the massive change over the summer came with the surprising news that benefactor supreme Mohammed al Fayed was stepping down. Having single-handedly taken a club that was on the verge of bankruptcy in 1997 into the top flight - and kept them there for 13 seasons - it shows how the rise in Fulham's status has all come about from his towering presence as chairman. At 84-years-old he now wants to spend more time with his family. Even more commendable was the fact that al Fayed left the club debt free and thus was able to swiftly engineer transfer of ownership. The new man at the top is US-based Pakistani billionaire Shahid Khan. If Khan can get close to 50% of what al Fayed achieved then Fulham may prosper for many years to come.


Key to this campaign?
We are yet to see the colour of Khan's money. Fulham, as it now becomes clear, have spent two seasons under-investing on the playing side in order to present a strong set of accounts. There's nothing wrong with that strategy, but the Premier League and the riches it carries builds its own critical mass. Treading water for too long will see you go under.

On the playing front, Fulham have gone backwards in three seasons, being reluctant to radically re-shape the 2010 Europa League side of superheroes. Fresh blood is now called for, and though Fulham have left it late to really make a big splash in the market, last season's side slipped too close to the relegation zone for comfort - a final placing of 12th flatters them and Martin Jol. Early signs in pre-season friendlies indicated another season of struggle without an injection of quality for the campaign ahead.

Another striker to take the weight off Dimitar Berbatov's shoulders (15 last season) is a must, along with reinforcements to midfield and at left-back. The three signings made to date were all in a way business that could not, for one reason or another, be wrapped up last January. Maarten Stekelenburg and Derek Boateng look solid enough acquisitions, while questions remain as to how Venezuelan centre-back Fernando Amorebieta adapts to the Premier League.

It's hard to be too gung-ho with a prediction at this point, but expect two or three big name arrivals before the end of the month. Should that happen, Fulham will comfortably survive in mid-table and may for once make some noise in the cup competitions.

Predicted finish/realistic goal
It will be three places either side of 11th I suspect, which will more than keep the fans happy. Should the side fail to gel, suffer with injuries, or make none of the signings needed, then Khan will be forced into spending again in January. And should the roof fall in at the Cottage...

Make or break season for...
It will spell curtains for Martin Jol. The bookies already have him priced at 4/1 second favourite to be the first manager to get the chop. Khan changed his complete staff roster after the Jacksonville Jaguars first disastrous NFL season once he took over. Martin, you have still to prove you have what it takes down by the Thames. Year three of your project and this is your last chance. The same goes for your underwhelming £10 million man Bryan Ruiz.

One to watch
You might nominate Adel Taarabt just for the soap opera his antics will inspire. Adel's simply not as good as he thinks he is. The thought of the petulance, play-acting and posturing Fulham might be witnessing once he, Ruiz and Berbatov between them have spent 90 minutes failing to create a single opening is enough to have anyone pack tranquilizers along with their matchday Mars bar. On a more positive note, Boateng may turn out to be an unsung hero, a willing dray horse who gets the job done rather than some of the more expensive show ponies around him.