Nerves fray for Whites followers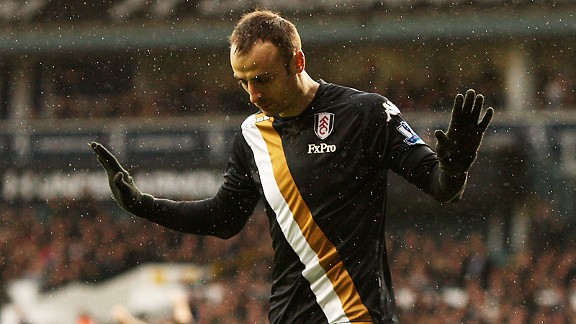 GettyImagesDimitar Berbatov will once again be vital to Fulham's attack this season.
That day one showdown with Di Canio's vision for a new Sunderland looms ever nearer, with Fulham still to address deficiencies in their squad make-up. Two friendlies against admittedly high calibre teams in Werder Bremen and Real Betis both served to underline the need for reinforcements in key positions. While Fulham have been cautious over the summer so far, the club remain consistently non-committal on transfers until deals are actually done. I would be amazed if either the manager or the executive are not acutely conscious that a relegation battle looms without the addition of a proven striker and a creative midfield general of genuine stature.

The confirmed loan agreement that brings Adel Tarrabt across the borough for the season was enough to get this blog moving again, but some of the names supposedly linked to the club in recent weeks have been the stuff of nightmares.

A Fulham midfield of Lee Cattermole, Joey Barton, Scott Parker and Steve Sidwell would certainly guarantee the side airing last on Match of the Day all season – the broadcasting authorities could never allow such X-rated content to air before the watershed. That scenario for a 'footballing' side like Fulham might cause even the Haynes statue to blush. I would return my season ticket if either Cattermole or Barton ever pulled on the shirt.

While the unpredictable and enigmatic Adel neatly sits among the ranks of the loose cannons named above, the mitigating circumstances of his arrangement allows me begrudging latitude in welcoming him to the colours. In short, Fulham have gone down the car showrooms with their usual spiel. Yes they like the flashier models, but note there are a few miles on the clock and one or two blemishes to the bodywork. Neither the salesmen nor Fulham are sure if they'll handle like a Testarossa or a Trabant – so in that case the goods can be returned no questions asked? Thanks, you gotta deal.

We are getting good at that game. Back to our chunky Moroccan maverick. It's a low-risk gamble for Martin Jol, which intriguingly will focus attention on the gaffer's Achilles heel. Because surely if Taarabt can rediscover the form he showed in 2011 the only man he replaces in the team is Bryan Ruiz?

It is a given that your top scorer from last season remains the first name on the team sheet. I am pretty convinced by now that Darren Bent will also be in a Fulham shirt by next week to support Berbatov up top. If we are to lay down some serious money, finally, it seems madness not to support Bent with at least one genuine winger. Just don't kid yourself for one second Martin into thinking that man can be Ruiz. He is totally ineffectual there. We can all see it.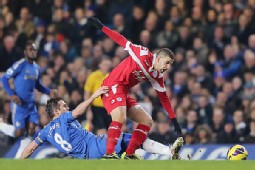 Ian Walton/Getty ImagesWill Adel Taarabt prove an effective signing for Martin Jol?
Although not the greatest crosser of a ball at pace, that surely has to be Kacaniklic? If Fulham have now agreed to let Kerim Frei go to Turkey, use that money to buy Bakary Sako from Wolves as insurance, or deploy Damian Duff to come off the bench for 25 minutes - or be really bold and give the kid Manga a go now and again.

Some people have floated the idea of either Taarabt or Ruiz dropping deep to fill the creative hole left by Mousa Dembele's departure a year ago. That must never happen. Both are poor tacklers and give up possession far too easily. Fulham will be attacked by teams up the left flank again, where there remains no solution to the glaring weakness at left-back.

Action in the market to find a strong young left-back would be a bonus in the next month, but I'm not holding my breath. The overwhelming priority remains the capture of a commanding midfielder, apart from what has been outlined above. This is the bare minimum. A few utility players might also be needed to paper over the cracks. Don't even dare contemplate the consequences of a long injury list – the squad as of now looks as brittle as a poppadum. I know who I would go after – English and affordable. But I won't jinx things by naming him yet. What can Jol's troupe of talent scouts come up with. I'm yet to be impressed by them to date.

I've not felt this apprehensive pre-season for a few years. We could well find ourselves embroiled in a real struggle to finish 17th. Can you imagine the body language on the park from Adel and Dimi when things start unravelling? One thing about the window we know from previous years, deals get cut right up to the death. Let's see what we glean from this week's friendly with Parma before pressing the panic button. I shall be watching with a keen eye. Hope very much Mr. Khan is too.

twitter@fulhamphil