Khan you believe it -- Fulham deal done
In double quick time, too! Inside a week, ownership of Fulham Football Club has passed seamlessly from Mohamed al Fayed, chairman for the past 16 years, to Pakistani billionaire Shahid Khan. Unless you had some interest in following the NFL, what's the betting that 99 percent of Fulham fans had never heard of him this time last week?

• Kuharsky: EPL buy hardly means Jaguars will move

Before we move on to a more fulsome introduction to our new sugar daddy, I must salute the breathtaking brilliance of al Fayed's empire in engineering our Egyptian saviour's departure from Craven Cottage in precisely the same manner as his arrival: entirely on his terms and completed with watertight secrecy. I can still recall with total clarity the overcast May afternoon in 1997 when news of al Fayed's purchase of our impoverished little outfit turned our black and white world upside down.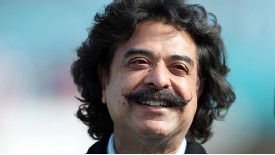 APShahid Khan has agreed to buy Fulham Football Club.
Two days previously outside the ground, Mickey Adams and I were weighing up the chances of Fulham finding £100,000 to sign Paul Moody. Then, suddenly, Mo's helicopter was in the centre circle. It was apparently loaded with sacks of gold, and the prophet announced in no uncertain terms Fulham were headed for the promised land. And this was no fairy story. Mo hired the best and let them get on with the job of lifting Fulham through the divisions.

It is entirely understandable at 84 the old boy is now opting for the quiet life in Monaco and Switzerland. I looked across on a biting afternoon in late winter to the director's box. Mohamed was huddled under a mountain of blankets with a sensible deer stalker and ear muffs topping off his match-day regalia. The game was dire, and our chairman did not seem to be quite following the play. I'd seen the same look in my own father at the end of his days.

Very gently, I probed a couple of insiders at the club. No, the chairman was still firmly in the saddle and feeling fine, I was told. "Still alert enough to sign the cheques," I heard, while we have it on Diddy's own authority al Fayed was as bullish as ever on the night of the QPR game when David was summoned up to the box and 'forbidden' from retiring.

Clearly the machine around the former Harrods boss has been playing a finely tuned long game here for around two years. The breaking news this week caught everyone on the hop. With the club making no official statements at all, neither the BBC Sports site nor the local paper risked any mention of the story whatsoever for two days. It was left to sources in America to float the name of Khan, owner of the National Football League's Jacksonville Jaguars, as Fulham's prospective new owner. A quick visit to Wikipedia and now we're all more familiar with our new owner (and his fortune).

For a man who was easily lampooned by the British establishment for his too-naked ambition to become 'one of them,' al Fayed's exit oozes class, as was evidenced by his behaviour in public after the death of his son and Princess Diana. All who saw it will never forget the lone piper at the Cottage in the centre circle with the chairman before that night game against Plymouth.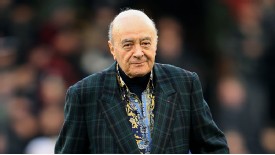 GettyImagesAl Fayed oversaw a major transformation during his 16 years at Fulham.
Now, with barely a hiccup in routine, Mohamed al Fayed holds the door open for his successor to build on his legacy. No need for any fees to Keith Harris or haggling over the price -- Khan had clearly been lined up for months, and the stage is now his. Al Fayed seems to be getting back only what he put in to the club, while all the groundwork has cleverly been put in place to make the proposition as appealing as possible to the new money. First-class academy, planning permission to expand and debt-free. There are not words enough in my lexicon of flattery to pay fitting tribute to our outgoing chairman, but now we quickly turn to a new and exciting chapter in the history of Fulham FC as we pass on the baton to Shahid Khan.

Like everyone involved at the stratospheric heights of major sport, Khan will be held hostage to what sound bites he delivers at his first news conference. Owning the Jaguars over in Florida has not been a bed of roses for the naturalised American, but this is a self-made man who has amassed his fortune in a manner we can all understand: the nuts and bolts of the U.S. automotive parts industry.

He will not need to look far within the Premier League to find other American entrepreneurs who have seen fortunes drained away by the absurdly dysfunctional professional game in the UK. For now, let's with an open hand wish Mr. Khan good luck and give thanks there has been no interregnum. Enjoy the honeymoon period, because inside four weeks we fans would really like to see some rather expensive packages at the end of the bed. Well, we don't want to get left behind, do we?

twitter@fulhamphil