Fayed wants out - Fulham for sale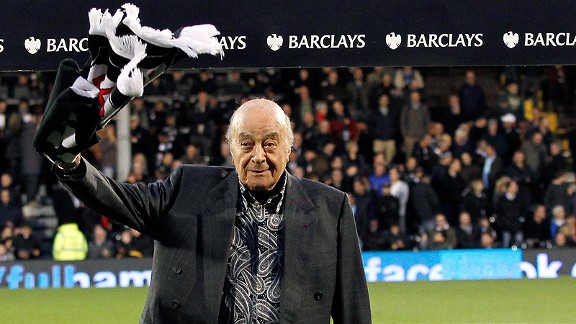 Ian Kington/AFP/Getty ImagesMohamed Al-Fayed will leave a strong legacy behind at Fulham
The sensational news has broken that Mohammad Al-Fayed wants to cash in his chips. The 84-year-old benefactor who poured £200 million-plus into getting Fulham into the Premier League has had enough. The treading water policy of the past 18 months now all makes sense, along with the lack of ambition shown in recent weeks over ground expansion plans and any grand expenditure on new players.

The following blog was penned prior to the news breaking. Please read in the context of this bombshell. Now we can look forward to fresh investment and hopefully a dynamic period of forward momentum again. Let's see what unfolds, but regardless of any other issues, let me say right now - as a lifelong supporter of this club, there are no superlatives appropriate for the massive GRATITUDE all Fulham fans owe our departing chairman for what he has achieved with Fulham FC.

The blog post-breaking story

Of course it's the close season, the sun has finally appeared over London, and those summer sports of tennis and cricket are dominating the back pages. Understandably so, with a Brit finally managing to triumph at Wimbledon and the Aussie cricket team about to be slaughtered again by a vastly superior England.

So as the playing staff reconvened this week at Motspur for pre-season, I donned my press hat, sharpened my pencil and packed my binoculars to see what hard news I could ferret out. A lucky break on arrival, as the first man I saw in the car-park was David Hamilton. With his showbiz connections, our match-day MC revealed clearance has been obtained from the Stones for Fulham to run out to 'Start Me Up' for the new season.

"It clearly works for one bunch of old men approaching their 70's, so why not Fulham?" the ex-DJ told me.
"I had a word with Jagger in Hyde Park backstage at the weekend, and he gave me the nod. Just the ticket to get the blood pumping in my book," reckoned Diddy.

At last some good news. I also noted much refurbishment work in and around the gym areas. Those archaic and ugly weights machines and treadmills are all being stripped out. Coming in is a crown green bowls mat surrounded by cane furniture, recliners, mature ferns and softly lit reading corners. A water feature, Japanese murals and a slipper bath add to the general vibe of Buddhist tranquility.

Finally, and most radical, are plans for a complete re-think on the weekly training regime. The coaches tell me Tuesdays in future will be set aside for canasta, whist and chequers with a beetle drive once a month. While Thursday sees the boys agility tested by light aerobics in the morning with a ramble along the Thames in the afternoon or a treasure hunt.

I have from time to time been accused of being too jaundiced in my views of the club. All I can say is for the present I will continue to bite my tongue until all transfers in and out have been completed. Writing as of Tuesday, Fulham are bearing all the characteristics of becoming next season's Wigan. Two of the promoted three will go straight back down. Will we fill the third relegation spot?

While Fulham reveal a return for Giorgos Karagounis and continue to haggle with both Wolves and Ajax over players in the £2-3 million bracket, our rivals all seem happy to go out and spend. If you want quality it comes at a price. Fulham's status reminds me of Donald Trump's hairstyle. It's precariously placed for now, but with one sneeze you could blow it all away.

There have been two dispiriting hammer blows these past few days that have twice caused blogs to cease in their tracks. I find the regressive thinking on the Ancient Greek warrior unfathomable. The man cannot last a full 90. If Fulham want a cult hero to gee up the crowd, wear his heart on his sleeve and be a positive influence, why not see if Simon Morgan still has a pair of boots that fit? £11-12K a week for a mascot seems rather expensive to me.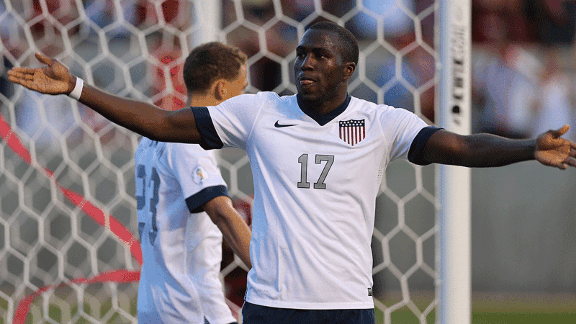 GettyImagesJozy Altidore's move to Sunderland sees him become the most expensive US soccer player of all time


Now the latest signing at Sunderland is Jozy Altidore. That man is going to score goals for Paulo, believe me. I had a long piece in preparation which argued for Fulham to act smart – go after Altidore at all costs and lever Clint away from Spurs and back to Fulham.

A marketing dream for American Airlines and our own US fan base, plus a huge lift for the fans. The two are on the same wavelength for the US national team, the perfect fit. Can't happen now, and that article's gone in the bin. Fulham's lost opportunity. Maybe we're planning a late bid for Suarez…

The team fly down to Costa Rica later this week for reasons beyond me. Jol still seems hell bent on building his team around two mavericks who do not complement each other. Bryan says he's going to be greedier next season and score more. Yeh, right.

As to what the rebuilding strategy at Craven Cottage is, we're just going to have to wait a while longer to find out. I must not be the harbinger of doom, but I am sharpening my pen…

Twitter@fulhamphil