Happy ending for Fulham, provided they hit the transfer market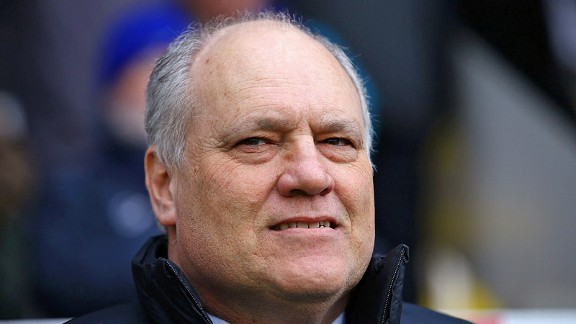 Jan Kruger/Getty ImagesMartin Jol: Needs to get a move on in the transfer market
There's one thing all Fulham fans do well, and that's pessimism. Are we currently mowing the lawn in a relaxed manner anticipating a summer of English success on the cricket pitch, the golf course and the manicured grass of Wimbledon? Absolutely not. With every passing day our anxiety goes up a notch or two as we feverishly scan the media for positive transfer news.

Now we have the new season fixture list to fret over. How have the cards fallen for Fulham FC - are the omens good or bad? Following the Whites in the Premier League is akin to the nostalgia of recalling childhood holidays at the beach. We've filtered out all the rainy days with nose pressed against window pane staring morosely at lumpy, grey seas, a half-finished jigsaw puzzle across our knees.

We only remember the sunny days. I doubt the statistics would support it, but most supporters will tell you Fulham sides only play well when the sun is out. Some kind of sea change comes over us the moment the clocks go back.

November heralds a particularly grim run up to Christmas, while results over the busy holiday season can be wildly unpredictable. Midwinter offers little respite, allied to generally underwhelming Cup performances. Look at Fulham's games from November on and you might want to book your flights to Florida.

Only with the onset of longer days do Fulham teams seem to shake off their slough and rediscover some form. With the above scenario in mind the new fixture list is about as good as it gets from a fans point of view. An away trip to Sunderland for starters should hold little fear. The Cottagers might not be the best travellers, but Sunderland were frankly a shambles last season, lucky not to go down. Leading 2-0 up there three months ago near the end of O'Neill's reign Fulham really should have sealed all three points.

That's followed by the club's first home game with Arsenal. The ground will look picture perfect. Arsenal may well be fielding half a new team of star names, but yet to gel, while Fulham raise their game for a derby and both sides like to play football. Remember how hard Arsenal had to work against Fulham's ten men to hold on for a 1-0 win last time? In the middle of a poor run of form for the Whites too.

After that there are plenty of points to pick up before the onset of winter's retreat and Fulham's fallow period. Crucial however, is the run in. Manchester City are the last of the big guns to be faced in late March, and one could argue there are points on offer after that from all of the last seven games.

If the side are to flirt with trouble again you could not ask for better than facing Norwich City, Hull and Crystal Palace as your last three home games. Dare I suggest, should Fulham surrender home points in any of these, then the club probably deserve to be going down.

Forgive me if I try to put that thought out of my mind for a few more weeks yet.

Meanwhile, It seems Fulham may have finally made a clutch of firm bids to strengthen in various areas, but the haggling remains on-going.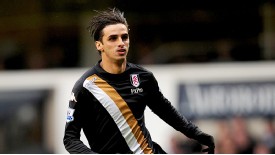 GettyImagesBryan Ruiz: The driving force behind Fulham's trip to Costa Rica?
If reports are to be believed I find the move for Wigan's James McCarthy the most positive, and any thoughts on immediately shipping Sascha Riether back to Germany the most bizarre. That's Fulham for you, I guess every player has his price, but even a 50% premium on what was paid FC Koln to land the outstanding German full-back would make little real difference to the overall transfer budget surely?

Another three weeks and the squad will be reporting back at Motspur for pre-season. While Fulham began the month crowing how they had been quick off the mark to seal their three transfer deals to date, these were all signings where the groundwork had been laid down long ago. Now we are into the hurly burly of the free market, so I'm reserving judgement on Jol's strategy for a while yet.

What does raise eyebrows though with me is the summer tour to Costa Rica. A beautiful Caribbean country by all accounts and one I'm looking forward to visiting one day, but in practical terms San Jose is some way to the periphery of football's radar - and how much kit do Fulham expect to sell down in Central America? I'm struggling to see the sense of three matches in a week, all in the same location, when a trip to just about any state in the USA would have generated so much more for Fulham FC on every level.

In a country where he's hailed as a national hero, it's obvious Bryan Ruiz is the catalyst for this long haul flight, which also clearly indicates Fulham have no intention of selling the forward, whose light has flickered at Fulham but never shone with any consistency. Host countries normally underwrite the costs for trips such as this, no small undertaking when you add up the personnel Fulham will take, but it's hard to quantify the benefits from where I'm sitting. Of course, I'm delighted to help carry along the kit bag should help be needed (and I speak some Spanish if that helps Martin?).

Finally, I've been asked via twitter who in the current USMNT team I'd want at Fulham. Only one man. Clint Dempsey is still a class act, deserving of the captain's armband along with his consistently strong displays on the international stage. Go Yanks! Good to see a sell out for the Honduras game, and great choice of team colours.

Just to finish on a comic note. Joe Kinnear and Newcastle? Wonderful stuff, they deserve each other. Ashley wants another pair of eyes on Alan Pardew - hardly surprising with the meltdown the Toon experienced last term. What better way to unsettle a dud manager you can't afford to sack than to have Joe muttering half-baked nonsense along the corridor. Joe reckons he talks to all the top managers on a weekly basis discussing the game's finer points. Funny how Pardew was never on that list...

twitter@fulhamphil