Cheerio Mark, hallo Maarten
Forgive me for sounding somewhat underwhelmed by Maarten Stekelenburg's arrival. The deal for AS Roma's number one has been so 'protracted', one wondered if communication was being conducted via carrier pigeon. But Martin Jol has finally got the man he wanted.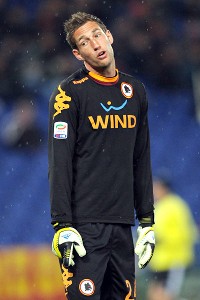 Giuseppe Bellini/Getty ImagesMaarten Stekelenburg is on his way to Fulham.
Of course, the Dutch international was all set to step off the plane and sign in January, but right at the death Roma failed to line up a replacement and the deal went on ice. Perversely, from that point on in the season Fulham looked to tighten up defensively, with custodian Mark Schwarzer turning in a series of near-flawless performances.

Now that Stekelenburg's signature has been confirmed (fee 4.7 million pounds) under a four-year deal, Fulham's popular and dependable Aussie admits he will look to move away before the new season.

Schwarzer is convinced he's good enough to play another season at the top. His appetite for the game, and racking up the air miles flying the globe to appear for the Socceroos, remains undiminished, as does his determination to retire on his own terms. Big Mark wants to bow out at the top with a final swan song at the 2014 World Cup. So he ain't quitting yet!

However, Fulham were not prepared to give him that option, nor would they concede in contract talks to guaranteeing Mark the number one slot. It's a sad way to sign off for the man Roy Hodgson bagged on a free from Middlesborough in 2008. Tributes to Mark have been flooding the Fulham forums since Schwarzer himself told reporters the "writing has been on the wall since January" and that he would of necessity now look for a new club. Fittingly, in the final-day win at Swansea, he was man of the match.

Football, as we know, has little time for sentiment. Family life, schooling, friendships and routines get ripped apart at a moment's notice. So we turn the page and look forward.

The lines above should not mask a major act of faith by the club. Just as they did in 2002, Fulham have waved the cheque book to entice a keeper of outstanding pedigree to the Cottage. What's not to like about having a player who kept goal in the last World Cup final now representing the Whites?

As with Edwin van der Sar, this is a signing that says "we mean business". Naturally, Jol knows his man inside out from their time together at Ajax. At 30, he's 10 years younger than the man he replaces. Like Schwarzer, Maarten is a rock-solid and unflappable character who will actually "boss" his penalty area with more authority than Schwarzer, who we all know hated coming out to punch, and who in his final seasons lost distance on his punted clearances.

Sentiment aside, progressive steps have been made to cement Fulham's defensive spine. Stekelenburg will be a big obstacle bolstered by the presence of Fernando Amorebieta and Brede Hangeland in front of him, along with the combative endeavour of Derek Boateng in midfield.

Now let's see how Jol plans to invigorate other areas of the squad in support of main man Dimitar Berbatov up front. Plenty of names are being bandied about, while news of those heading for the exit door should emerge as contracts expire this month.

Mark surely will find a club, even if it's on a 'pay-as-you-play' basis. But whither Mr Stockdale now if Steve Bruce decides he can find better? Back to the bench at Fulham?

Follow Phil on Twitter >@fulhamphil