Fulham 2012-13 report card
A 12th successive season among England's elite for modest Fulham and a finishing position of 12th in the table should have been enough to send the Whites' supporters off on holiday with a smile on their face.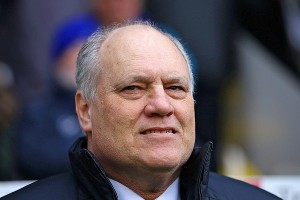 Jan Kruger/Getty ImagesMartin Jol's return to Craven Cottage for a third season has yet to be officially confirmed.
Maintaining status during a transitional period when transfer funds were strictly limited would suggest the board met their objectives -- and although Fulham never quite got sucked into relegation peril, when you consider how clubs with major followings and powerful owners such as Sunderland, Newcastle United and Aston Villa performed, well, what have we got to complain about?

The trouble is, in return for the call on their time and money, football fans do like to have a moan. The season past was well short on highlights, and consequently there was much to frustrate from what we saw on the pitch.

One doubts it was quite what Martin Jol had in mind either at the end of his second campaign at the helm. Fulham have gone backwards under the Dutchman, leaving his future there still under a cloud as I type. Three places worse off than a year ago, nine points less, and a worrying total of 60 goals conceded.

In comparison with Jol's first season, cake on the table was in short supply and the champagne moments few and far between. Not until spring could the normally garrulous gaffer bring himself to put into words what we had all known for six months -- Fulham badly missed Clint Dempsey.

While Fulham's away record bore comparison with the likes of WBA and Everton, for the first season since the 'Great Escape' of 2008, Craven Cottage proved less of a fortress for visiting sides. Fulham were clearly deficient in all areas after the transfer window robbed them of a midfield dynamo (Mousa Dembele) and talismanic top scorer (Dempsey). Fulham lacked leadership, a consistent cutting edge up front, stability in midfield, tactical nous, the 'leadership' of a Danny Murphy and, in essence, energy.

Little surprise the Whites went short of pace and power. Through a combination of ill fortune and lack of foresight, by autumn Fulham were fielding a team long on age in need of a major overhaul. At least the early signs for next season suggest the club are now moving to address the situation.

Plus points: Luring Dimitar Berbatov to Fulham proved a master stroke. On his day Dimi still looked the real deal. Some feat when not surrounded by a side of megastars wearing red. His 15 goals eased the pain of losing the Deuce somewhat and ultimately saved Fulham from relegation.

Minus Points: Dimitar Berbatov again. How come? Being clearly Jol's 'untouchable' in the side, the Bulgarian's team ethic was non-existent, his petulance on the park and intolerance of others' shortcomings unprofessional and insulting. Too often wants to play the game on his terms.

Enigma of the season: Bryan Ruiz. Fulham's most expensive signing looked often a bit-part player. Lackadaisical, limp and infuriating. I remain to be convinced Fulham can accommodate the Costa Rican and Berbatov in the same eleven. Nobody at the Cottage divides opinion like our Bryan. The frustration factor is accumulative because we can all see the talent within him. As he reveals it all too infrequently, along with an inability to embrace the pace and physicality of the Premiership, for my money that makes him an expensive luxury Fulham cannot afford.

Revelation of the season: Sascha Riether. Fulham Player of the Year, and now under contract. Great news. His consistency and energy shone out like a beacon.

Great Whites hope: Ashkan Dejagah. Was really coming into his own when picking up an ankle injury in April that ended his campaign.

Best performance: It came on day one -- a 5-0 hammering of Norwich City that had Fulham dreaming of the top six, for a week at least.

Worst performance: Too many to call. Fulham went on two barren runs with games where they failed to muster a single shot on goal. However, for so many reasons, the surrender at QPR to hand the worst team in the league their first win in December was a true shocker.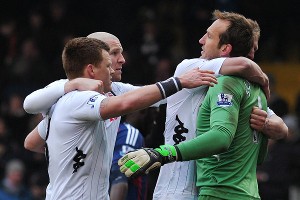 Carl Court/AFP/Getty ImagesTwo key penalty saves by Mark Schwarzer, right, were key in keeping Fulham out of a relegation scrap.
Honorary mention: Mark Schwarzer. What a tremendous return Fulham have had from this consummate professional, signed to the club on a free transfer in 2008. At time of writing it appears the club are manoeuvring the big Aussie towards the exit door -- an unsatisfactory end to his time by the Thames?

Personal highlight: It wasn't pretty, but sneaking a 1-0 win at Tottenham in March. A result that denied Spurs the Champions League after stealing away Fulham's two best players. Magnificent!

The Positives: Academy starlets retaining their status as champions for a second season. A terrific job being done here behind the scenes. Another trophy to sit alongside the Dr. Pepper Cup from Texas.

Phil's Award: That goes to your good selves. I feared a drop-off in interest in the post-Clint era. While missing some of our old regulars, we've built up the traffic with a new crew. Posters show not just their strong loyalty to Fulham FC, but also a deep appreciation of Fulham's unique identity and place in history. Thanks to you all. It wouldn't be any fun without you.

twitter@fulhamphil