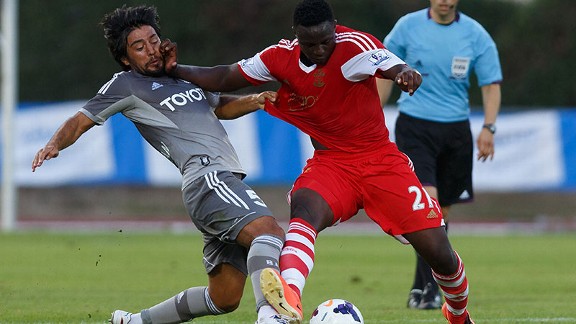 GettyImagesVictor Wanyama has impressed for Southampton during the pre-season.
There's still time for players to sneak through the transfer window and fill their pockets on the way. Football Africa takes a look at the African players who have made the most expensive moves so far this summer. Here's a list of those whose switches were worth €10 million or more.

Victor Wanyama: Celtic to Southampton €14.5 million

The Kenyan player notched up the Scottish record for this amount, which is almost 14 times more than the €1.04 million Celtic paid for him two years ago. Wanyama is just 21 years old, is already a full international and made headlines last year when he scored the winner against Barcelona. At the time, manager Neil Lennon suggested he was worth close to €29 million but had to settle for half of that to let him go.

Christopher Samba: QPR to Anzhi €14 million

The Congo captain has earned a fair amount moving back and forth between these two clubs. He spent a season in England after QPR paid €14.5 million to sign him on a four-year deal from Anzhi but they had to offload him after they were relegated. The Russian side were only too happy to have him back and splashed out. Despite experiencing racism in Russia in the past, Samba has returned to the country and hopes to challenge those perceptions.

Wilfried Bony: Vitesse to Swansea €13.8 million

The Ivorian was the toast of Holland last season when he finished as their top scorer with 31 goals in the season. He was always expected to move to the English Premiership and initial interest was from London with West Ham making an offer. Bony eventually decided on Wales and became the club's most expensive buy.

Mehdi Benatia: Udinese to Roma €13.5 million

The Moroccan defender will not need too much adjustment because he has only moved within Italy. Benatia spent three seasons with Udinese before signing for Roma on a five-year deal. Roma said they needed a player like him, who "rarely gets beaten in the air or in one-on-one situations" and see his "stature" as a great asset for their team.

Pierre-Emerick Aubameyang: Saint-Etienne to Dortmund €13 million

Gabon's golden boy was a target for English club Newcastle but they lost out to the German club, ostensibly because Aubameyang arrived at Dortmund with big ambition. He said his dream was to win both the Bundesliga and the Champions League this season even though he admitted rivals Bayern Munich are "the best club in Europe".

Younis Belhanda: Montpellier to Dynamo Kiev €11 million

One of the products of the Montpellier academy has cut the apron strings. The Moroccan is considered one of the best playmakers out there and has spent his entire career at the French club and was their joint top scorer last season. After being courted by Arsenal and Aston Villa, he settled on a new life in Ukraine. Initial reports suggested he had a change of heart and may not join Dynamo but Belhanda dismissed the speculation and confirmed he will wear the No.90 jersey.

Abdelaziz Barrada: Getafe to Al-Jazira (UAE) €10 million

Barrada could have had Belhanda as a team-mate but Belhanda chose not to move outside Europe. Barrada had no such qualms. He will spend the next four years in the United Arab Emirates to add to a travel history that includes starting at PSG in France before moving to Spain and now the gulf. Al-Jazira last won the league in the 2010-11 season and will hope their new signings will help them restore glory this time around.