Blues face battle over Africa's latest wonder-kid
Chelsea's love affair with Africa extended a little further last week with news that they will offer Burkina Faso midfielder Bertrand Traore a contract when he reaches the age of 18 on September 6. FIFA rules stipulate that Traore cannot sign a professional deal before then but, even after he celebrates the milestone, he may not get a work permit.

The Blues will spend the next two months sweating over ways to keep Traore in London after his impressive displays on the tour of Asia, but the world may wonder exactly who exactly this young man they've set their hearts on is. Football Africa did some digging.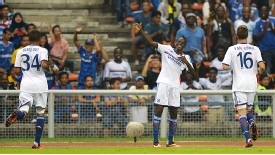 GettyImagesBernard Traore celebrates after scoring for Chelsea during his summer trial
Traore is a well-known footballing last name, and local media hail the family as "footballing royalty." His father, Feu Traore Isai, played for Burkina Faso, while his brother Alain, seven years his senior, is also an international.

Alain is a striker for French club Lorient. He, Bertrand and Jonathan Pitriopa are all products of Planete Champion, an academy set up in the country's capital, Ouagadougou. Alain's reputation on the continent is headlined by the goal that helped Burkina Faso qualify for the 2013 African Nations Cup against the Central African Republic, and the two goals he scored in a 4-0 win over Ethiopia.

Both brothers played for their country at Under-17 level, but Bertrand's participation was attention-grabbing because he was only 14 when he took part – the youngest player at the event. Two years after that, he was selected for Burkina Faso. Then-coach Paulo Duarte said he had "the potential to become one of the African game's great stars", and selected him despite it going against his policy.

Duarte only selected players who were not regulars at their clubs, but made an exception with Bertrand. Alain remembered the moment when they both lined up against Equatorial Guinea in 2011, Bertrand's debut. "He kept his feet on the ground even with all the interest in him," he said. "He came on in the second half and I just said to him: 'Don't be nervous, just do what you do best.' He said: 'Don't worry about me,' and with practically his first touch he went on a great run."

Bertrand was brought back down to earth under Paul Put, who did not select him for the African Nations Cup this year. Local media agreed with the decision, with Fasosport.com saying Bertrand still needed experience before he could be considered. "Although he is one of the great hopes of Burkinabe football, he remains a prospect, a potential that must assert itself playing regularly at club level," an article on the site said.

And that could be one of the reasons Chelsea should worry that Bertrand may have to look elsewhere if the logistics of playing for them become more complicated. The younger Traore is experiencing something very similar to what Alain did eight years ago at Manchester United, and a glance at what happened there should have Jose Mourinho in mild panic.

Then 16, Alain was on a month-long trial but struggled to secure a work permit. He had the option of playing at Royal Antwerp in Belguim while United tried to sort his papers out, but joined Auxerre instead.

Alain's reasons were understandable: he wanted to play first-team football, as he explained last year. "Do I regret having joined Auxerre rather than Manchester United? Not at all. At Auxerre I played with the reserves. What would United have done? Sent me back to Africa?

"During my month in Manchester I played one match, and all of the professionals watched us and I met with Alex Ferguson. Of course I wanted to stay, but there was a problem with my work permit. I would have had to be sent on loan to Belgium for six months, and my mother refused. She preferred Auxerre."

Alain is now a French citizen, but there was talk of him returning to the English premiership when Arsenal expressed an interest. A knee injury ended both his season and his transfer hopes, and he is now settled in France.

He may be one of the first people Bertrand turns to for advice as he tries to decide whether to make a future in the UK - where he once said he would love to be based in order to play in the Champions League - or to look for opportunity elsewhere. I think we know what Alain would say. Chelsea, be warned.